GigeNET, formerly known as GlobalWebHost, was founded in 1997 and specializes in enterprise-grade public cloud server and dedicated server hosting. They're based in Illinois and have data centers located in various parts of the United States, serving customers in over 140 countries around the world.
Features and Ease of Use
With a focus on dedicated server and custom cloud hosting solutions, GigeNET is obviously targeting more experienced website professionals rather than complete novices. But that doesn't mean you'll be left hanging if you're not as familiar with dedicated servers; their tech support is committed to seeing you through every step of the process, which is likely why they've been able to retain over 99% of their customers every year.
One of the best features of GigeNET is that their dedicated server offerings are fully customizable. You can browse their inventory of custom configurations to select exactly what you need for your business, or work with one of their Solutions Architects to design a plan uniquely tailored for your needs.
Unsurprising for the level of service they offer, they have a 100% uptime guarantee, along with a few other features to demonstrate their world-class commitment to quality and service:
15-minute max response time for support tickets
Full support for all power, network, and cooling issues
10TB public bandwidth
Full use of private network
Software firewalls upon request
Free Webmin for UNIX and Linux OS
One-hour hardware replacement guarantee
They also offer four levels of management service for their dedicated server packages. You can opt to handle the initial software installations, regular backups, and server security yourself and then leave the standard system maintenance and management to GigeNETprofessionals, or go for a full-service management plan that has them taking care of everything on the backend. The latter would be best for small teams who can't handle the technical workload of server management, but the former is recommended for more tech-savvy teams who'd like to do everything in-house.
Their cloud hosting service is just as impressive. Built on a 10 Gigabit network and with the ability to scale up to eight processors on a single virtual machine (VM), their customizable cloud hosting packages are optimized for breakneck speeds and allow comprehensive control via their custom control panel.
Pricing and Support
GigeNET allows you to fully customize their dedicated server offerings. You can select from their range of custom configurations or collaborate with their Solutions Architect to create the perfect solution for your requirements and budget. The pricing will depend on the specific custom package you choose.
If you're opting for their cloud hosting packages instead, these are easily scalable and billed on an hourly basis on a 28-day month cycle. This means that if you're anticipating a burst of traffic during a specific period, you can easily adjust your plan for those hours via their custom control panel, then scale back so you're not paying for resources you don't actually need.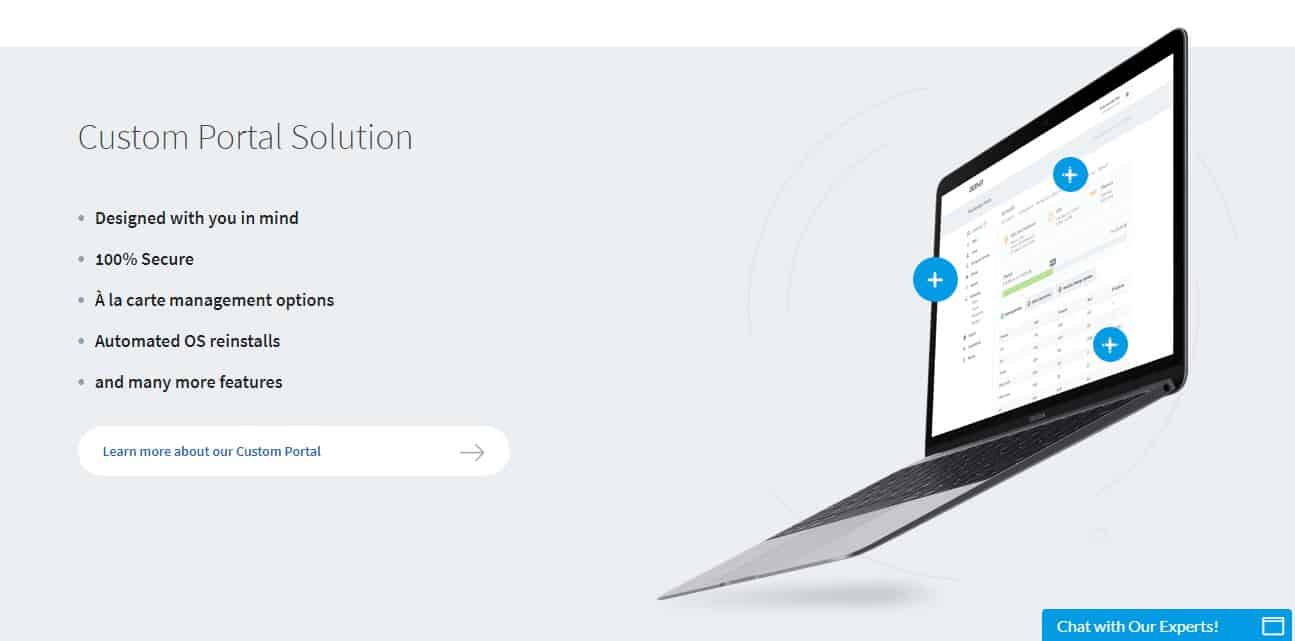 There's no free plan or money back guarantee available, but this is to be expected with enterprise-grade hosting solutions.
Support is available 24/7/365 via their phone hotline. Their team of technical staff are on hand 24 hours a day in the facility where your servers are located, which means you can instantly reach their on-site engineers whenever you have a question or concern about your critical data. Alternatively, they do have a live chat and email channel available, but the live chat is available only during regular business hours in Central Time.