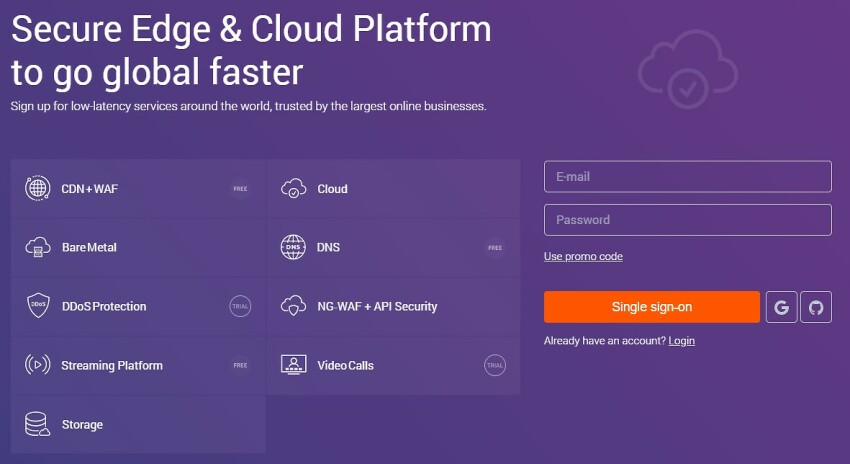 Gcore (formerly G-Core Labs) started life in 2011.
In 2012, the company established its first backbone network of seven data centers in six cities, and the following year its network expanded to include 23 data centers. Also in 2013, Gcore's infrastructure got a Guinness World Record for having the most simultaneous online players on a single MOG server, and in 2014, the company's delivery network created a new record for simultaneous players.
In 2015, Gcore moved to new headquarters in Luxembourg, and in 2016 it launched the G-Host global hosting service and the G-CDN global content delivery network. The following year, it launched G-Storage (for cloud storage) and G-Protect (to protect against DDoS attacks). In 2018, the company launched its G-Stream media platform.
Today, Gcore has more than 100 nodes on five continents, and it offers an extensive range of CDN, hosting, media platform, security, custom software development, and IT infrastructure management services.
The Gcore website can be switched between the English, Russian, Chinese, and Korean languages.
Features and Ease of Use
Gcore offers much more than merely hosting, but in terms of hosting, it offers dedicated servers and virtual servers that can be configured to your exact specifications using the Server configurator that allows you to specify:
CPU: Various Intel Xeon processors (for dedicated servers) or 1-8 vCPUs (for virtual servers)
RAM: 64 GB to 256 GB (for dedicated servers) or 512 MB to 32 GB (for virtual servers)
Disk: Up to 2 x 2 TB HDD or SSD (for dedicated servers) or 20 GB to 600 GB SSD (for virtual servers)
RAID: Hardware or Software (for dedicated servers)
Datacenter: 18 international locations (for dedicated servers) and 11 international locations (for virtual servers)
You can also choose a pre-configured dedicated server or virtual server so that you don't have to decide values for all of those parameters.
Due to the nature of Gcore's server offerings, you can choose to install pretty much any operating system you like: various versions of Linux, Windows Server, or even Solaris. And SSH access gives you complete freedom to install any software and run any number of sites. You can take control of your hosting server using the pay-for ISPmanager control panel (Lite or Business version).
Gcore supports IPv4 and IPv6, and it offers a wide range of (pay-for) SSL certificates from leading providers.
What you won't find here is an extensive set of beginner-friendly features such as easy website builders and one-click installers.
Pricing and Support
Although Gcore offers some pre-priced dedicated server and virtual server (VDS) plans, including an attractively-priced "starter" VDS plan, you need to be aware that these are pretty bare servers and there are potentially lots of additional costs. You might have to pay extra for your control panel, for your desired amount of monthly traffic, for additional IP addresses, for SSL certificates, and much more besides.
The costs can get pretty complicated if you want to configure your server completely from scratch using the Server configurator, and there are additional tables of information telling you how much you will pay for monthly traffic depending on your server's location (plus how much extra you will pay if you exceed your allowance).
You can reach this company's customer support staff via phone, email, live chat, and an online form. Existing customers can seek support by submitting a ticket from the control panel. When I tested the live chat support, I found the agent to be responsive but not particularly knowledgable.
Gcore shines when it comes to the support documentation for its hosting, CDN, and media platform products. It also provides very detailed documentation about the Application Programming Interface (API) that you can use to manage your services. But beware; this is very technical documentation: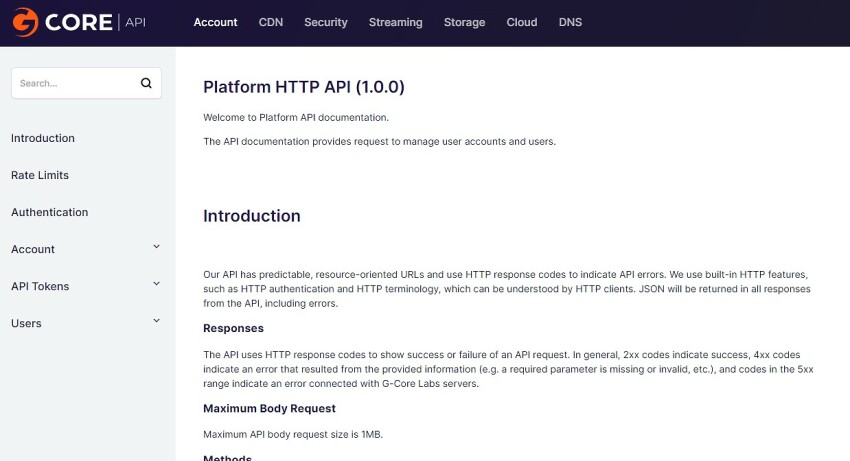 How much does Gcore cost?
Gcore offers plans from $0 to $248. The price depends on which type of hosting plan you choose. You can see the updated pricing table (updated weekly) below.

Which Gcore plan should I get?
My recommendation is to start with a cheaper plan. You can always upgrade later on. Gcore can help you with the migration to a more expensive plan. The increase in visitors many times takes longer than expected and you shouldn't pay a lot of money until the need arises. Of course, your needs may vary, and you can consult with a hosting expert from Gcore here.

How good is Gcore's customer support?
Gcore is not ranked as one of our top web hosts. But that can also be a result of Gcore being a small, under the radar, hosting provider. There are advantages to a small hosting company – as a customer, you are more important to them. You can also check out our comparison of the most popular web hosting services here.