Gabia provides IT infrastructure and hosting solutions to businesses in Korea. Although they began as a domain and web host provider in 1999, they now also offer single and groupware cloud services plus security management. With more than 53,000 hosted partners, their commitment to customers continues.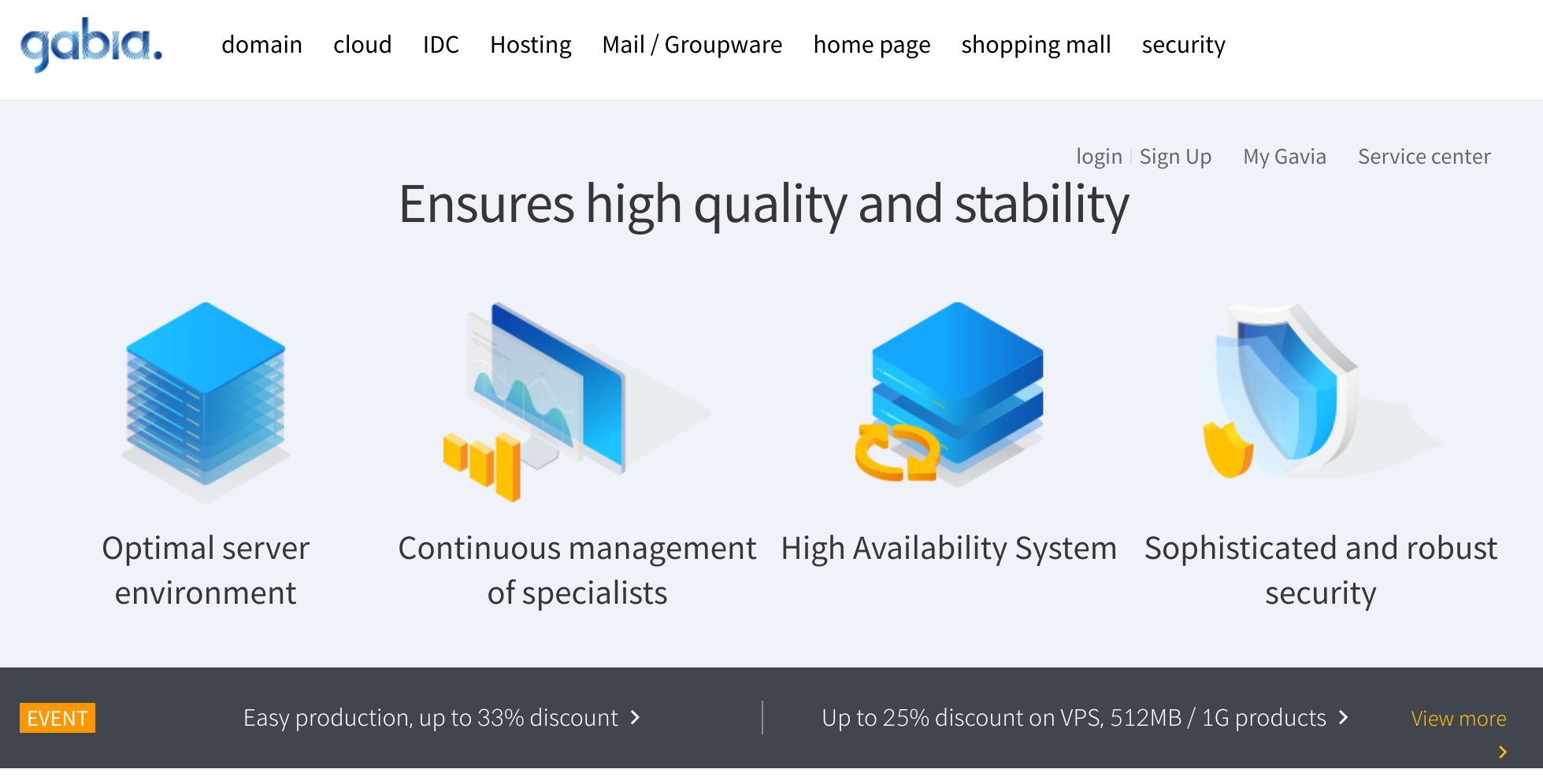 Features and Ease of Use
Gabia differentiates itself from other Korean hosting providers by allowing customers to control and customize the infrastructure to meet their specific needs. They provide a variety of solutions including domain registration, web hosting, cloud solutions, electronic payment, and mail hosting. They pay particular attention to start-ups via their starter packages for website development and branding.
You can choose between Linux and Windows hosting plans. Linux servers support Java language development, and Windows servers support development using the .NET languages.
Gabia's plans offer the following features:
Daily backups
Microsoft Azure and AWS cloud infrastructure
RAID infrastructure
Web analytic tools
Unlimited database connection
Minimum 180 GB disk space on an enterprise plan, and 30 GB for a personal plan
They do not offer free domain names on their hosting plans, but you do get a discount when purchasing a hosting plan and domain name at the same time. I particularly like their support for Microsoft Azure and Amazon Web Services (AWS) cloud infrastructure, which allows you to have your files hosted on the cloud and managed by Microsoft or Amazon. This provides a degree of peace-of-mind, and the same thing applies to the RAID infrastructure.
Due to limited storage, Gabia's plans are only suitable for the basic and mid-range websites. The enterprise standard plan comes with only 5 GB disk space, while the enterprise premium 'unlimited' plan comes with only 20 GB disk space. You get just 1 GB with a personal plan. These relatively meager allowances might be enough if you're just starting out with your website, but big e-commerce businesses would likely look elsewhere.
Beginners should have few issues with this web host. While there is no mention of one-click installers, there is a WordPress hosting plan with real-time backup and weekly reports. You'll also find relevant articles about web hosting and related terminologies in their resource center.
Pricing and Support
Gabia's pricing is quite competitive considering the top-notch service they offer their customers. The only downside is that whereas most web hosting companies set up your server at no additional cost, Gabia levies a one-time extra installation fee. But not too high, you'll be pleased to hear.
Monthly payments are available, so you can try their services and support using this option before you buy an annual plan.
When it comes to support, you have the option to give them a call or send an email, but don't anticipate a swift response. Alternatively, you can sign up to access the member service area, where you should receive a quicker reply.
How much does Gabia cost?
Gabia offers plans from $4 to $90. The price depends on which type of hosting plan you choose. You can see the updated pricing table (updated weekly) below.

Which Gabia plan should I get?
My recommendation is to start with a cheaper plan. You can always upgrade later on. Gabia can help you with the migration to a more expensive plan. The increase in visitors many times takes longer than expected and you shouldn't pay a lot of money until the need arises. Of course, your needs may vary, and you can consult with a hosting expert from Gabia here.

How good is Gabia's customer support?
Gabia is not ranked as one of our top web hosts. But that can also be a result of Gabia being a small, under the radar, hosting provider. There are advantages to a small hosting company – as a customer, you are more important to them. You can also check out our comparison of the most popular web hosting services here.