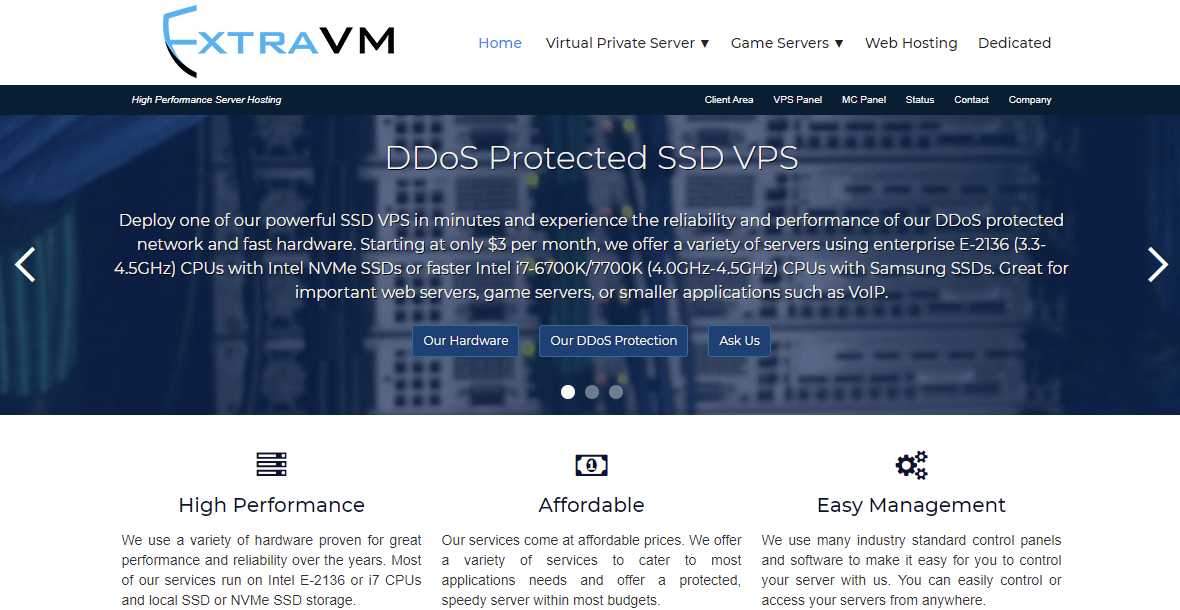 ExtraVM was established in 2014 to provide DDoS protected hosting in different locations in the world. Its services include shared hosting, VPS hosting, dedicated servers, and game servers. It has data centers in Canada, the United States, France, Singapore, Australia, and the United Kingdom. Its website is in English.
Features and Ease of Use
ExtraVM's web hosting plans are named Web Basic, Web Premier, and Web Ultimate. With these three plans, users will enjoy the following features:
99.9% uptime guarantee
Free SSL certificate
Weekly automatic backups
From 10GB to 30GB disk space
Unlimited bandwidth
Its servers use NVMe SSD arranged in RAID configuration for data storage. This combination offers better performance compared to traditional HDDs and older SATA SSDs. To further boost it, it uses the LiteSpeed webserver, which is highly rated due to its performance and stability. It is known to be able to deliver content faster than the Apache web server and even the Nginx web server.
Litespeed comes with built-in anti-DDoS features such as connection throttling. ExtraVM's servers also have different software layers of DDoS protection to help mitigate attacks that would not be filtered by the network mitigation. This includes on-site mitigation and remote protection when needed as a second layer of mitigation.
Furthermore, it uses the CloudLinux operating system, which provides stability in shared hosting environments. It also provides isolation for each user and ensures their data usage doesn't affect other users. CloudLinux also comes with CageFS which prevents one user from seeing other users' files and prevents him from detecting the presence of other users on the shared server.
With ExtraVM's plans, you can choose your own PHP version and modules. It offers cPanel control panel which has dozens of features that you will need to manage your hosting account, like the Jetbackup feature which enables you to automate your backups and restore when needed.
cPanel also comes along with other tools like Softaculous, with which you can have numerous applications like WordPress automatically installed on your account.
Pricing and Support
ExtraVM's hosting plans come with prices that are affordable. You can subscribe to any three of these plans for a monthly, quarterly, semi-annual, or annual period. It doesn't offer domain registration services, so you will be required to register a domain name first, and then update your nameservers when purchasing a plan.
Its payment methods include PayPal, credit or debit card, Apple Pay (Stripe), PaymentWall, and Mail-in-Payment. It offers a three-day ( 72 hours) refund on shared plans. This is too short to truly test and assess its servers. Plus, this refund doesn't apply to some payment methods.
ExtraVM's technical support is available via ticket and email. There's also a knowledge base with tutorials and frequently asked questions. I sent an email and got a reply shortly after.