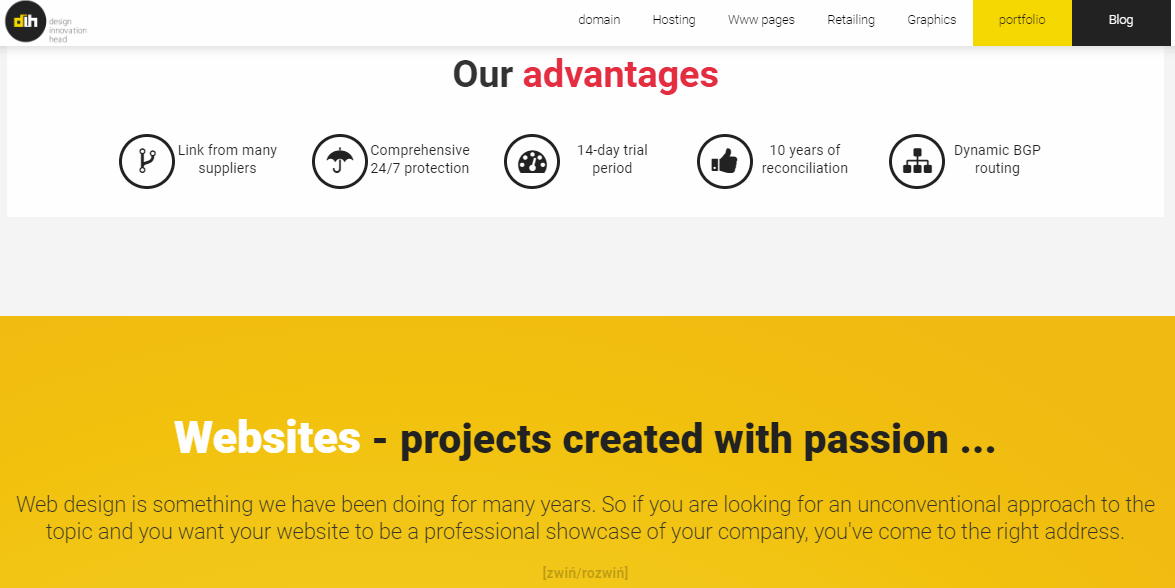 Founded in 2004, DiH.pl is a web design and E-commerce agency that also offers hosting services. It provides web hosting, Virtual Private Servers (VPS), and reseller hosting. The company's servers are housed in data centers located in Krakow, Poland. Its website is available in Polish only.
Features and Ease of Use
DiH.pl offers three shared hosting plans with different storage space and bandwidth. These are some of the features that shared hosting customers enjoy:
99.9% uptime guarantee
Daily automatic backups
Unlimited add-on domains
4GB, 20 GB, or 40GB storage space
DiH.pl provides customers with email autoresponders. With that, you can create emails that will be sent automatically when the email address receives an email. This works well to interact with customers when you're out of the office or away. You can notify potential/existing customers that you are acknowledging their email and they will get a response at a certain time.
Other lovely email features that DiH.pl offers is anti-virus protection and anti-spam protection to ensure that you don't get malicious content through your emails or get swamped by spam emails and miss important ones.
Customers get the DirectAdmin control panel that's easy to use. My first time using it, I didn't encounter any issues with understanding the way features were laid out. There's no website builder, but you can install E-commerce applications and WordPress on your account.
DiH.pl supports different versions of PHP. You can switch to a version you prefer or one that your application uses from your DirectAdmin control panel. Another thing that you can do from your control panel is to create and run cron jobs.
If you need more resources, you can check out its VPS. It offers two categories: Root and Admin. The VPS root is for customers who want to manage the server directly with root access. For beginners or those who don't want to deal with server management, the Admin is better, because DiH.pl handles management while you deal with your VPS from your DirectAdmin control panel like you would with shared hosting.
Pricing and Support
DiH.pl offers a 14-day trial period that's free without credit-card commitment. You don't need to upload payment details nor pay for the hosting period after the free trial to enjoy it. After the 14 days, it expects you to make payment. If you don't, in about a week, your account will be deleted. For VPS, it also provides a free 14-day trial.
For the prices available, you can pay for either 12 months or six months at a time. Unlike most hosting companies, paying for a shorter duration is more profitable due to the more than 90% discount on prices when you pay for six months. The 12-month plans are not expensive for the features on offer.
The company doesn't offer a money-back guarantee, which isn't surprising given its free trial period and discounted prices for six months of hosting.
There's no knowledge base, but its technical department works 24/7. You can contact support through email and phone support is available as well, but only from 9:00 AM to 4:00 PM. I sent an email but didn't get a response, despite waiting for more than three weeks.