DigiState offers a range of hosting services, IT office automation, and consultancy services to individuals and businesses in Europe. It started business in 2007. Unlike many other companies, it doesn't sell itself on offering very low prices for quality, but on accessible and secure hosting.
This company uses three data centers in Amsterdam, Netherlands, and one in Vilnius, Lithuania. Its website is in English, Lithuanian, and Dutch.
Features and Ease of Use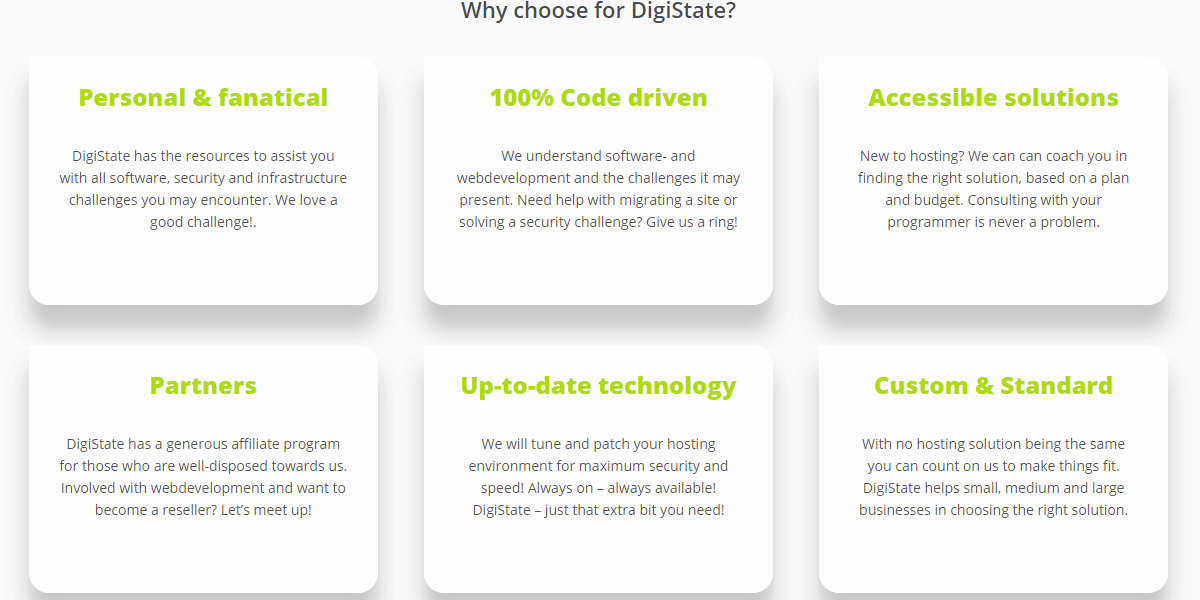 For most of its hosting services, it doesn't provide much information on the tools that it offers, or specific restrictions on its servers. Nor does it have plans displayed on its websites, and it requires potential customers to contact the company for a custom solution. While it's great to pay for the exact resources that you need rather than having to pay for more by getting a customer offer, DigiState doesn't leave the website visitor any option to understand its service offerings on their own.
It does have plans for shared hosting, though. These are some of the features:
Daily backups
Let's Encrypt SSL
Up to 50GB traffic
Anywhere from 500MB to 2500MB
This vendor offers a host of web hosting services, including web hosting, E-commerce hosting, cloud hosting, and reseller hosting.
On all of its web hosting, it supports Magento, WordPress, Joomla!, and Drupal. Also, it offers a one-click installer tool for you to install the CMSes. If you plan on using Magento, you can take any of its Magento hosting plans.
The company provides Patchman for clearing up malware and fixing security vulnerabilities on websites.
It also provides website caching on Magento hosting. This is great for enhancing the load time of your website as a cached version of your website is temporarily stored for a period of time, and if a visitor comes back within that time, they receive the cached version. So, your server doesn't have to read all of the files again.
As usual with cloud hosting, DigiState offers management software that enables customers to scale their resources up or down as neded. It also provides data security and a hybrid of server structures.
Pricing and Support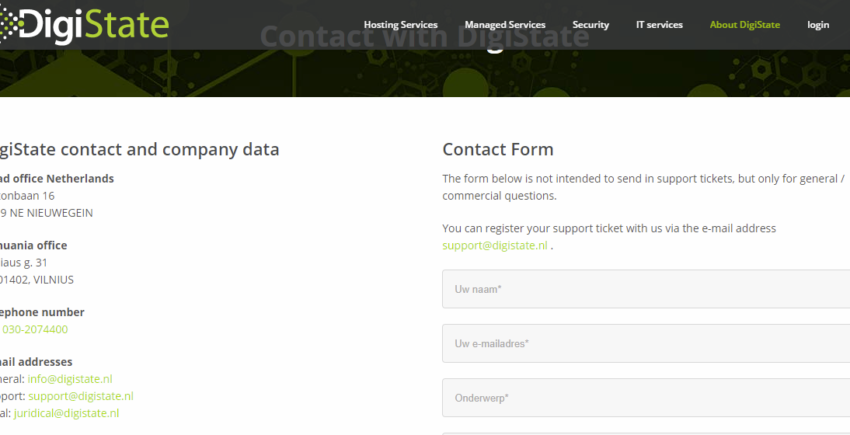 The prices for the shared hosting plans are expensive. Given that the resources can't take more than small business websites, one would expect that the prices be customized to fit small businesses. The Magento plans are better priced and reasonable for the features on offer.
DigiState offers a 30-day money-back guarantee, so you can try it out and if it's not for you, request for your money back.
As stated above, DigiState doesn't have features, pricing, or plans specifically stated on its website for some of its other services, including cloud hosting and reseller hosting. You'll have to discuss with a technician before a custom quote is built that fits your exact needs. However, beware that it might be slightly more expensive than what you'd get from other providers.
If you're looking to use DigiState, it will help you migrate your website and solve any security, software, or web development challenges that you're facing.
Customer support is reachable through email, phone, and online ticketing. Another gripe is that it lacks live chat support. Customers might find it more tasking and time consuming to call the team, and would often still prefer an immediate response system like a live chat.
The vendor also lacks a knowledge base. You'll need to wait for a response from a support team member or try searching online for answers.
Nevertheless, I sent an email and got a confirmation that a support ticket was opened for me automatically, but I never received a reply, despite weeks of waiting.