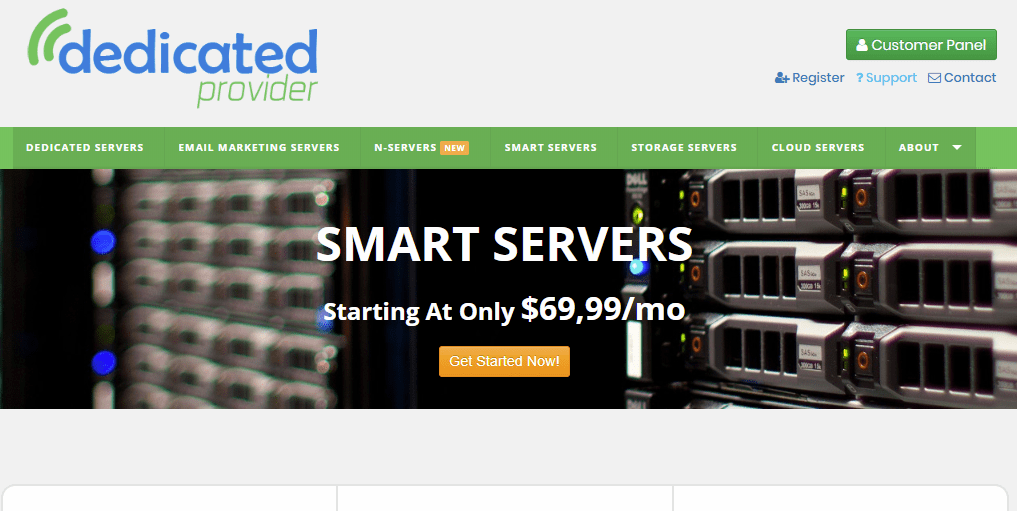 DedicatedProvider is a company located in Delaware, United States. The company doesn't service small businesses and individuals looking for low-level hosting. Rather, it provides dedicated servers, storage servers, cloud servers, n-servers and other high-end resource servers to its customers. The company promises a short set-up time with no long-term locked-in contracts. Its servers are located in Turkey and the United States, and the website is available in English only.
Features and Ease of Use
DedicatedProvider offers Smart Servers. These are more of a new generation service that combines dedicated servers and cloud server technology. You get the best of both worlds for privacy, remote management and monitoring, mobile computing, and instant scalability for maximum performance, security, and efficiency.
The company offers five SmartServer plans that provide the following:
One dedicated IP address
Anywhere from 150GB SAS to 500GB SAS
1x Xeon Quad-Core
For most of its services, it uses up-to-date Intel Xeon processors, and either Solid State Disks (SSD), Serial Attached SCSI (SAS), or Serial Advanced Technology Attachment (SATA) disks. They all have different pluses with regards to capacity, speed, and reliability.
For dedicated servers, the vendor offers nine plans with servers hosted in Turkey and three plans for servers in the United States. Those in the U.S. offer more resources on the whole. For example, the top plan in the U.S. provides eight 2TB SSDs, a stronger RAM, and 1 Gbps unlimited network, while Turkey's highest offers four 960GB SSDs but with 300 Mbps.
DedicatedProvider says that any dedicated server, smart server, or storage server that you purchase will be ready in two hours. Cloud servers are ready within 15 seconds after your payment is confirmed.
With the better speed, privacy, security, and all other advantages of having dedicated or dedicated cloud resources, it doesn't take away the issue of it not being beginner-friendly.
There are no beginner-friendly tools and if you want any, you'll have to buy a cPanel license and other modules for installing the software in one-click, and figure out how to install cPanel on your server. Otherwise, you can add cPanel or Plesk during checkout and DedicatedProvider will install it for you.
The vendor offers free support for various versions of CentOs, Ubuntu, Debian, Fedora, and FreeBSD. You can add them to your cart just before checkout. Additionally, they provide support for different versions of Windows at an additional cost.
Pricing and Support
DedicatedProvider doesn't offer low-end services, so there was no expectation of low-end prices. You can't get a server for the price of a cup of coffee anywhere. Still, its servers aren't more expensive than they should be for the features on offer.
The company offers monthly payments only, which is part of its short-term practice. It assures customers that they can cancel at any time and aren't locked into a contract. You can pay with PayPal or your credit card (Visa, MasterCard, Amex).
DedicatedProvider doesn't have a knowledge base but does provide 24/7 technical support with a promise of an average response time of 15-17 minutes. You can reach the support agents through email and ticket. I sent an email but unfortunately, never got a reply back despite waiting for more than a week.