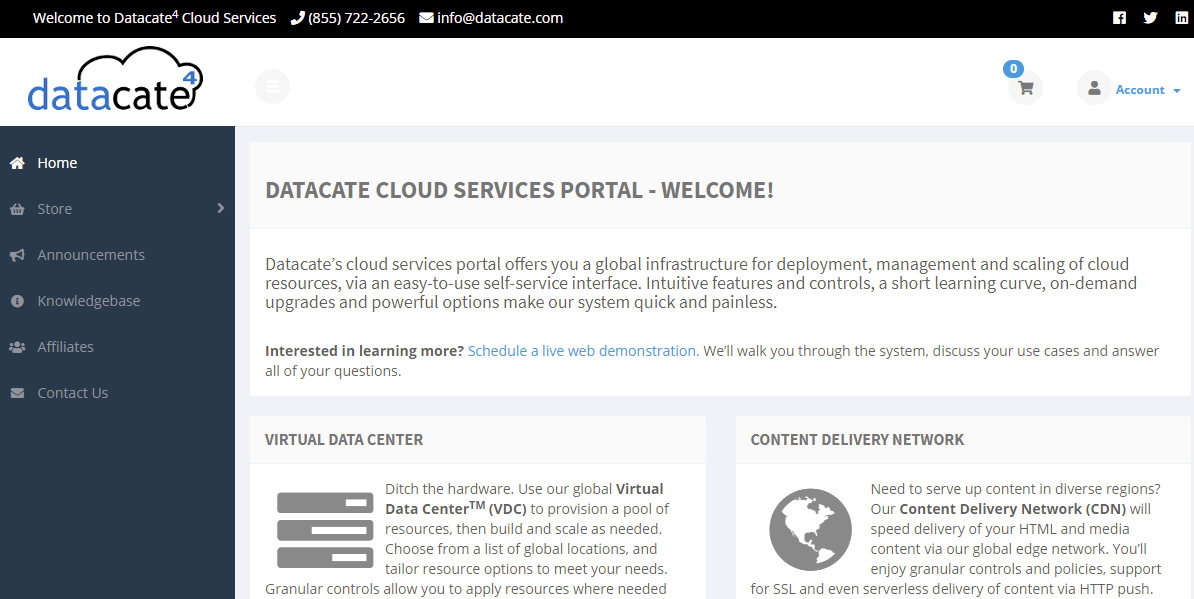 Datacate is an internet solutions provider offering cloud services such as infrastructure as a service (Iaas), backup as a service (Baas), content delivery network, and server monitoring services. It also offers non-cloud related services that include colocation, hardware as a service, and managed IT solutions. It has virtual and physical data centers all around the United States. It also has virtual data centers in different parts of the world. Its website is in English.
Features and Ease of Use
Datacate offers infrastructure as a service (Iaas) with its virtual data center (VDC). It is a virtual representation of a physical data center, provided over the cloud and hosted by one or more actual data centers.
VDC is specifically designed for enterprise business needs and it allows organizations to configure their server with resources according to their needs. This brings about flexibility and scalability. Configurable options on VDC range from:
8GB to 256GB RAM
100GB to 10,000GB primary disk space
8 to 64 IPv4 addresses
16GB to 512GB swap storage
10 to 1000 Mbps
Some of its virtual data centers come with a Linux operating system, while others come with options to choose between Linux and Windows operating systems. There are add-ons available, as well.
As part of its cloud services, the vendor provides backup as a service (backup/disaster recovery) using R1Soft. This enables you to backup and restore files, email, databases, and/or entire machine images. You can even perform automatic, scheduled full and incremental backups. This service is configurable and works on both Linux and Windows platforms.
Another cloud service it offers, which can also be configured based on your needs, is a content delivery network. This speeds up the delivery of your HTML files and streamed media content to your visitors.
There is also a monitoring service offered using Cloudmonitor. This tool reviews and monitors cloud computing resources for optimal workflow and this is done automatically. Datacate offers three plans with different numbers of monitors and intervals between each monitoring activity.
The Datacate website is well structured to help you navigate easily. It is important to note that its services are meant for advanced users and beginners will require a lot of help if they choose to use this service.
Pricing and Support
Because it provides configurable choices, we do not have a set price. The pricing of each plan varies based on the virtual location you select. Configuring your server with the minimum resources for each location will establish a specific price, offering clarity in this regard.
For a VDC plan, prices are competitive, but definitely not affordable for individuals and small businesses. You can only subscribe for a monthly subscription and make payments using the Authorize.net CIM payment gateway.
Datacate provides support to its clients through email, phone, tickets, and live chat. I had a pleasant conversation with one of its staff when I used the live chat. You can also try the available knowledge base.