Cyber Host Pro is a small website hosting provider based in the United Kingdom, but their customer base has expanded beyond national borders to countries such as the United States, Germany, France, and India. This vendor offers simple shared web hosting, but can also scale up to regular virtual servers, cloud-based VPS, reseller hosting, and dedicated server plans. The company has been operational since 2002.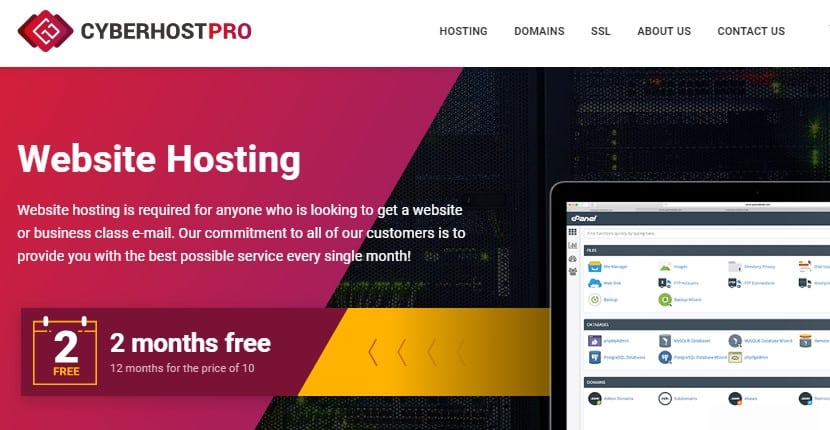 Features and Ease of Use
Cyber Host Pro's most popular offerings are their all-in-one web hosting packages that include the following:
A minimum of 1GB disk space
Unlimited monthly traffic
A minimum of five enterprise emails
Application installer
SSL certificates
Imunify360 server security
cPanel
This array of features is definitely sufficient for someone just starting out with carving a basic online presence. On top of that, some of the features that stood out with this web hosting provider include:
CloudFlare CDN – This is widely recognized as one of the best CDNs in the industry. Having a CloudFlare CDN means better website loading speeds for your readership, no matter where they're located around the world.
Website builder – This beginner-friendly tool enables you to quickly design and launch a website without any coding knowledge.
Daily backups – Many web hosting providers only offer weekly backups — and some don't offer any at all. Cyber Host Pro offers daily backups with an easy restore tool.
LiteSpeed Web Server, CloudLinux OS, and MariaDB – In the industry, this powerful combination of software is widely respected as one of the best configurations for providing fast speeds and guaranteed resources to shared hosting customers.
There wasn't much that I didn't like about Cyber Host Pro's packages, given the effort they've clearly invested into decking out their servers with the best software in the industry. However, I do have one complaint: their entry-level shared hosting package only gives you a single MySQL database. This means that if you install WordPress on your account, you have no other databases to work with in the event that you'd like to install any other database-driven scripts.
Cyber Host Pro doesn't have an uptime guarantee readily advertised on their website. It took a little bit of digging before I finally found it, but it appears that they do have one. Unlike most vendors, they don't offer the typical 99.9% or 99.99% uptime guarantee; instead, they guarantee that if your website is down for more than 0.72 hours in a month (which works out to be about 43 minutes), they'll refund credit into your account.
Pricing and Support
While Cyber Host Pro has a relatively cheap basic web hosting package, it comes with a low resource cap and would therefore limit most growing websites. For business owners who want a better hosting deal from this vendor, the only way to achieve this is by subscribing to the more expensive packages. The problem is that even those more expensive plans do not include unlimited disk space, domains, emails, and other features that most enterprises would find imperative.
The truth is, there are many other reputable U.K. hosting providers with cheaper and just as robust web hosting solutions. That said, Cyber Host Pro offers customers two free months of hosting when you subscribe to their annual plan, so while they aren't the cheapest, they definitely aren't the most expensive, either.
Cyber Host Pro has a friendly support team on standby 24/7/365, ready to solve any challenges their customers face. This team is quite resourceful and has an average response time of 30 minutes for tickets. The best part about their support is still their live chat, however: this connects you to a real live agent in under a minute and is available 24/7/365. This appears to be the channel that Cyber Host Pro wants to funnel most of their customers to, and for that reason they don't have a telephone number you can call. Cyber Host Pro also has a comprehensive knowledge base that includes video tutorials covering a range of topics.