ClouDNS has been offering customers DNS subscriptions such as Premium DNS, GEO DNS, Reverse DNS, Secondary DNS, Dynamic DNS, Private DNS Servers, and extras such as domains, dedicated IPs, and DDoS protected VPS since 2010. The company receives over two billion domain queries per day. Its support is pretty good and the website available in 12 languages including English.
Features and Ease of Use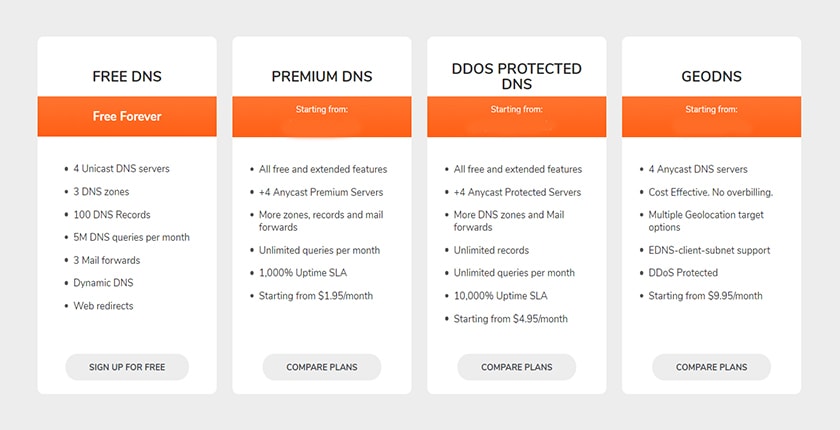 When ordering ClouDNS services, here's what you can expect in your package:
WHMCS/cPanel
Email accounts with mail forwards
Unlimited alias records
Web redirects
Hourly DNS statistics
1,000% uptime SLA
200+ DNS Zones
256-bit Let's Encrypt SSL
Just as the name suggests, ClouDNS operates a Cloud-based infrastructure. Its custom-made system lets customers monitor DNS metrics in real-time across different zones. With its service, users can also acquire additional DNS resources whenever they want. The infrastructure also supports simultaneous synchronization across 20+ POPs. And once set up, you don't need to take any more action, but to just monitor them.
ClouDNS also gives users access to professional tools and features that some DNS services don't. This includes primary, secondary, and reverse DNS. It also supports many types of DNS settings and records. Domain forwarding and parking, mail forwarding, and zone sharing is part of the suite. Be sure to check its DNS packages to get a full picture of its features.
Though there are many CDN providers and anti-DDoS attack services online, not many of them protect your domain from SPOF the way ClouDNS does. It leverages the latest DDoS mitigation technologies and years of experience to protect domains for websites, game servers, and other apps. The company also has strong partnerships with DDoS services, which translates into reduced licensing costs.
Pricing and Support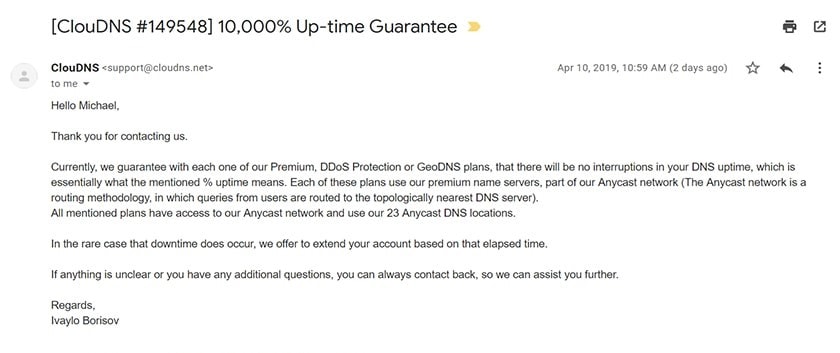 ClouDNS is one of the cheapest services in the DNS hosting space. The company guarantees users lower prices and should a customer find a service that's cheaper, they will amend the prices to match them. Users have 30 days to try out the service and upgrade or cancel. PayPal, Skrill, Bitcoin, wire transfers, and all major credit or debit cards are accepted.
If you so wish, you can order extras such as DNS zones from a pool of 200+ zones and 10,000 records along with dedicated Anycast IP addresses with custom server names. You can also import records in non-bind format files and the tech support team will be happy to assist you, though you have to pay for this service.
Going by the testimonials on its website, ClouDNS seems to be doing really well with handling customer issues and monitoring its services. My worry is that tech support is available only via email. I wish it had live chat operators and a dedicated telephone line for customers. I do hope this is something that they'll address sooner than later.