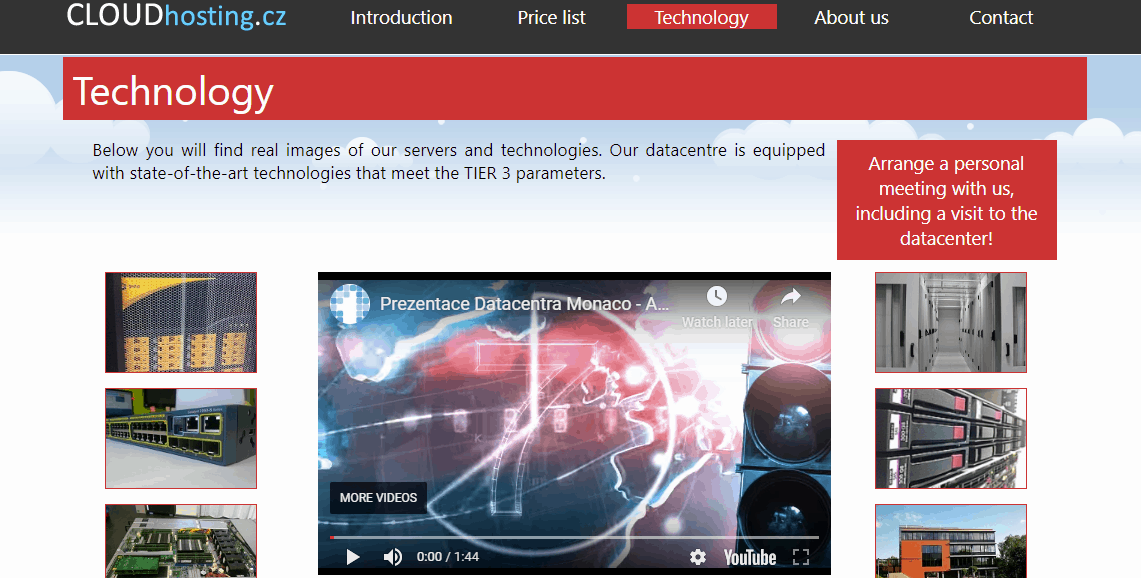 CLOUDhosting.cz is operated by ASPone sro, a Czech company that was found in 2007. The operator offers shared hosting, Virtual Private Servers (VPS), and dedicated servers. CLOUDhosting.cz, however, only offers cloud hosting.
Its cloud servers are hosted in a data center in Monaco, and the website is available in Czech only.
Features and Ease of Use
CLOUDhosting.cz offers cloud servers in such a way that you can pick the exact CPU, RAM, and HDD that you want. There's no need to pay for the resources that you don't need.
These are some of the features of cloud hosting:
99.99% uptime
Up to 256GB RAM
Anywhere from 100GB to 1000GB HDD
Up to 24 CPUs
Although CLOUDhosting.cz offers HDD, which isn't as great as SSD, it has many other features to make up for it. The company offers SAS disks which have faster throughput and are more reliable than the alternative – SATA.
Also, its HDDs have 15,000 Revolutions Per Minute (RPM) which is one of the fastest spinning times. When platters spin as fast as this, there's no doubt about the high performance of the hard drive, which means faster read/write speeds and higher data rates.
CLOUDhosting.cz has failover in place for redundancy. If a component in your servers or network fails, it'll quickly switch your website to redundant/standby servers to keep you up and running.
On each server, there are 12 x 1Gbps connectivity. Simple websites wouldn't know the difference if they were on lower connectivity, say 100Mbps. However, big websites with so much traffic will appreciate it as it allows you to accommodate more visits at a given time without the server slowing down.
Pricing and Support
CLOUDHosting.cz allows potential customers to have a test run of its cloud servers. If you're interested, send a message to its support team and they'll take it from there. If you do want to pay straight away, you'll still have to contact customer support with the details of the cloud server that you have chosen from the price calculation point on its website.
The cloud hosting services aren't expensive with the pricing appropriate for the features that this company offers. When using the cloud servers, you can easily scale your resources at any time as it allows customers to buy extra CPU, HDD, IP address, and RAM when needed.
With any specifications of cloud hosting you get from this provider, they include a free Windows Server License. The pricing also covers free data transfer, so you don't have to worry about additional charges based on data usage.
If you wish to migrate from your current provider, CLOUDhosting.cz will do it for you for free, as well.
CLOUDhosting.cz doesn't have a knowledge base section, so you're pretty much on your own for self-support. Fortunately, its technical support agents are available to help customers solve issues fast through email, phone, and fax.
Unfortunately, I sent an email but never got a reply.