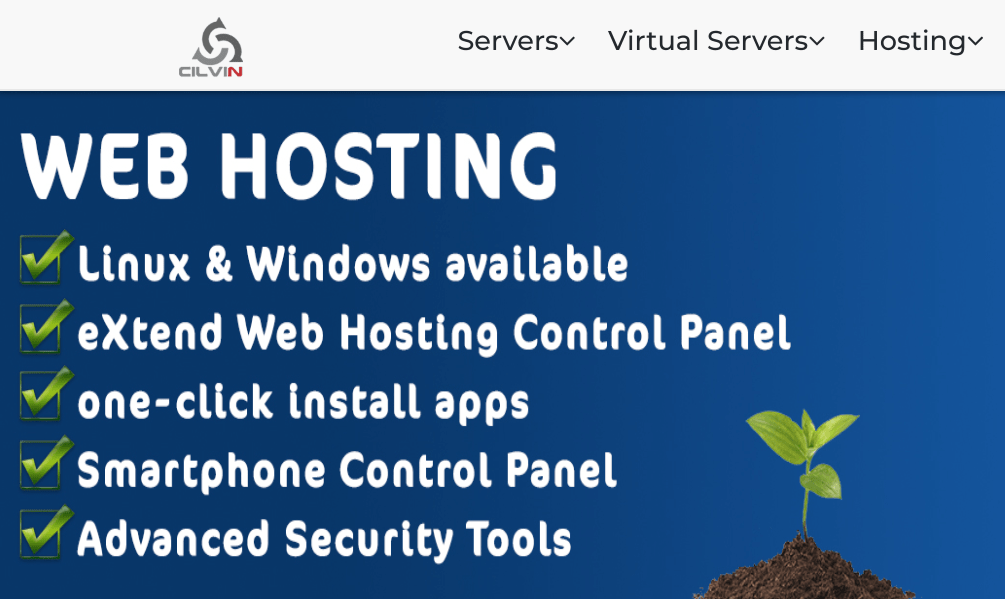 CILVIN was founded in 2007. It has servers located in the United Kingdom, Germany, and the United States, and its English-language website sells web hosting, web design, VPN services, DDoS protection, and more.
Getting to grips with CILVIN's website wasn't easy because all the menu links to hosting plans lead to a 404 "not found" error page. However, the "OVERVIEW" links within the main body of the website do lead to product details pages.
Features and Ease of Use
CILVIN's three standard hosting plans, which may be suitable for small to medium-sized businesses, provide these features:
One to three websites
30,000 MB or unlimited bandwidth
Either 5,000 MB or unlimited storage space
CILVIN supports both Linux and Windows operating systems, and setting up your website on either platform should be simple. Firstly, the free website builder lets you create a professional-looking website without web design experience, but (unfortunately) you'll have to pay for a mobile website builder. Secondly, a one-click installer makes it easy for you to create a CMS-backed website with WordPress, PrestaShop, Magento, Joomla, or another application.
If you know what you're doing when it comes to coding a website, you can use one of several programming languages such as PHP, Python, or Ruby.
Hosting accounts are managed via the eXtend control panel, which — judging from the free demo — isn't as robust or user-friendly as the much more popular cPanel. But it does the job it's designed to do.
CILVIN is big on security. It uses a Cisco firewall and provides DDoS protection plus online reputation protection.
Pricing and Support
CILVIN offers hosting plans with affordable prices and provides various features without charging any setup fees. You have the flexibility to choose your billing cycle—monthly, quarterly, half-yearly, yearly, or even longer. Although there is no free trial, we provide a seven-day money-back guarantee, allowing you a week (which may not be considered a very long period) to determine if our hosting services are the right fit for you.
You should be able to summon 24/7 support by telephone, email, or live chat. However, I have to tell you that my exploratory email received no response.
If you have to resort to self-support, you'll be disappointed to discover that the knowledge base is bare: