As one of the top ten web hosting providers in Russia, Beget is no stranger to the industry. They're not flashy by any means, but since their inception in 2007, they've been offering reliable web hosting services at a good price. They're headquartered in St. Petersburg, Russia, and their website is available in English and Russian.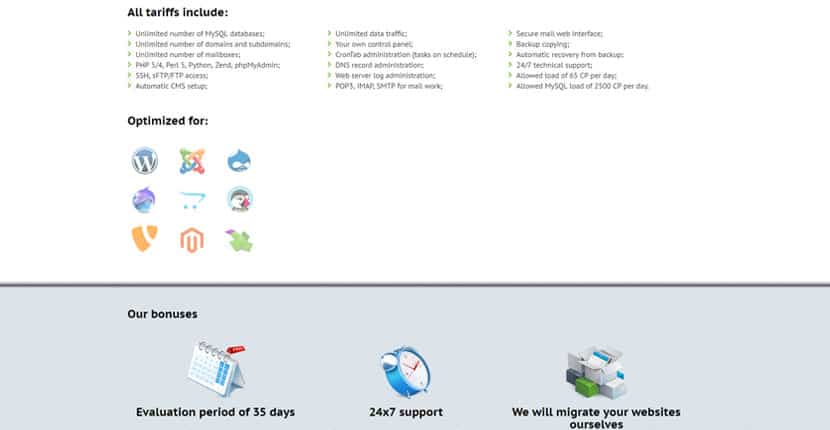 Features and Ease of Use
Beget offers a fairly standard range of shared hosting plans, along with dedicated servers and what they call Premium Hosting plans. The latter looks like a VPS or low-load shared server option – essentially, the Premium Hosting servers can handle a load that's seven times greater than what their typical shared hosting plans can take.
Where Beget really stands out is in the resource allocations they offer to their users. All shared and premium hosting plans come with unlimited MySQL databases, unlimited emails, unlimited subdomains, and unlimited bandwidth – the main limitation is in the storage space and the number of websites you can host.
Of course, when they say "unlimited bandwidth," it isn't truly unlimited – they'll cap your account at 65 CP a day, which in layman terms simply equates to about 7100 visitors a day for a basic WordPress website. When you take into account that this limitation applies even to their Noble and Great plans, which permit up to ten and 25 websites respectively, it's actually not a significant number. This implies that while their shared hosting plans are suitable for smaller websites, you'll need to opt for something more robust if you anticipate a substantial amount of traffic.
Beget has a 99.9% uptime guarantee for their shared servers, though this isn't readily advertised on their website for some reason (you'll have to dig through their "Terms of Service" to find it).
Beget doesn't offer cPanel with their shared hosting plans, but for the most part, their interface was surprisingly simple and easy to navigate, albeit lacking the robust functionality that cPanel offers. Once you've selected a plan, you'll be asked for your contact details and credit card information. After that, your account is set up and presented to you in just a few seconds – they even provide you with a Beget subdomain based on your username, just in case you haven't purchased a domain yet. One thing I was slightly disappointed by is that certain aspects of their interface haven't been fully translated into English, but that was easily resolved with the help of Google Chrome's Translate to English feature.
Pricing and Support
Beget's prices aren't the lowest on the market, but they're definitely one of the most affordable choices – which explains why they've grown to become one of the top ten largest hosting providers in Russia. This is especially pertinent when you consider the number of unlimited features they include in each package.
They don't have a free plan available, but they do give you an evaluation period of 35 days for you to test their service risk-free. You can make payment for the package at any time within the 35 days; the remaining evaluation period will simply be added on to the duration of your hosting plan. Also, if you pay for your annual contract in one lump sum up front, you'll enjoy a discount.
Changing plans is easy enough with Beget: all you have to do is click on the new plan name directly in your web hosting control panel, then press the button Change tariff plan. You can also add or remove features from your package (provided you don't fall below the base configuration of the plan). They include a free website migration service, so you can easily transfer over from another hosting provider without much downtime.
Beget also has a decent manual that covers the basics of their user interface. There's no search function and it won't help you troubleshoot any account issues, unfortunately, so if you want more specific assistance, you'll have to contact their customer support team. Their support staff is available 24/7 via email or the ticketing system in your user admin panel. Sadly, there's no phone or live chat support, but given that their help documentation all tend to be in Russian, I'm not holding high hopes even if they do provide those in future.
How much does Beget cost?
Beget offers plans from $2 to $35. The price depends on which type of hosting plan you choose. You can see the updated pricing table (updated weekly) below.

Which Beget plan should I get?
My recommendation is to start with a cheaper plan. You can always upgrade later on. Beget can help you with the migration to a more expensive plan. The increase in visitors many times takes longer than expected and you shouldn't pay a lot of money until the need arises. Of course, your needs may vary, and you can consult with a hosting expert from Beget here.

How good is Beget's customer support?
Beget is not ranked as one of our top web hosts. But that can also be a result of Beget being a small, under the radar, hosting provider. There are advantages to a small hosting company – as a customer, you are more important to them. You can also check out our comparison of the most popular web hosting services here.