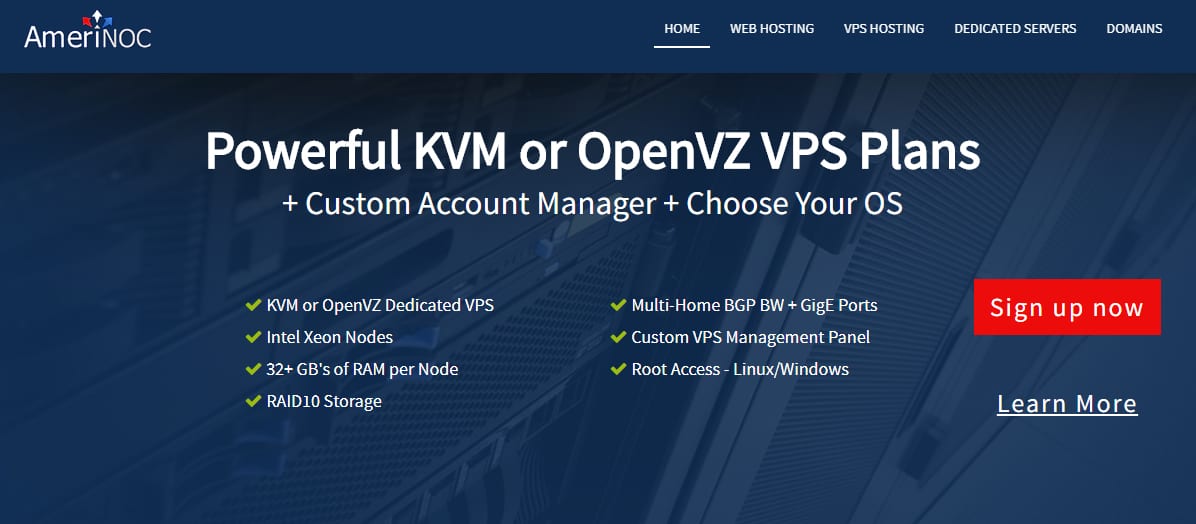 AmeriNOC hosting is an American based company located in San Diego and it's been a home for almost two thousand websites in the past 18 years since the agency started its operation. Using the San Diego Tech Center as their hardware location, AmeriNOC enjoys the benefits of a blended network system which includes multiple American internet service providers, depicted in constant power and security monitoring as well as stable internet connection.
Features and Ease of use
First of all, I was amazed by how simple and easy to use their company website is. The navigation is seamless, with all products and services presented in an organized fashion. AmeriNOC focuses its attention on individual and business user in the same amount. Their offer includes shared hosting with unlimited disk space and bandwidth, as well as a limitless number of domains. What's interesting about their shared hosting service is that it includes a free Installatron app. This app allows you to install WordPress, Yoomla, and over 200 other third-party software to help you run your website more smoothly.
Their VPS hosting solution provides full root access which means you have complete access to your server so you can install any software you need in order to deploy your server. The servers are driven by OpenVZ for Linux servers and KVM for Windows-based servers on Intel CPUs.
All hosting packages come with a 99.99% uptime guarantee, which means you can rest assured that it's highly unlikely your website will be offline. This confidence in the quality of service they provide is due to sophisticated equipment that tracks both hardware and software 24/7 for security purposes. All systems are redundant with a regular automated backup of all your data.
Pricing and Support
There are two billing cycles available at AmeriNOC, a quarterly and a 2-year billing cycle; the latter being somewhat more economical. The prices are highly competitive if you keep in mind what you get for the price. It's not easy to find a company with excellent service for the price they charge. There are no free plans; however, there is a 30-day money back period if you're not satisfied with their service.
The support service system is well designed and covers all possible options. You can reach technical support via phone, Live chat, ticket system, and a client support portal. The support is available 24/7, all year long, even during holidays. The support agents are professional and easy to work with, which is important if you're running a business and every minute counts.
The support staff also includes professionals on-site located in San Diego Tech Center who are standing by if any intervention is needed. They also make sure that none of the equipment is moved or handled by anyone except authorized personnel.