AlexHost Offers Offshore DMCA-Ignored Hosting on Its Shared LiteSpeed, VPS, and Dedicated Servers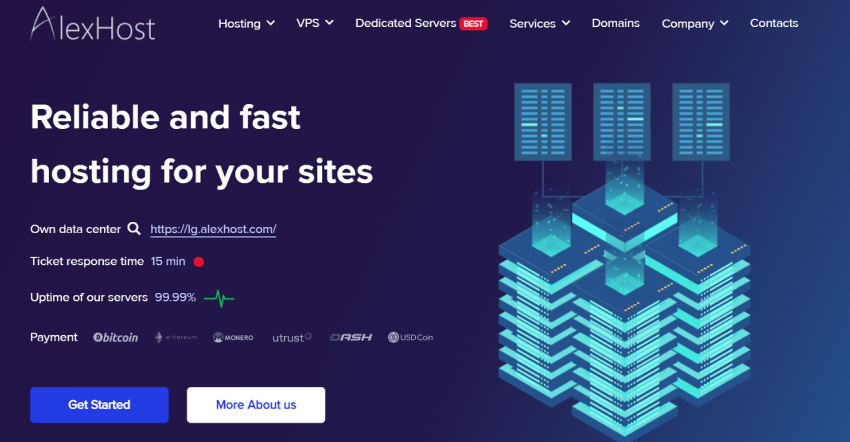 AlexHost offers three types of hosting: shared, VPS (managed/unmanaged), and dedicated servers. It caters specifically to people looking for "offshore" hosting in which DMCA takedown requests are ignored, and not regularly enforced by local laws.
Of course, as with any "DMCA-protected" hosting provider, AlexHost has its own set of policies, and it must comply with any local laws and court orders. Furthermore, this DMCA policy does not seem to apply to shared hosting plans.
Not only does AlexHost own a well-protected data center in Moldova, but you can pay using cryptocurrency. The website is available in three languages: Romanian, English, and Russian.
Now, AlexHost says it will ignore DMCA takedown requests, but does it provide good quality hosting at a reasonable price? That's what I decided to find out.
Features and Ease of Use
AlexHost's regular shared hosting plans include SSL certificates, SSD storage, cPanel, and an uptime guarantee. Its shared LiteSpeed plans – though much more expensive – include LiteSpeed web servers and caching functionality for enhanced performance with WordPress or other PHP-based CMSs, and NVMe SSD storage.

Both managed and unmanaged VPSs from AlexHost include a choice of cPanel or Plesk, and if you prefer a Windows server, you can install Windows 10, Windows Server 2016, or Windows Server 2019. If you need a dedicated server, a basic control panel called WebMin is available for free, or you can purchase licenses for cPanel or Plesk. You get a choice of Intel Xeon or AMD EPYC processors and a range of OSs
AlexHost includes DDoS protection with all plans, and it promises a 99.99% uptime guarantee. Finally, every plan or server from AlexHost, even the entry-level, allows for unlimited site traffic.
AlexHost Features at a Glance
| | |
| --- | --- |
| Free domain name? | ✘ |
| Free SSL? | ✔ |
| Money-back guarantee | 30 days except for LiteSpeed Hosting, which has only 7 |
| Uptime guarantee | 99.99% |
| Control panel | cPanel, Plesk, WebMin |
| Data centers | Moldova |
Support
AlexHost offers support via 24/7 live chat, phone, tickets, and email. You can also request a callback via Telegram. The available languages are English, Romanian, Russian, and Ukrainian.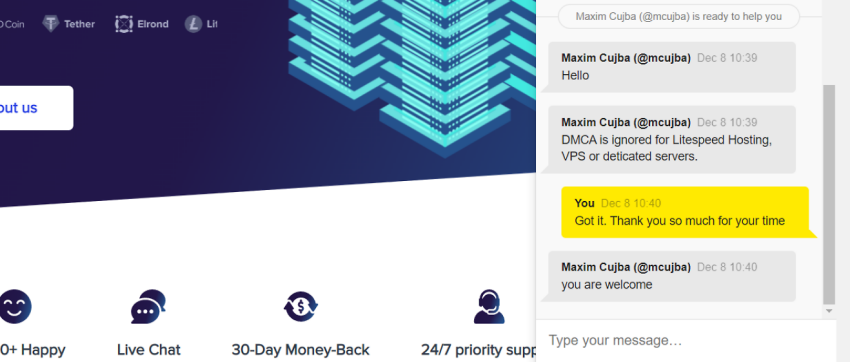 When I contacted support via live chat, the reply was almost instantaneous, and the agent gave me pertinent responses to all of my questions. I contacted AlexHost a few days later to measure the weekend response time, and it was only three minutes.
Pricing
AlexHost offers extremely cheap shared hosting, with relatively small storage allocations, unlimited bandwidth, and as many email accounts as you want. If you're looking for more resources and better performance, you can choose one of AlexHost's three LiteSpeed plans, though prices for these are quite a bit higher than the industry standard.
Depending on your choice of hosting, AlexHost offers different billing cycles. If you opt for simple web hosting, you have the option to buy a subscription for 12, 24, or 36 months, with negligible price variations among them. For LiteSpeed hosting, VPS, and dedicated servers, we provide plans on a monthly, quarterly, semi-annual, and annual basis. The annual plans turn out to be the most cost-effective over time.
AlexHost has a 30-day money-back guarantee for all its plans except for LiteSpeed hosting, which only gives you a 7-day money-back guarantee. ID may be required when AlexHost processes a refund request.
AlexHost offers domain name registration as well, but it is expensive compared to what other domain registrars charge for the same extensions. Also, I noticed that AlexHost charges more for a .com when purchased with a plan than when it's bought separately. That being said, domain registration comes with some additional services, including two email accounts, email forwarding, and unlimited subdomains.
AlexHost accepts multiple methods of payment, such as credit or debit cards, PayPal, WebMoney, Wise, FreeKassa, and a few others. You can also pay via one of the multiple accepted cryptocurrencies, including Bitcoin, Ethereum, Elrond, and Litecoin.