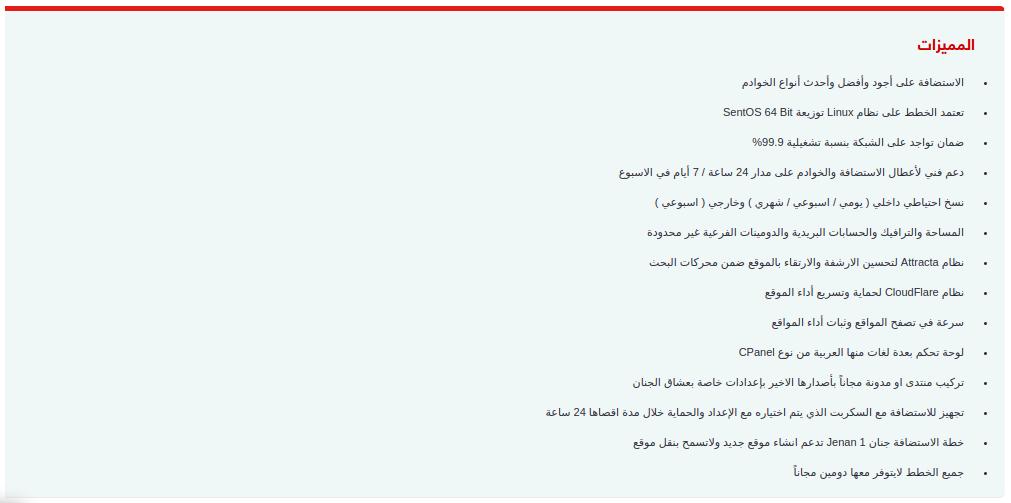 To compare the best web hosts, we hosted the same WordPress website on each one and tested performance, customer service, and value for money. Check out the results here.
3jenan has been in the web hosting industry since 2006. It is based in Saudi Arabia and specializes in offering a wide range of hosting solutions including special and managed servers, VPS servers, SDS servers, and shared hosting solutions. The 3jenan website is only available in Arabic.
Features and Ease of Use
Some of the standard features you can expect to find in 3jenan hosting packages include:
Windows, Linux operating systems
CloudFlare CDN
cPanel control panel
Backup services
99.9% uptime guarantee
3jenan offers shared hosting solutions powered by Windows and Linux operating systems. Its shared hosting package on Linux OS includes four plans. Its basic package includes limited bandwidth, 500Mhz processor resources, 15 processor processes, 50 email addresses, and two databases. The advanced plan includes limited bandwidth, 1200 processor resources, 50 processor processes, limited MySQL databases, and 300 email accounts.
On its shared VPS servers, 3jenan applies the OpenVZ partitioning system. It also deploys a CWP control panel for security and improved performance of the websites it hosts. Its shared VPS servers include three plans. Its basic plan incorporates 100GB disk space, limited bandwidth, 1500 mega RAM, 2×2500 Mhz processor, and 200 operations. Its advanced plan comes with 200GB disk space, limited bandwidth, 4×2500 bandwidth, 2500 mega RAM, and 250 operations.
The firm uses a Linux CentOS operating system on its hosting packages. It also deploys SATA SSD disks which makes its clients' websites load at superior speed. In addition, 3jenan users have access to a multilingual control panel which is comprised of several languages as well as an Arabic cPanel.
Other hosting solutions provided by the firm to its clients include special servers and managed server solutions. The hosting provider performs internal and external backups services for its clients. Internal backups are conducted daily, weekly, and monthly. External backups, on the other hand, are carried out on a weekly basis. It offers SSL certificates as an additional package that can be purchased by users.
Pricing and Support
3jenan's web hosting solutions are significantly cheap considering that all its shared hosting plans are offered free of charge. The firm offers an inflexible billing system where clients have to commit to making payments semi-annually or annually. All its prices are listed in Saudi Arabian riyal.
It offers free setup and a 15-day money-back guarantee. The money guarantee is only for customers who commit to annual subscriptions for its shared and unlimited hosting plans. 3jenan offers a 99.9% network uptime guarantee as well.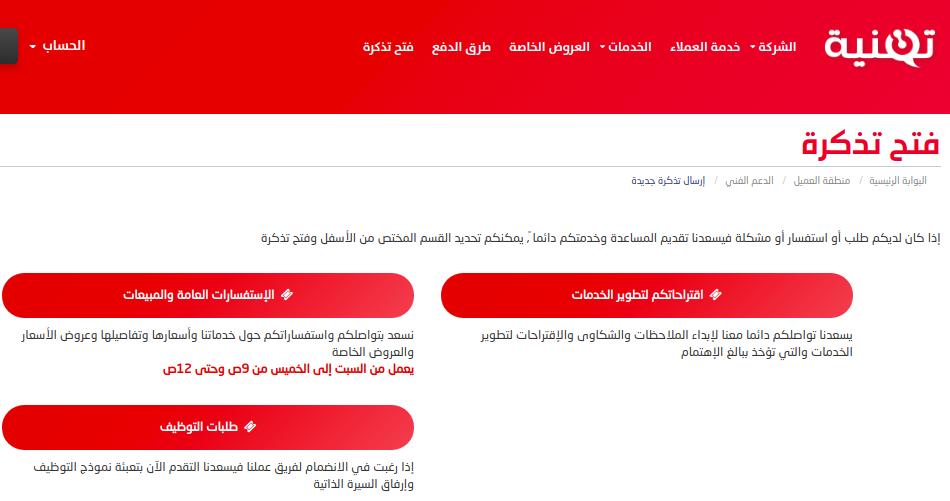 3jenan's technical support team is available 24/7. You can get in touch with them through live chat, email, telephone, and ticketing system. I sent them a query via email and received an automated response, the vendor promising to address it "as soon as possible".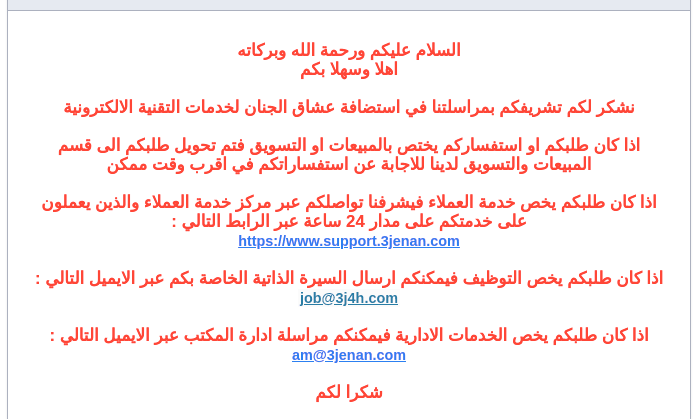 Over two weeks later and I had yet to receive any further communication from 3jenan.
While this vendor's website includes a knowledge base section, it lacks any tutorials or articles. The section is empty and doesn't provide any helpful information.