💎

Service Type
DIY logo maker

🚀

Free to Try
Yes

💲

Starting Price

$

14.00

📁

File Formats
PNG Files

🔄

Free Revisions
No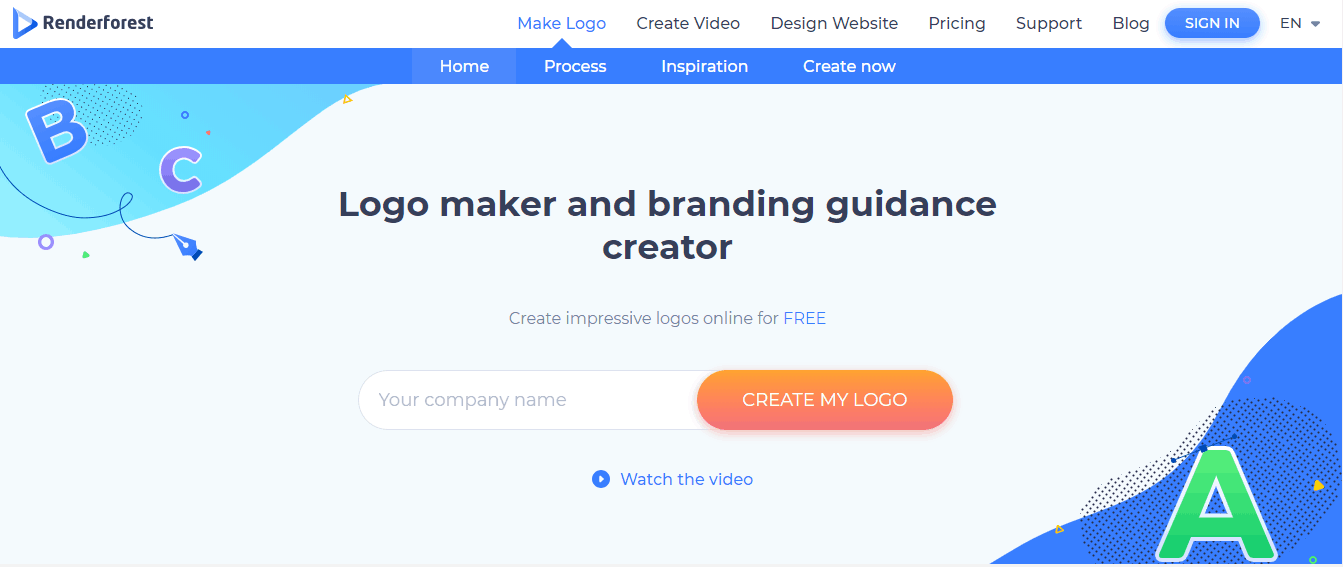 Renderforest, an Armenia-based company, offers a variety of online tools for creating all things branding, including promotional videos, explainer videos, animations, slideshows, corporate and educational presentations, and even music visualizations.
According to the company's website, a website and landing page builder should be available in the not-too-distant future. If it's anything like Renderforest's other tools, we can expect it to be simple, accessible and fun to use.
In the meantime, for this review, I decided to test one of the tools Renderforest is best known for: the Online Logo Maker.
Features
 To help you design your logo in minutes, Renderforest's Online Logo Maker offers the following features:
Machine-Learning Algorithm. In the first step of the process, you describe your business, your industry, and what you'd like to see in your logo. After you choose your preferred font styles, Renderforest's AI comes up with a range of designs for you.
Handy Customization. You can change your logo's typography, colors, icon, and positioning.
Vector Files. Once you decide on your logo, you can download the file in PNG format for free (for non-commercial use only), or in vector format if you subscribe to one of the paid plans. The vector file provides a very sharp, non-pixelated graphic.
Renderforest also boasts the following standout features:
Exclusive Artwork
Once you submit your brief, you can browse through 20,000 artwork files that have been created by the Renderforest design team. Most of this artwork is exclusive to the platform, which means that you don't have to worry about potential design infringement cases in the future.
Save Multiple Designs
If you're struggling to pick out one logo during the design process, you can save multiple designs to your dashboard and return at a later date to edit and refine your options.
Logo Animation
If you upgrade to a paid plan, you can animate your logo to help your branding stand out in today's competitive digital landscape.
Ease of Use
Renderforest's design process is as simple as they come. All you have to do is add your company name, describe your requirements, generate and customize your logo, and then download it.
For instance, I entered my name and the phrase "fashion writing business" in the brief. Numerous logo options came up that I could customize in terms of icon, typography, color palette, and positioning.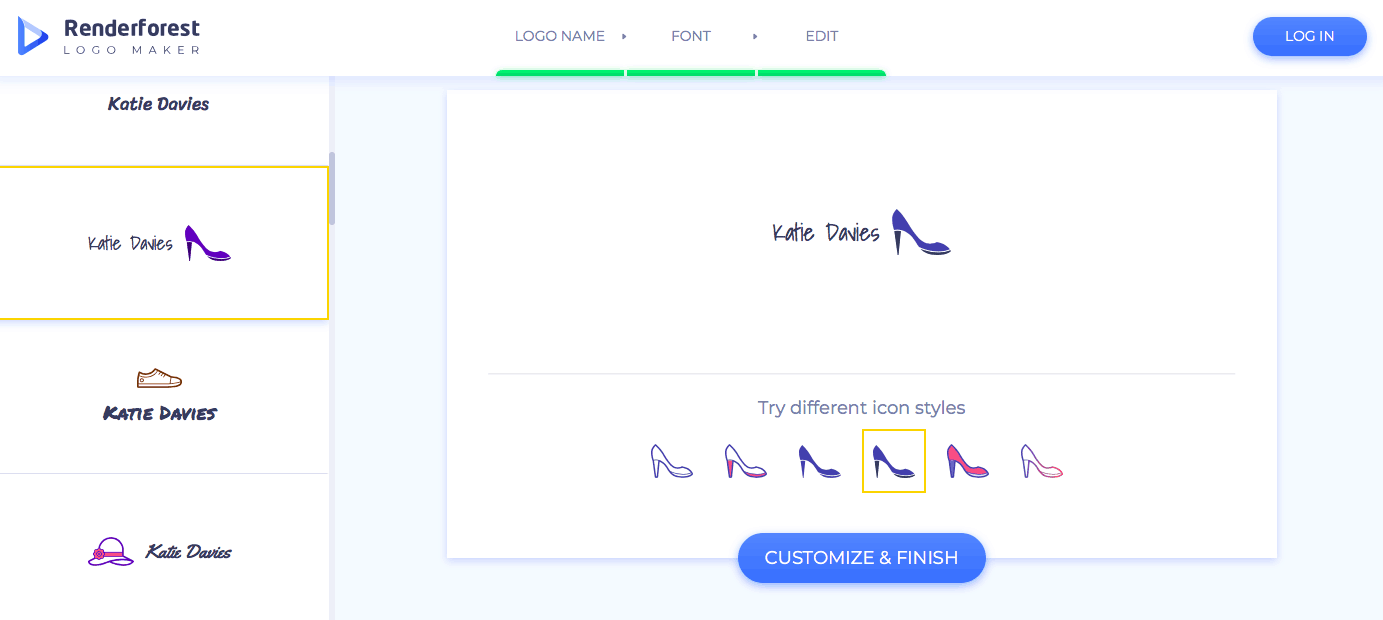 Customizing my logo was pretty easy, but one downside of this logo maker is that its AI algorithm may not always do a good job of providing you with an icon that aligns with your design brief.
For example, just to test out the algorithm, in another design brief I entered the phrase "pet business specializing in birds." Surprisingly, I was shown an icon of a dog instead of a bird.
To improve the chances of Renderforest's AI suggesting appropriate icons for your business, it's important to keep your brief short and simple. Mention only basic, everyday items.
Another drawback is the fact that there's no "undo" option for when you're editing your logo. If you make multiple changes that you end up disliking, you can't quickly revert to the original logo — instead, you have to manually go back through the stages to re-make it, which is a bit time-consuming.
That said, there's an icon search feature you can use to find a relevant image if you plug in the right keyword. It can take some trial and error to find the perfect one for you. Unfortunately, this is rather difficult due to the fact that many of the designs the algorithm comes up with are pretty basic.
Support
You can contact Renderforest's through an Armenia-based phone number, as well as email or an online form. In addition, the company's website offers the following options:
FAQs: You can find answers to basic questions about your account, technical issues, and working with the different tools.
Fast Ticketing System: If you can't find the answer to a particular question or need more specific advice, you can click Add a New Ticket in the FAQs section. I tested this and received a response within an hour.
Blog: If you're a design novice, Renderforest's blog provides tutorials and tips to help get you started.
Even though the current help and support options are adequate, a live chat feature with one of Renderforest's designers would be incredibly useful as you build your logo. Some personalized advice on what's visually impactful according to a professional would reassure you that your design is actually decent and up to industry standards.
Pricing
The logo maker has both a free and paid option. The free option allows you to download your logo in PNG format only, which is limiting in terms of quality. Also, you can only use it for non-commercial purposes.
You can download your logo in high-quality vector format for commercial use with the Pay-Per-Product option.
If videos for your business are also a requirement, you might find it beneficial to explore one of Renderforest's subscription plans. These plans will furnish you with one or more downloads of high-quality logos starting from the Pro plan and above.
There are four premium tiered packages you can pay for either monthly or annually on an auto-renewal. Some plans let you create unlimited logos, which would be extremely handy if you have multiple businesses. Advanced plans offer increased video minutes, storage space, and number of music tracks to embed into videos.
Whether you opt for a free logo or pay for one via a Pay-Per-Product or subscription plan, you can edit your logo as much as you like before you download it. Keep in mind that payments are non-refundable.