Tuthost
was one of the first hosting companies in Ukraine to switch to SSD discs, and later launching hosting on the even more modern SSD NVME discs. We talked with them about their CloudLinux platform, double backup services, and other solutions they make available to their customers.
Can users register, purchase, and transfer domains through TutHost?
Yes, we register domains in more than 130 domain zones, so our customers always have a large selection of domain names. We also have the best price guarantee.
What are your Web Hosting plans?
We have different plans for different needs. There are separate plans for WordPress CMS and for corporate email. There is also a regular shared hosting on SSD disks. Prices start at $ 3.5 per month. Here are our plans: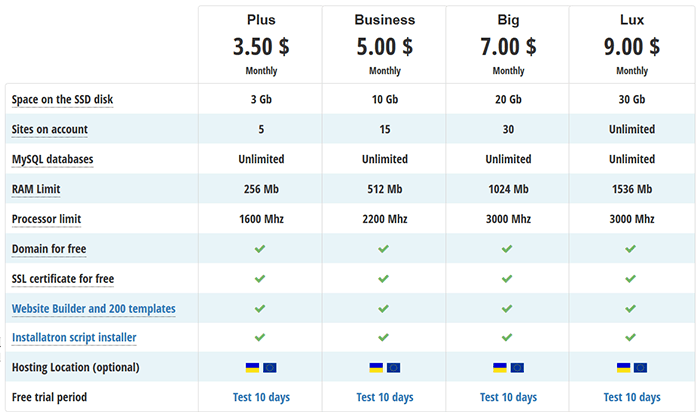 We offer discounts of up to 30% when paying for long periods of hosting.
What features are included with your WordPress Hosting plan?
All WordPress hosting plans include:
Memcached caching – to speed up the site and reduce the load
High-speed SSD NVME drives – 2x faster than traditional SSD
Install and update WordPress directly from the control panel in a few clicks
You can choose a PHP version and customize modules and PHP settings
Free SSL
Free domain with annual payment
WP-CLI – WordPress management via the command line – simple update of plugins, templates, activation / deactivation of functions.
What operating systems are your servers running?
We run CentOS and CloudLinux on most of our servers. CloudLinux improves reliability and allows the sharing of server between clients without affecting each other's other work on the server.
Do your hosting plans include SSL?
Yes, all of our hosting plans include free SSL.
Do you have migration services for customers with existing web sites?
We have a free website transfer service. Once we migrate a client's site – we give them an additional free month.
How does your Free Website Builder work?
Our website builder has around 200 adaptive templates so you can create your site quickly and easily. The main advantages of our site builder are:
Adaptive templates
Simple SEO optimization
Integration with social networks
Clients can use their own domain
Do you offer any Service Admin/Managed Services for customers who want to be more hands-off?
We have an administration service for dedicated server customer. For all other services, we have quick and professional support.
Are backup services available?
Yes, in fact, we are one of the few companies that double backup all customer data, keeping one copy in our Ukrainian data center and the second copy in the data center in Europe.
What security is in place to protect against hackers and other cyber threats?
Our administrators monitor our servers and keep all software updated. We have different protection software installed at different levels: Spamexperts and Spamassasin to protect from spam, Clamav to protect from viruses, firewalls to protect from network problems, CloudLinux to protect from overload, and 24/7 server monitoring by our professional support team.
How can your users access support?
We offer our customers support via email, support tickets, phone with callback, and online chat.