Copyleaks Plagiarism Checker Detects plagiarism and paraphrased content using advanced AI technology, confirming or disproving originality with sophisticated algorithms that scan and track textual content in all languages. In this interview, Copyleaks CEO Alon Yamin discusses plagiarism and copyrights from a digital perspective and offers a powerful solution to tackle them.
Please describe the company background, vision, and evolution so far.
I founded
Copyleaks
with my co-founder Yehonatan Bitton in 2015. Previously, we were working as software developers in the 8200 IDF intelligence unit, where we first started working with text analyzing, Artificial Intelligence, Machine Learning, and other cutting-edge technologies. We wanted to take this experience into the field of education to enhance academic integrity and help students and content creators in keeping their writing authentic and original. We help students in the writing process. Everyone today is using other sources when they are writing articles or doing research. We are here to make sure that you didn't leave a copyrighted paragraph in your content, even by accident. Copyleaks can help in that process.
What are some use cases for Copyleaks?
We have two main markets we are focusing on. The first market is the education space where we work with academic institutions, e-learning platforms, Learning Management Systems, and other software solutions to add another layer of plagiarism detection and help authenticate content within their specific systems. The second major market for us is around Intellectual Property and copyright protection so we are working with many content creators and publishers, who use Copyleaks for two main use cases:
Making sure they are publishing original content because a lot of them use external writers, it's a way for them to safeguard themselves from lawsuits.
After publication, Copyleaks helps to make sure they know what the distribution of the content is, in order to maintain and protect their copyrights. For example, when publishing an eBook, you want to make sure nobody copied it and shared it as a pdf somewhere.
We built our product as a platform from day one, with a very flexible and comprehensive open API that can be easily integrated with any system. And as so it is a very generic technology so we have many other use cases, for example, we've also been working with government organizations to identify leaks of sensitive information, we are working with SEO agencies, lawyers and businesses that want to make sure that their website content is not being copied by competitors. Our technology is working in more than 100 languages so we have customers all over the world. Our R&D is based in Israel, and our sales and marketing operation is in Stamford, Connecticut, USA.
How does Copyleaks work?
We have a few algorithm sets. The first one is the search algorithm we built, which allows us to search and crawl the web, databases, and directories to know if the content has been used there. We also have our AI and ML algorithms that allow us to compare not just words, but to really understand the context and meaning of the text and provide a multi-level comparison that detects not just identical but also similar, paraphrased, related text, which is harder to detect. Then we needed to develop a technology that will be able to compare a huge amount of text accurately but also very fast.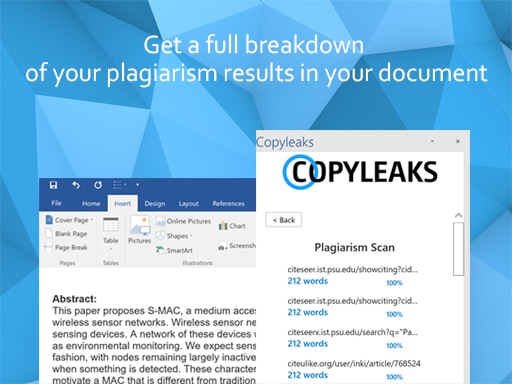 What would you advise to brands seeking to maintain copyrights over their online content?
We discovered two main things. Firstly, leaks of information and plagiarism are much more common than people think. Every company we worked with discovered things that have been copied from them without them knowing. It's important to be able to track that. Secondly, from an SEO perspective, it's very important to know what the distribution of content is and whether it is plagiarized. If you have inadvertently utilized plagiarized material, search engines such as Google might penalize you, leading to a reduction in both your traffic and revenue. Therefore, it becomes crucial to possess tools that continuously monitor the distribution of your content.
How do you envision the future of copyright protection, from a technology perspective?
As we all know everything is digitized today, you see more and more content online and it makes content tracking even a greater issue. Also, we see more sophisticated forms of plagiarism, for example by using paraphrased content to disguise the plagiarized source.  This is why I believe AI and ML will play a greater role in this game to detect these types of plagiarism, which is why it is and will continue to be one of our main focuses. Another interesting topic is plagiarism through translation. Plagiarism can be done across languages. Often, we find content which was originally published in one language and was translated and published as if it was original. This is becoming a real problem, and solutions like ours should be able to address it. We do it today in small volumes, but we hope to be able to accurately compare full documents in different languages. I believe this will become possible in the near future.