Whether used for gathering feedback, growing an email list, or selling products, forms are an essential part of building relationships with your online audience. But creating, coding, and publishing forms is technical business. We spoke with
Chad Reid, VP of Marketing and Communications
at
JotForm
 about their platform where you can easily design, customize and integrate any type of forms imaginable.
What is JotForm?
JotForm is software that helps people build online forms to collect the information they need quickly and easily. While we've been growing this company since 2006, it feels like we're just getting started!
What type of forms can be created?
We can create any form. The most common ones are registration forms, application forms, feedback forms, surveys, purchase order forms, and website contact forms. But you'd be amazed by how many different types of forms there are. I feel like I discover a new one each week from a JotForm user.
How are forms built/created in JotForm?
Forms are created using our drag-and-drop form builder, requiring zero technical expertise. Most people can create a new form in just a minute or two.
What is the difference between Form Templates, Card Templates and PDF Templates?
All our templates help jumpstart the creation of forms for the type of data collection they want. The difference with PDF Templates is that they're really an output rather than input form. When a form is completed and submitted online, a professionally designed PDF is generated from the submission.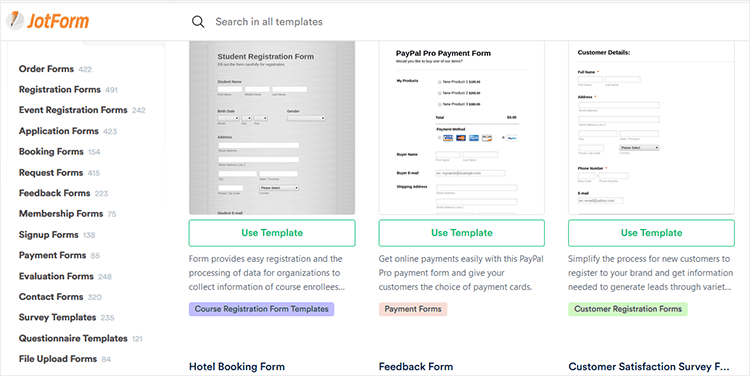 Where is form data stored?
Form data is stored on our servers which are co-located in a cloud-based architecture with Google Cloud and Amazon Web Services (AWS). Our Google Cloud data centers are hosted in Iowa and our AWS data centers are in Frankfurt, Germany and  Virginia.
How are forms integrated into websites or apps?
Integration is really one of the hallmarks of JotForm. Not only do our forms embed seamlessly onto any website, but they can be integrated to automatically send form data to your favorite CRM, email marketing service, project management tool, or cloud storage software.
Can secure forms be created to accept payments?
Definitely! JotForm integrates with more than 30 of the world's most trusted payment processors, including Square, PayPal, and Authorize.Net, to turn any form into a moneymaker.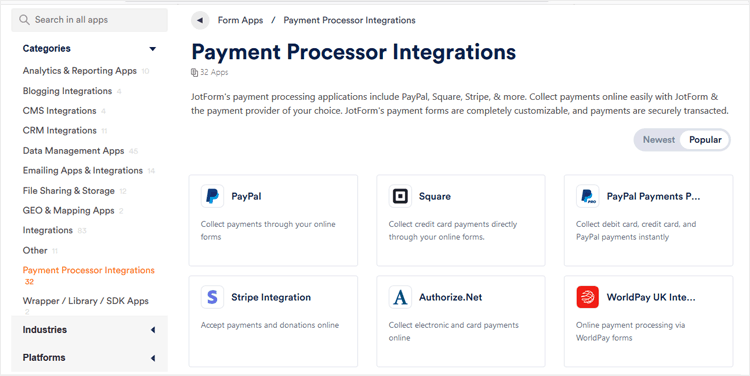 How are forms that need to be HIPPA compliant created, and where is their data stored?
HIPAA-compliant forms look like just like any other form; only their response data is hosted on HIPAA servers.
Can JotForm accept electronic signatures?
E-signatures are simple to accept on any form. Just adding a signature field makes it possible for any responder to sign an online form.
What are Mobile Forms?
This summer we launched JotForm Mobile Forms, introducing a way for users to access and create forms using mobile devices. For industries, such as safety inspection, construction, etc., that don't work behind a desk, there needed to be a better way to input data in the field. JotForm Mobile Forms offers just that.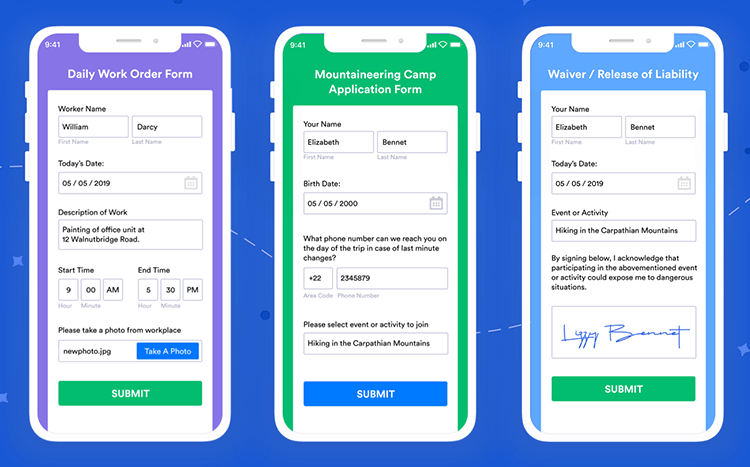 What is JotForm PDF Editor?
PDF Editor is a way to automatically turn form submissions into beautifully designed PDFs, making the information you collect presentable for clients and colleagues alike.
How is pricing structured?
JotForm is freemium, and almost all of our features are available for free. Users will need to subscribe to one of our paid plans, starting at $19 a month once they hit a certain number of forms or monthly submissions.
What type of support is available to your users?
JotForm offers 24/7 support via email and our online support forum.