It's crucial to choose the right LLC registration service for your business. After all, if you're going to hire a service for something you could (theoretically) do yourself, it's because you trust it will be accurate, efficient, and thorough enough to be worth its price. Not all services are the same, though. Both Inc Authority and ZenBusiness offer free (not counting state filing fees) and easy LLC registration, but that doesn't mean they'll both provide exactly what you need for your business to get started, grow, and succeed.
Knowing which service is right for you is paramount, especially if you plan on staying with it for the long haul.
That's why I investigated both services thoroughly and compared them to each other. After hours of research, digging deep into both services' fine print, and double-checking against customer reviews,
I can confidently say ZenBusiness will offer the better deal for most business owners.
Keep reading if you want to learn exactly how I came to this conclusion – and in which cases I'd actually recommend Inc Authority. Or, if you're feeling impatient, check out ZenBusiness' latest LLC formation deals right now.
Features
ZenBusiness Offers Better Quality and Quantity in its Extra Features
Let's get the good news out of the way first: both Inc Authority and ZenBusiness provide basic LLC formation services for free. So,
whether you're on a tight budget or simply looking for a cost-effective solution, both options offer a high-quality service to kick-start your business.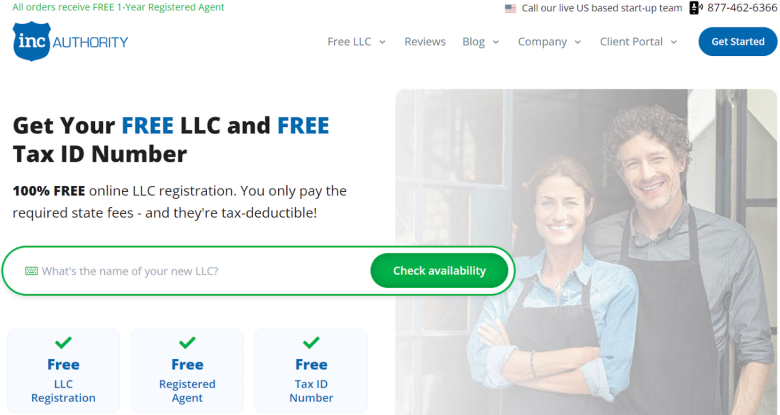 If you need something more than just filing your Articles of Organization, both Inc Authority and ZenBusiness offer Registered Agent services for an extra fee. However,
Inc Authority offers the first year of Registered Agent services for free.
ZenBusiness and Inc Authority can also assist you with obtaining an Employer Identification Number (EIN), which is a crucial requirement if you're planning on hiring employees, opening a business bank account, or taking out a loan. ZenBusiness includes an EIN in its paid plans, while Inc Authority bundles it into all of its plans. However, while both do a good job of covering the essentials,
ZenBusiness goes the extra mile with its wide range of additional financial tools.
With ZenBusiness, you gain access to features like bookkeeping assistance, business banking services, and even personalized website creation.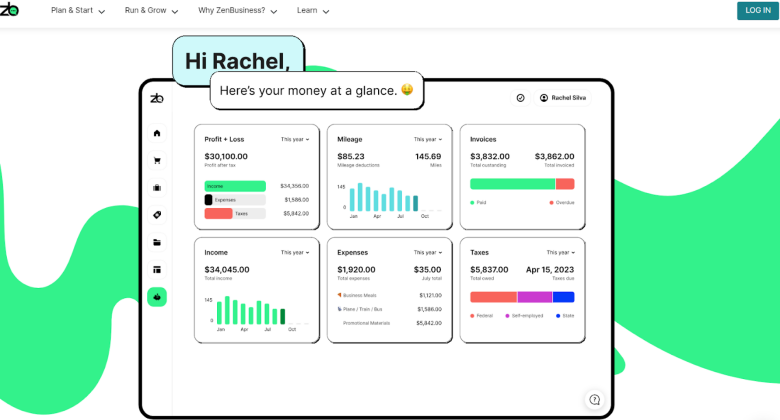 ZenBusiness' accounting tools steal the show. Included with all LLC registration packages (yes, even the free one), ZenBusiness Money Essential gives you a user-friendly tool to track expenses, deductions, and general financial movements.
For an extra fee, you can also access the ZenBusiness Money Pro tool,
which can pretty much become a one-stop shop for all your financial management needs. So, while both Inc Authority and ZenBusiness deliver the core features for LLC registration, ZenBusiness stands out with its broader range of high-quality features to help your business thrive.
With ZenBusiness, you're covered beyond just the formation period, with access to high-quality tools that can contribute to your long-term success.
Ease of Use
Outstanding for Both, but ZenBusiness Takes the Lead
Once again, both Inc Authority and ZenBusiness clear the bar for ease of use with flying colors.
It's incredibly easy to sign up with Inc Authority. Thanks to a well-designed user interface (UI), you always know exactly how to navigate the registration process, and that same quality UI carries over to the account dashboard once you've signed in. Another point in Inc Authority's favor is that its sign-up process is incredibly modular. That means that
instead of paying for full packages from the beginning, you get to choose exactly which extra services you want to add.
It also does a great job of telling you exactly what each feature does and how much they'll add to your total cost.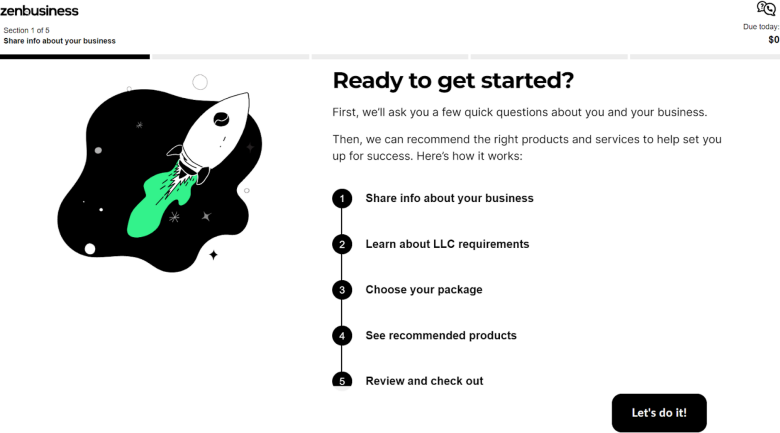 ZenBusiness' website is visually appealing and easy to navigate, but it takes user-friendliness to the next level with its engaging sign-up process. To sign up, ZenBusiness takes you through an interactive questionnaire to help you discover your business' exact needs.
You can also save your progress at any time, which means that you can leave and come back if you need to.
It also does a better job of showing you your full order details before payment and making it easy to go back if you decide that you want to add or remove any extra service before checkout. This goes a long way to ensure that you're getting exactly the service that
you
need, without overpaying for add-ons. So, while both services offer easy-to-use platforms with friendly user interfaces,
ZenBusiness takes it a step further with its attractive design and engaging sign-up process.
While the difference might seem small, any extra ease of use is appreciated when it comes to registering and managing your business.
Pricing
Inc Authority Can Be Cheaper, but ZenBusiness Offers Better Value Overall
ZenBusiness hasn't always offered a free LLC formation package like Inc Authority, which is why you'll find many outdated reviews that consider Inc Authority the unmistakable winner in this category. However, the introduction of ZenBusiness' Starter LLC package has leveled the playing field considerably. Both Inc Authority and ZenBusiness offer base LLC formation packages at no cost, but
you should be aware that for both services, many important features aren't offered as part of either the free or paid plans, but as completely separate add-ons.
Most notably, neither service includes a Registered Agent service as part of a plan. Inc Authority might offer a
free Registered Agent for the first year
with any plan, but you'll have to pay a separate fee for the service after that. Another thing that makes this category contentious is that
Inc Authority's pricing isn't as clearly defined as ZenBusiness'.
Though you can get information about package deals eventually, its system is much more based on which additional features you add during checkout. This can be both a good and a bad thing: on one side, you only pay for what you need – on the other, there are no bundles that discount important business features when bought together. By checking the table below, you'll find that while Inc Authority (sometimes) offers lower prices, ZenBusiness offers way better quality and the convenience of having it all wrapped up together in one place. This means that
ZenBusiness offers better value overall
.
Inc Authority
ZenBusiness
Price of the cheapest plan (minus state fees)

$

0

$

0

Stated filing time/range
(minus state processing time)
1–4 weeks
2-3 weeks
EIN application

✔

Paid add-on
Compliance reminders

✔

✔

100% accuracy guarantee

✘

✔

Free tax consultation

✔

✔

Expense and deduction tracking

✘

✔
Support
ZenBusiness Offers Better-Quality Resources
Both Inc Authority and ZenBusiness offer email, live chat, and phone support. Though I should note that ZenBusiness' phone support has slightly better hours of availability. Inc Authority, however, offers efficient and high-quality phone support, which can answer any burning questions in a matter of minutes.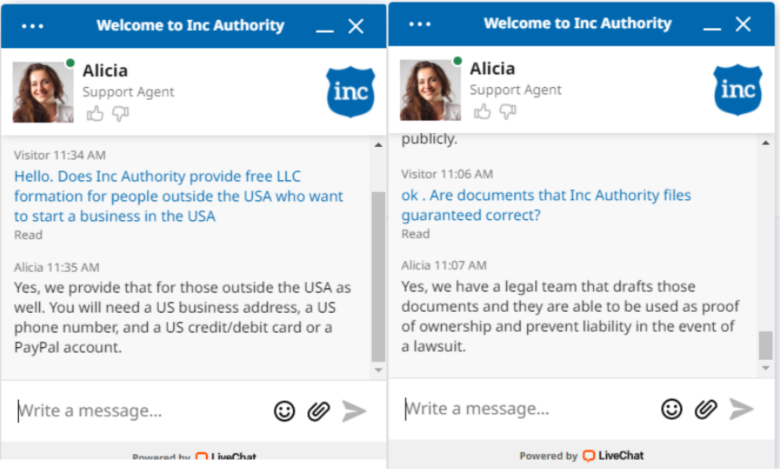 Funnily enough, in their respective in-depth reviews of the services, both of my colleagues had similar experiences with the respective support teams. Both services passed the live chat tests, answering my colleagues' more technical questions thoroughly. Email support was a little more disappointing. While ZenBusiness took a considerable time to respond, and did so in a very unsatisfactory manner, at least it responded.
My colleague never got an answer back from Inc Authority's email support.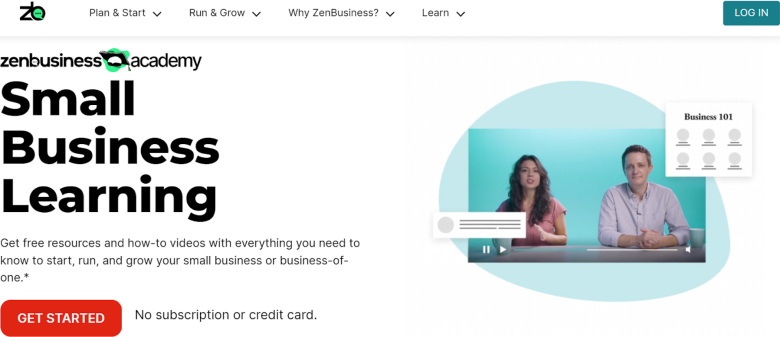 However,
ZenBusiness offers something extra that puts it in the lead: a comprehensive and interactive pool of additional learning resources for business owners.
Not only does ZenBusiness offer a vast knowledge base filled with relevant articles about all aspects of business management, but it also includes interactive tools like a name availability and state filing fee checker.
ZenBusiness Offers Everything You Need To Get Started the Right Way
Inc Authority offers a high-quality and valuable set of tools for LLC formation. Overall, it's an easy-to-use, high-quality service for most business owners. This is exactly why it's so amazing that ZenBusiness blows it out of the water in every single category. At the end of the day, however, your business needs the best of the best, and as much as Inc Authority offers,
ZenBusiness offers more
. Depending on your budget, and which extra features you're after, Inc Authority is a respectable alternative if you need to cut some corners. But
I would recommend ZenBusiness to nearly anyone weighing the two against each other.
Its easy-to-use dashboard, fantastic tools for business management, and 100% accuracy guarantee make it the obvious choice for trusting it with your LLC.
Inc Authority
ZenBusiness
Features
A well-rounded set of extra features Not accredited by the BBB
Every basic feature plus a full suite of business management tools. Accredited by the BBB + 100% filing accuracy guarantee
Ease of Use
Incredibly easy to use and responsive
Even easier to use with a pleasant UI
Pricing
A bit cheaper depending on your extras
Somewhat more expensive but has way better value
Support
Good customer support
Good customer support & an excellent knowledge base
FAQ
Is ZenBusiness a better service than Inc Authority?
Overall, ZenBusiness offers a wider selection of features, a more friendly user interface, and a better value for forming an LLC. That's not to say that Inc Authority offers a bad service, far from it, but for most business owners, ZenBusiness will be the superior choice.
How much does ZenBusiness cost yearly?
ZenBusiness' cost will vary depending on exactly which services you choose to hire and in what way. For the most part, ZenBusiness offers better value and cheaper prices than the competition. For more details on ZenBusiness' pricing, check out how it compares to Inc Authority.
Does ZenBusiness offer help with taxes?
Yes. Depending on the service you hire ZenBusiness for, you could get anything from a 30-minute tax consultation with an expert to a full package of taxing and financial tools.
Is Inc Authority trustworthy?
Yes. Though Inc Authority isn't accredited with the Better Business Bureau (BBB), it has years of experience helping thousands of merchants register and maintain their LLCs. If you're looking for a trustworthy option to help you handle business management, Inc Authority could be for you.