Forming your Limited Liability Company (LLC) is the first of many steps you'll need to take, and it's important that you get it right the first time.
That's where an LLC formation service can help, but with so many out there, it's hard to know what's right for you. Luckily, we've done the hard part for you.
I've spent hours exploring two top options – BetterLegal and LegalZoom – to help you compare the similarities and differences.
Below, I'll dive deep into their features, pricing, ease of use, and customer support to help you decide. BetterLegal is a great service with a positive reputation and plenty of great reviews to back that up. Ultimately though, I think that
LegalZoom is the better of these two services, with advanced legal support that may suit newer businesses or high-risk businesses more.
Features
LegalZoom's Advanced Legal and Business Support Makes It a Standout Service
As I explored LegalZoom and BetterLegal, I was intrigued by what they had to offer, but also surprised at what they didn't have, when compared to other LLC formation services I've previously reviewed. LegalZoom offers standard filing times within 5–14 days, with an option for expedited processing at an additional cost. On the other hand,
BetterLegal boasts impressively swift filing times
, typically completing the paperwork within 1–2 days.
This doesn't include state processing times, but it's great to see such fast submission times as standard. Both LegalZoom and BetterLegal offer Employer Identification Number (EIN) applications as part of their paid plans. If you want to use LegalZoom's free plan though, an EIN application isn't included. In addition,
you can get a free website builder with either company, which is a great benefit for businesses on a budget.
LegalZoom partners with Wix to provide this, while BetterLegal partners with Square. However, neither service offers free Registered Agent services, which many other LLC formation services do provide.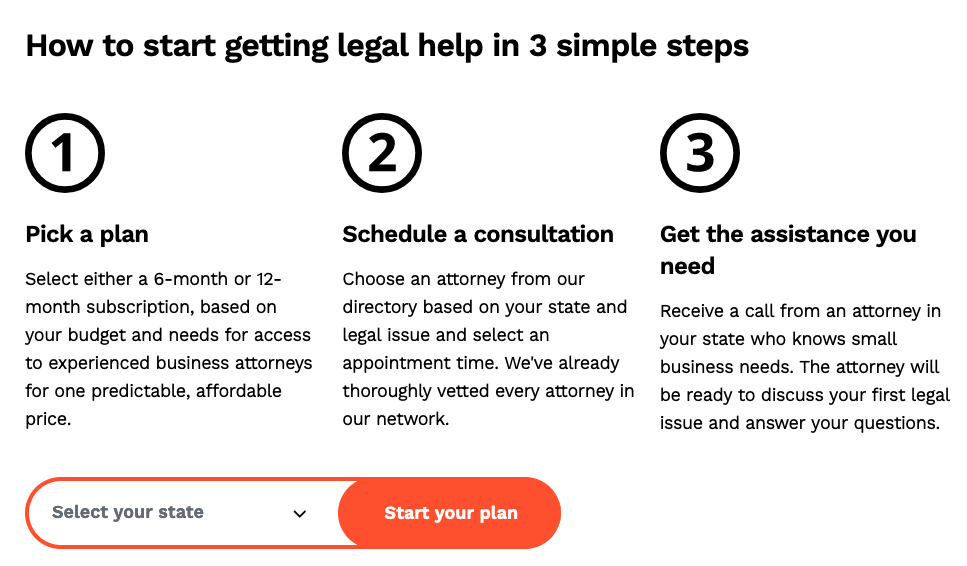 LegalZoom offers a range of services
like business permit application support, small business consultation, and compliance reports, all provided in-house. LegalZoom also includes tools for tax preparation and compliance, ensuring that you have the necessary support to navigate financial considerations effectively.
While many of these more advanced features are only available with the paid plans, it's nice to have the option if you're looking for an all-in-one service.
LegalZoom's Premium plan takes it even further by offering legal guidance and document review during the formation process.
This includes 30-minute consultations with experienced attorneys who can address your specific questions and provide expert advice.
This additional legal aid can be immensely valuable, especially if you run a higher-risk business or have any issues that may need further support.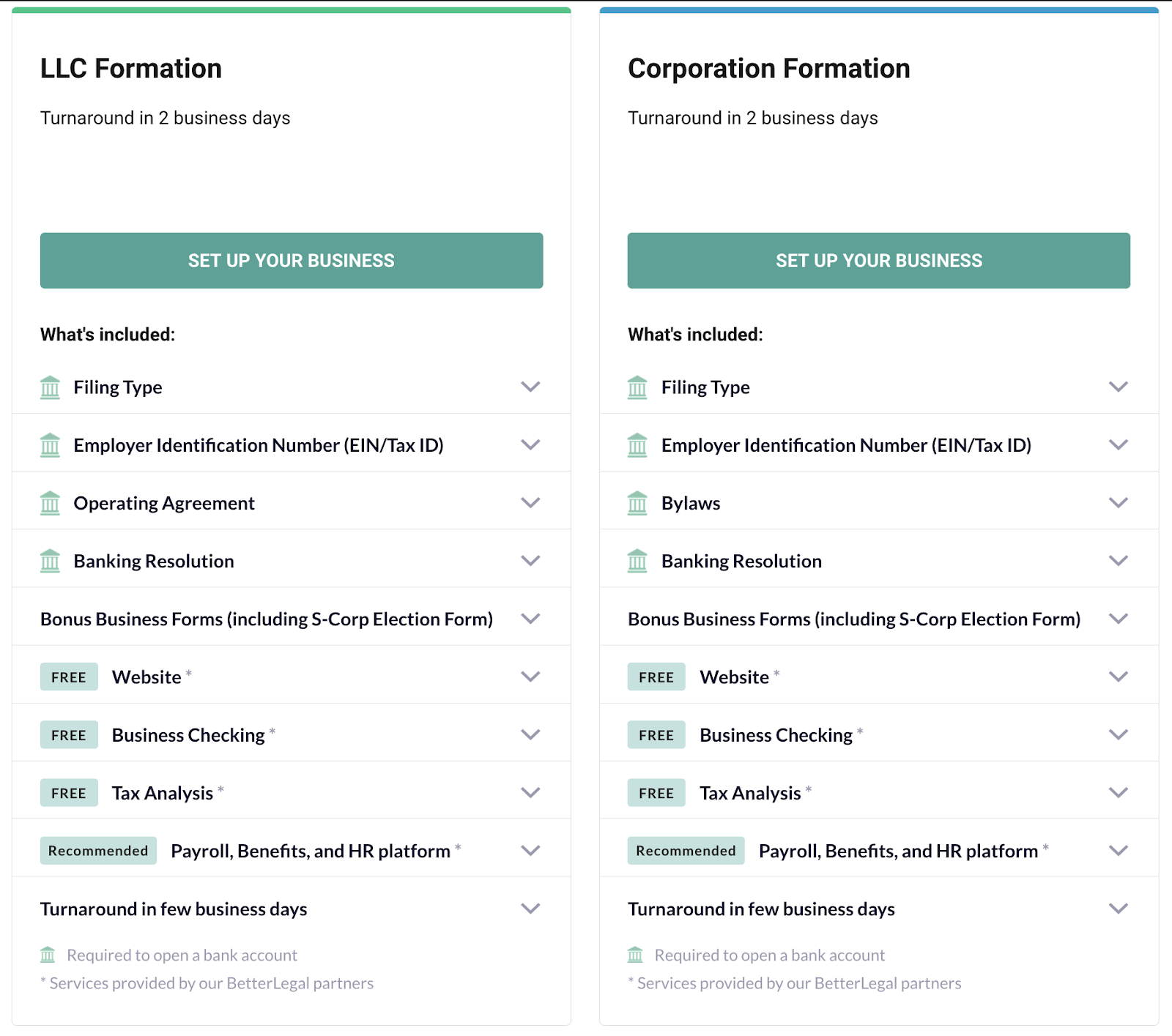 In contrast, BetterLegal primarily focuses on entity formation and lacks the breadth of services offered by LegalZoom. It doesn't offer any form of legal support, but it does offer features that simplify the financial aspect of your LLC or corporation setup.
This includes a banking resolution service, a free business checking account provided by an FDIC-insured bank, and access to free tax analysis.
Overall, both companies offer feature-rich services – if you're willing to pay for them.
LegalZoom's free plan is quite barebones, but the paid versions offer a plethora of financial, creative, and legal features to help get your LLC off the ground quickly.
To me, its features are better than BetterLegal, especially if your business needs that legal support. But, BetterLegal is still a good option with many features that you may find useful.
Ease of Use
With a Mobile App and Spanish Language Support, LegalZoom Makes LLC Formation Extremely User Friendly
When it comes to ease of use, both LegalZoom and BetterLegal strive to make the LLC formation process as simple and straightforward as possible. One thing that stood out to me for both is their sign-up processes, though they differ in how the information is collected.
LegalZoom uses a simple questionnaire that walks you through the questions one at a time.
It's straightforward and easy to follow, which is great for beginners. However, you'll have to shift through all the upsells before you can finalize the sign-up. It's a bit of a nuisance but a small price to pay for a free service.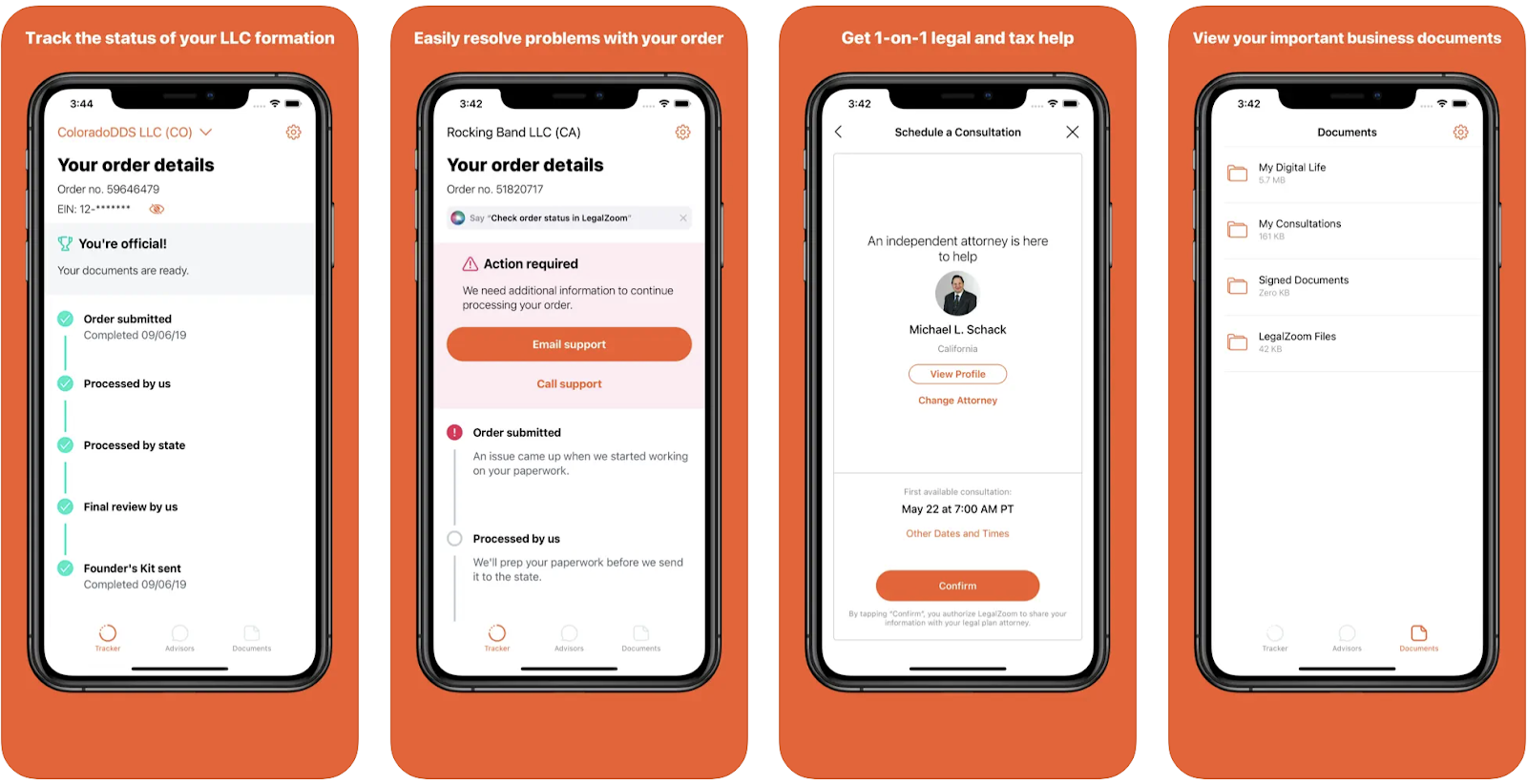 After you've signed up, you'll gain access to LegalZoom's platform, which encompasses a wealth of online tools, empowering users to draft customized legal documents, access compliance reports, and seek tax and legal advice.
Additionally, LegalZoom offers a convenient smartphone app for managing your account from anywhere.
On the other hand, BetterLegal uses a single online form
 for its sign-up process.
I appreciated that next to each box there was additional information that newer business owners might need. However,
unlike LegalZoom, there isn't a smartphone app available,
which limits your ability to access your account on the go. While it may not be a dealbreaker, it would be a nice-to-have option if you're a busy business owner. Considering language options,
LegalZoom shines by offering resources in both English and Spanish.
There's even an entire resource page with business blog articles written in Spanish. If you're a Spanish-speaking entrepreneur, this is particularly beneficial, as it makes the entire process more accessible and convenient.
BetterLegal, unfortunately, only operates in English, limiting its ability to help entrepreneurs across the US and beyond.
However, the support team did tell me that Spanish-language support is in the works, which is great to hear.
Taking all these factors into account, I found that LegalZoom offers a more user-friendly experience overall.
Its user-friendly website, intuitive user interface design, engaging sign-up process, comprehensive setup assistance, and availability in multiple languages demonstrate its commitment to a seamless user experience.
Pricing
LegalZoom's Tiered Pricing Means There's a Plan for Every Budget
LegalZoom offers three LLC formation service plans: Basic, Pro, and Premium.
LegalZoom's Basic Plan is a free option
 that offers you everything you need to get started on a budget, without any additional services.
The Pro plan costs
$
249.00
 and offers additional features like help with your EIN application and Operating Agreement. The Premium plan is the priciest at
$
299.00
but provides legal consultations, copyright help, and access to a library of legal templates. When it comes to upsells and add-ons,
LegalZoom does offer additional services that you can opt for, as a subscription or one-off fee.
Some of these add-ons, like Registered Agent services or annual reporting filings, can be beneficial if you're a new business owner, but they aren't necessary if they don't fit your needs or budget. In contrast,
BetterLegal takes a different approach
by focusing on a simple one-time fee structure that costs
$
299.00
.
BetterLegal's pricing model focuses more on delivering the necessary services without relying heavily on upsells or paid add-ons.
I appreciated the simplicity of its pricing model, which made it easy to understand the overall cost without any surprises. However, because there's only one option, there isn't any budget flexibility or free plans like there is with LegalZoom. In my personal experience,
I found LegalZoom's pricing to be the better of the two companies, offering good value for the comprehensive services and support it provides.
Plus, you can't go wrong with a free option if you're looking for something simple and affordable. While it does offer upsells and add-ons, these options can enhance the overall experience depending on individual requirements. Conversely, BetterLegal's single-payment plan provides a wealth of features at a cost that's typical for the sector. You'll gain access to far more features than LegalZoom's no-cost choice, but it will have a price. I've compared BetterLegal's single pricing option with LegalZoom's Pro (middle-tier) plan for the best comparison.
Support
LegalZoom and BetterLegal Offer Great Support, but LegalZoom Takes It a Step Further
LegalZoom impressed me with its comprehensive support system.
It provides customer assistance through phone, email, and live chat from 5 a.m. to 7 p.m. PST, Monday to Friday, and 7 a.m. to 4 p.m. PST on Saturdays
. It's great to see support available on the weekends, as not many LLC services offer that (including BetterLegal). However, if you've only signed up for the Basic plan, you'll only have access to email and live chat support.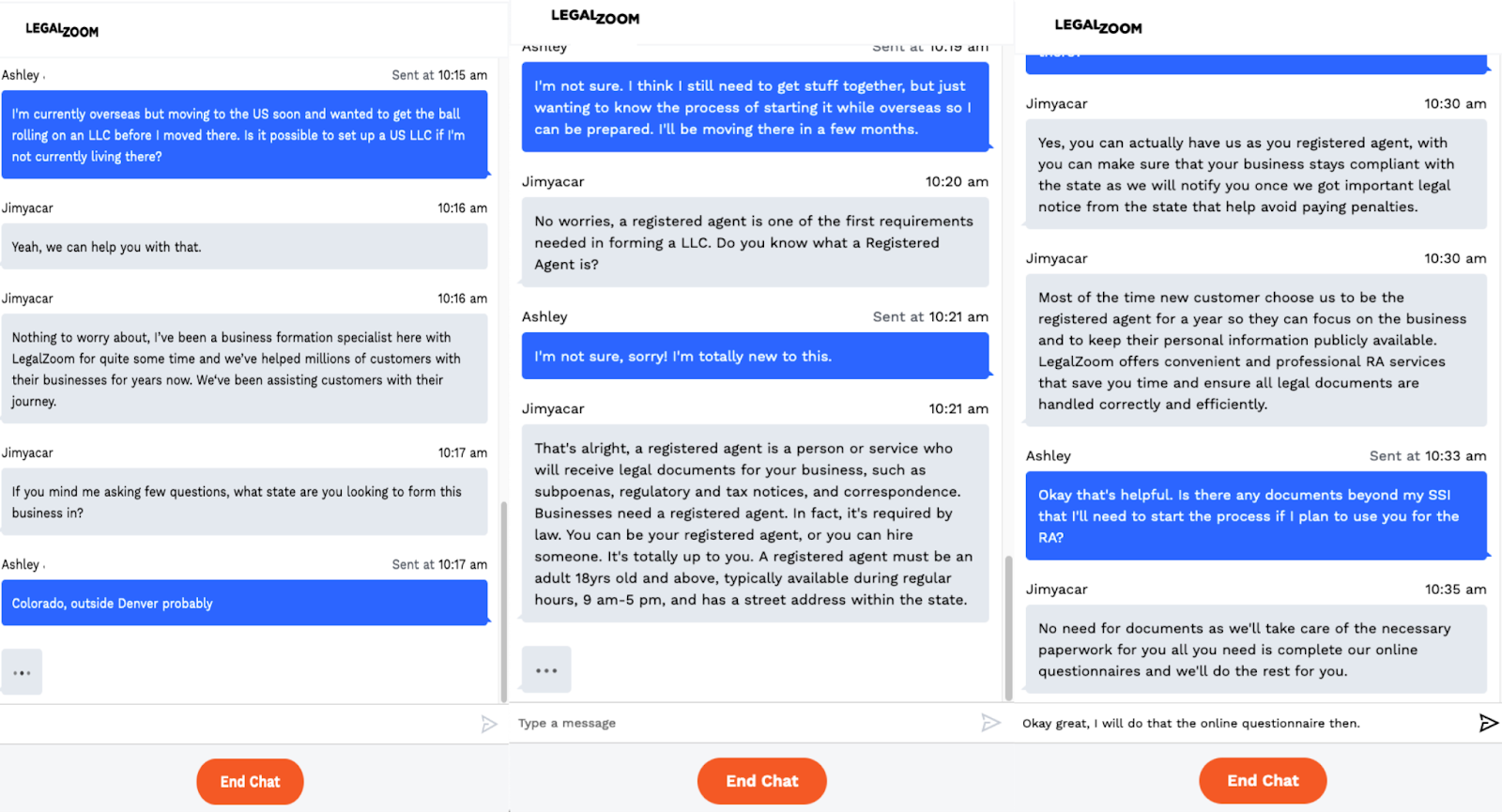 I contacted LegalZoom during its online business hours to ask about forming an LLC from abroad. I was promptly connected with Jimmy, who patiently guided me through the process.
At the end of our chat, he even offered up his email to contact him directly when I decided to sign up.
I appreciated the care and dedication he took in responding to each of my (many) questions. Similarly,
BetterLegal offers customer support via phone, email, and live chat Monday to Friday, from 9 a.m. to 7 p.m. EST.
While its support times may not be as extensive as LegalZoom's, it prioritizes delivering personalized service to its customers. During my interactions with its support team, I felt that they genuinely cared about addressing my concerns and providing guidance throughout the LLC formation process.
I asked the same question to BetterLegal, and "Hannah" responded within 30 seconds, linking to an informative video on the topic.
I was very impressed by how fast the response was, but after my second question, I realized that Hannah was just an AI bot. She couldn't answer my next question, instead directing me to leave my information for a customer service rep to respond.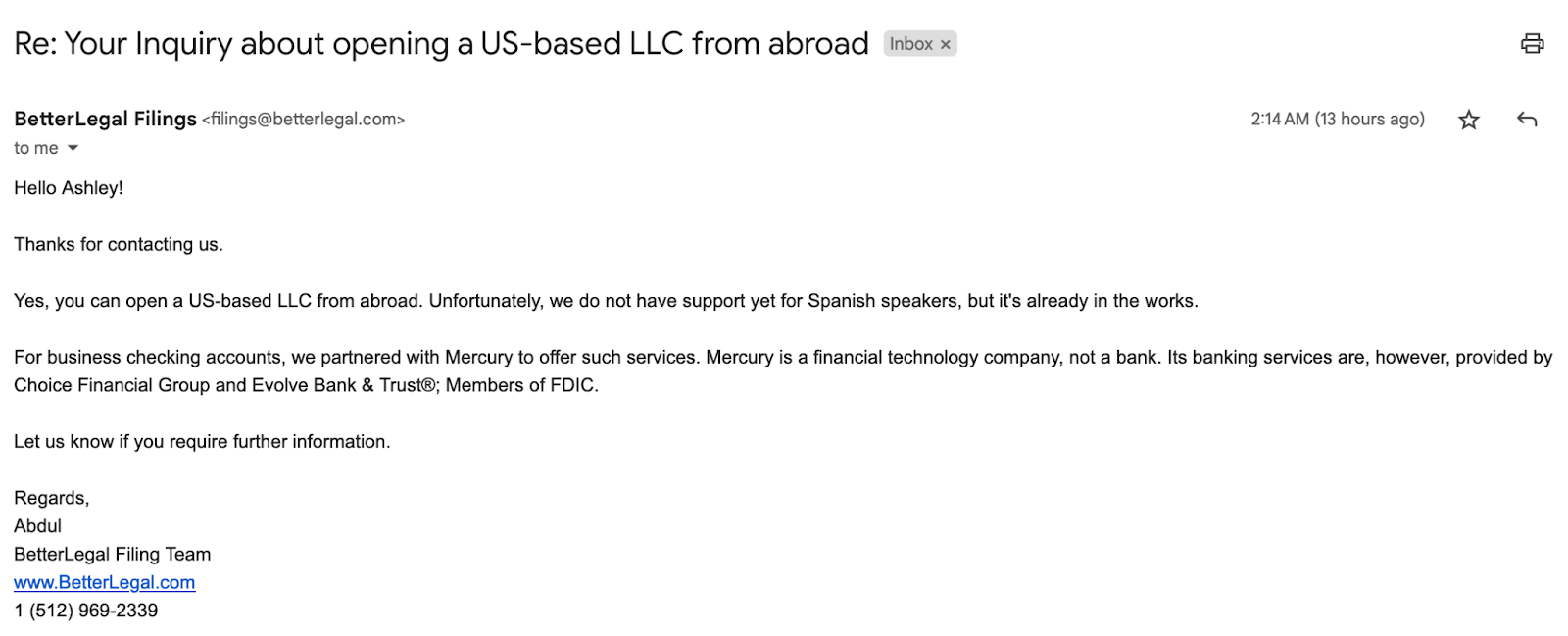 The customer service team followed up via email within 12 hours.
The email response answered all the questions I asked but didn't really go above and beyond in providing me information.
Abdul didn't give me much information on what I'd need to do to open an LLC from abroad or direct me to any additional resources. LegalZoom's extensive knowledge base, tutorials, and FAQs were incredibly valuable to me.
I appreciated having access to a wide range of resources that helped me navigate through various aspects of LLC formation.
BetterLegal also provides online self-help, including through videos and blog articles, but it's not nearly as robust as LegalZoom's offerings. Both LegalZoom and BetterLegal offer customer support options that cater to your needs.
But LegalZoom's comprehensive online help center and extra day of support make it a slightly better option.
While it's not ideal that the free plan doesn't include phone support, its abundance of other resources and support make up for it.
LegalZoom Beats Out BetterLegal Across the Board as a Top Contender for LLC Formation
In my personal opinion, LegalZoom emerges as the ultimate winner in the comparison between LegalZoom and BetterLegal for LLC formation services.
Throughout my research, LegalZoom impressed me with its extensive range of features, user-friendly interface, and robust customer support.
The availability of a free plan further adds value, making it a great option if you're a budget-conscious business.
However, I found BetterLegal remains a solid contender, offering a streamlined process and a host of useful features.
If you're willing to invest in your formation process and don't require specialty legal support, BetterLegal is still a viable option. Nevertheless, in terms of overall value and comprehensive functionality, LegalZoom stands out as the top choice, providing an all-encompassing solution that surpasses the offerings of BetterLegal. Check out the side-by-side comparison to get a better understanding of the choices.
Features
Plenty of features, with an emphasis on financial readiness and support
A wide range of options focused on legal and small business support, along with some creative features
Ease of Use
A straightforward sign-up, but limited language available and no mobile app
A step-by-step sign-up process with a user-friendly mobile app and Spanish language resources
Pricing
One moderately priced plan option with some add-ons available
Three pricing plans with a free option available
Support
Live chat, email, and phone available for all customers
Live chat and email for free customers, phone also available for paid customers
FAQ
How trusted is LegalZoom?
LegalZoom is widely recognized and trusted as a leading provider of online legal services. With over 20 years of experience, LegalZoom has assisted millions of customers with their legal needs, including LLC formation. With a 4.7 rating on Trustpilot and countless positive reviews across the web, you can be confident in using LegalZoom for your LLC formation needs.
Is BetterLegal a legitimate company?
Yes, BetterLegal is a legitimate company offering LLC formation services. While it may not have the same level of brand recognition as LegalZoom, BetterLegal has established itself as a reputable provider in the industry. While it was only founded in 2016, it has helped thousands of small business owners set up LLCs and currently has a 4.6 rating on Trustpilot.
Are there any hidden fees associated with LegalZoom's free plan?
No, LegalZoom's free plan does not have any hidden fees. The free plan allows users to form an LLC without any upfront costs. However, it's important to note that additional services or features beyond the basic LLC formation may come with associated fees, but these are optional and not mandatory for utilizing the free plan.
Which is better for new businesses: BetterLegal or LegalZoom?
While neither option is a bad choice, LegalZoom's free plan provides an opportunity for entrepreneurs to form their LLC at no cost, making it an attractive choice for those on a tight budget. While BetterLegal may offer streamlined services, the affordability and value LegalZoom's free plan provides make it a favorable option for new businesses.
If you want to explore alternative options, check out
our top 10 LLC formation services
.