Marketing pros know there's more to shortening URLs than just reducing the number of characters.
While most URL shorteners may seem more or less the same, the features, costs, analytics, security, and many other factors can differ wildly. To know which one is the best fit for your needs, you'll need to do a bit of homework. With the right tool, you can create custom links that users will immediately associate with your brand.
These branded links have proven to boost click-through rates by as high as 34%!
While the popular Goo.gl URL shortener may be long gone, there are plenty of other great choices out there (to find where any old Goo.gl links go, try our URL expander tool).
Since we know how important it is that you find the best tool for your job, we put all the major players to the test. We've narrowed down the list to the top six URL shorteners. Whatever your needs may be, you're sure to find the perfect tool here.
What We Look For in the Best URL Shortener Tools
When deciding which tools were worthy of being called the best, we considered the following factors:
Free to use: We made sure all the tools included on this list have basic functions that can be used for free.
Easy-to-read analytics: If you're shortening URLs as part of a marketing campaign, you need to know if they're a success.
Anonymous links: Sometimes you just need to shorten a link quickly, and don't want to bother with creating an account or have to give out any personal information. (Just keep in mind that links shortened anonymously won't include in-depth analytics.)
Brand your URL: You can use any of these tools to customize the text of your shortened link. Perfect for creating links that are consistent with your brand!
Bit.ly – The Most Well-Known URL Shortener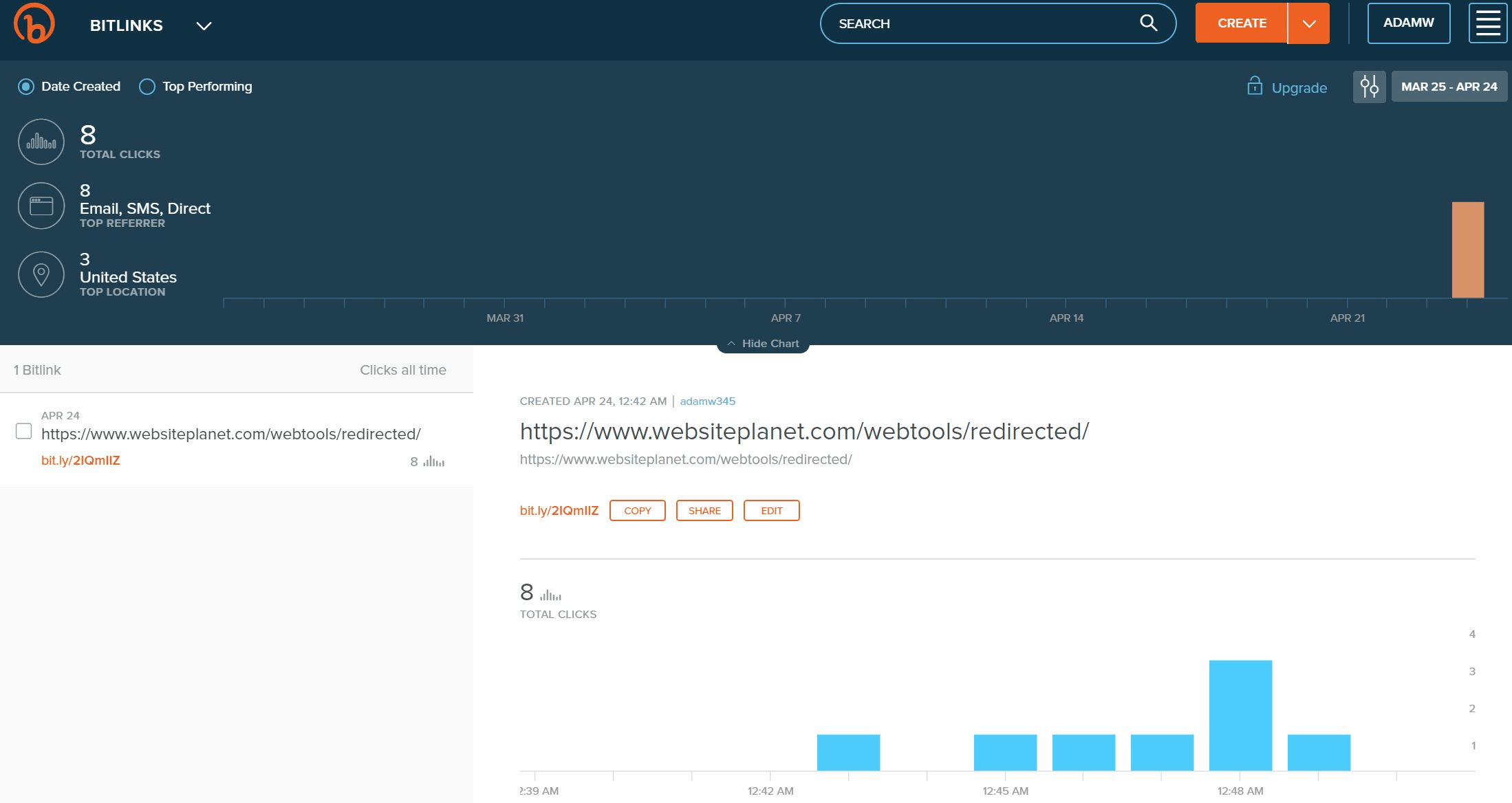 With 10 billion clicks monthly,
Bit.ly
is one of the most popular URL shorteners on the market. This tool is especially great if you want
real-time analytics
to track your link's success.
Bit.ly's free package is more than enough for most people
. With it, you can create shortened links and track several important metrics. However, if the free package doesn't cut it for you, Bit.ly also offers some premium plans. Paying customers can expect to receive everything a medium to large-sized business could ask for, although some packages are on the pricey side.
Features
A free plan that delivers: With a free account, you can shorten 1,000 URLs and create up to 50 branded links. You can also track where your traffic is coming from, your referrers, number of clicks, and other valuable metrics.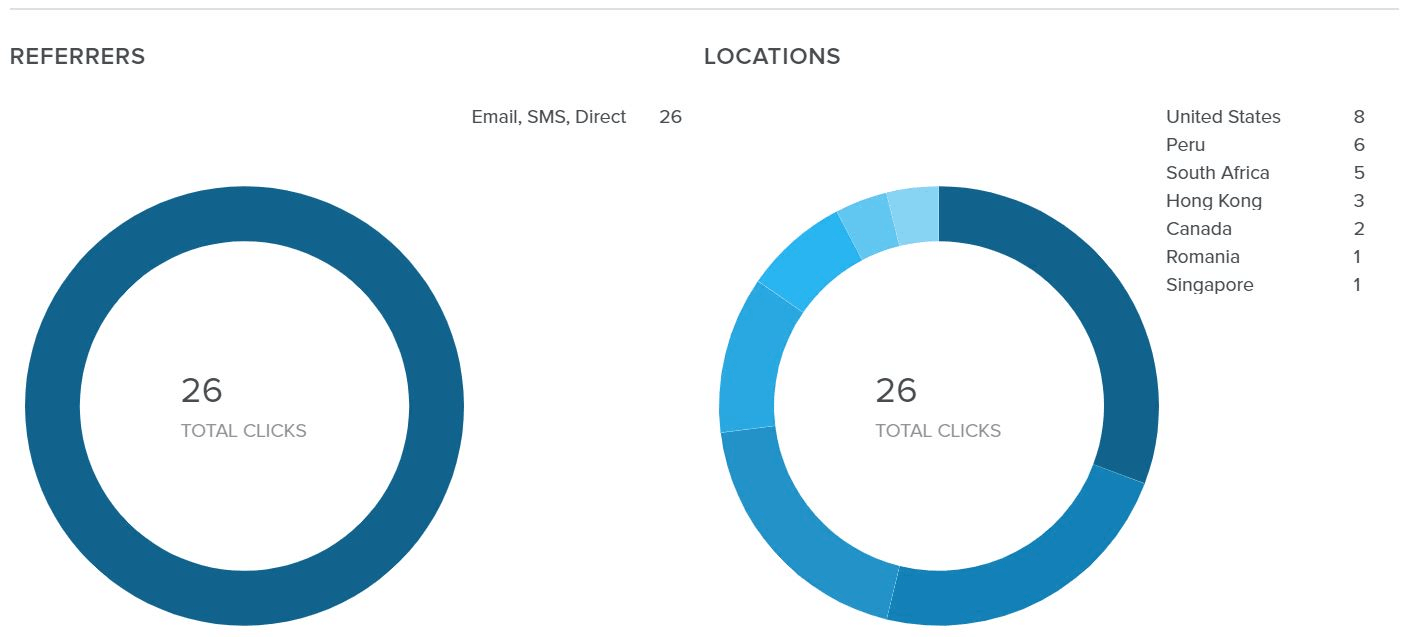 Keep your branding: When you enable Bit.ly's auto-branding feature, all of your links will keep your custom domain–no matter what. This means that even if people outside of your organization shorten one of your links, it'll maintain your branding.
Seamless integration: Bit.ly easily integrates with just about every social media and digital marketing tool available.
Feel secure: All links created through Bit.ly are encrypted with HTTPS, so you can rest assured knowing that your URLs won't be tampered with.
| | |
| --- | --- |
| Is there a free option? | Yes |
| Does it include analytics? | Yes |
| Can it be anonymous? | Yes, you can shorten links anonymously from Bit.ly's home page |
Ow.ly – The Best for Social Media Posts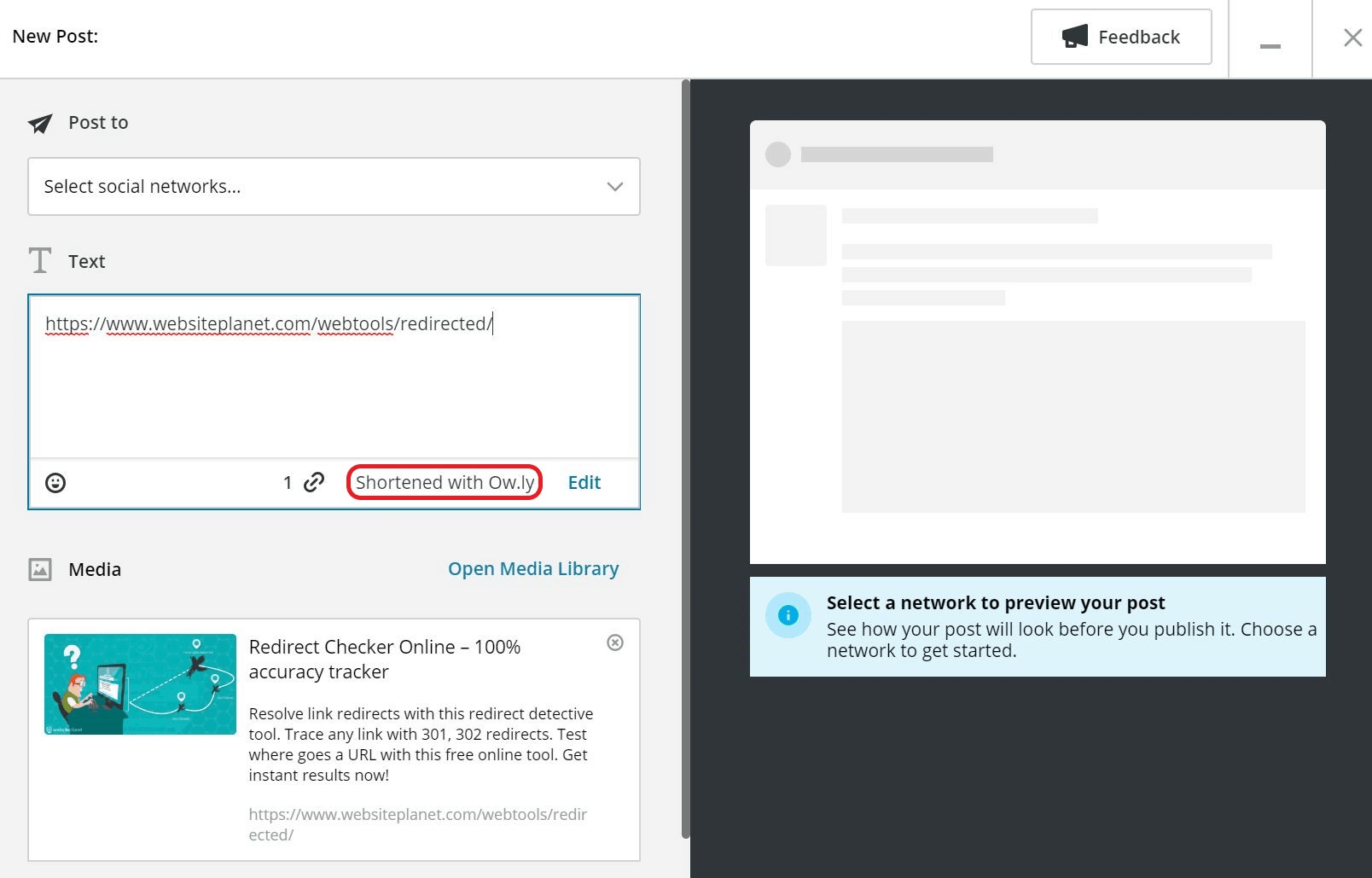 Ow.ly was created by the massive social media management tool, Hootsuite. In order to use this tool, you'll need to create a
free Hootsuite account
. Hootsuite is awesome, not only for shortening URLs, but for managing your social media accounts as well. For more information, read our
in-depth review
.
Links can be shortened through Hootsuite's dashboard. You can then track the analytics of a shared link across social media platforms
. Links shortened with Ow.ly are mostly used for social media posts, so if your needs are different, you may want to look elsewhere.
Features
Custom link previews: When you post a link to Facebook, it will include a preview summarizing where it goes. With Ow.ly, you can customize this preview with your own photo, title, and description.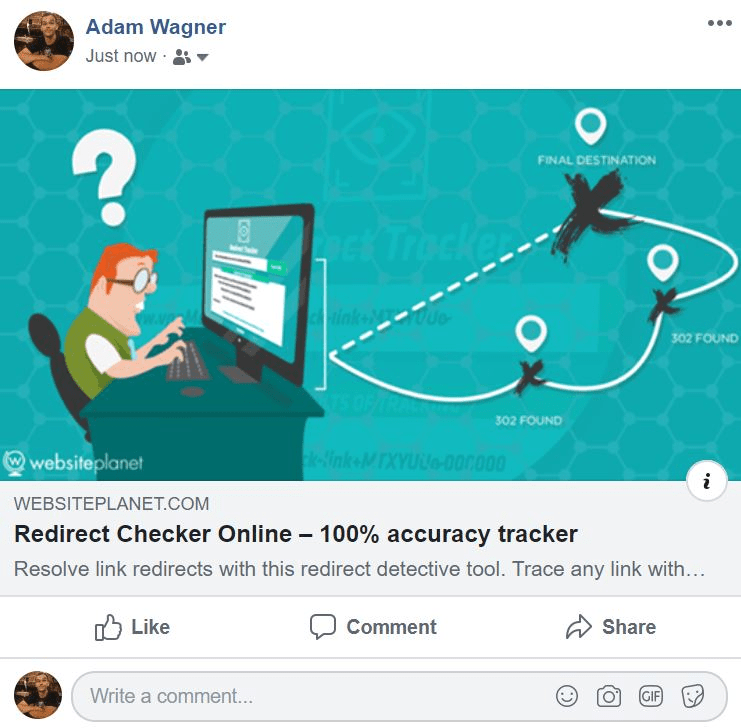 Facebook link preview
Track your success: Using Hootsuite's powerful analytics tools, you can track a link's traffic and ROI across social media platforms.
Plan for the future: If you want to schedule a future social media post containing a shortened link, use Hootsuite's Composer tool to do it with ease.
Everything in one place: With a Hootsuite account, you can shorten links, as well as manage all of your organization's social media accounts from one convenient dashboard.
| | |
| --- | --- |
| Is there a free option? | Yes |
| Cost of premium plan | Professional is $19/month, Team is $99/month, Enterprise has custom pricing |
| Does it include analytics? | Yes |
| Can it be anonymous? | No |
TinyURL – The Completely Anonymous Link Shortener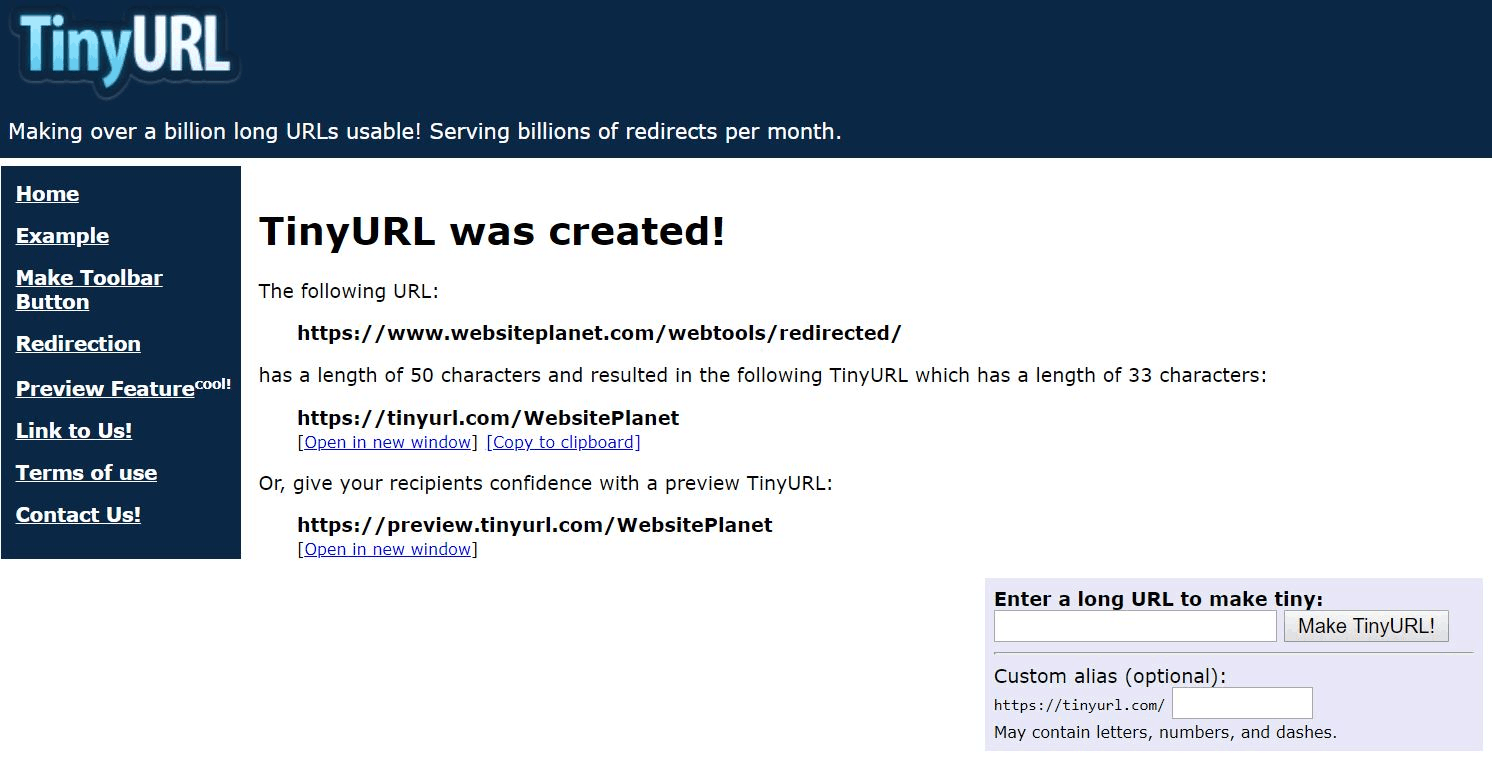 When your budget's tight and your needs are simple,
TinyURL
may be the perfect link shortener for you.
This popular tool is completely free
, and you can use it without giving up any personal information or creating an account. Since it's anonymous, TinyURL doesn't come with many of the features that are common among a lot of other tools. So if you want a shortener that tracks your link's analytics, TinyURL may not be for you. Despite this, there are still plenty of advantages to this user-friendly service.
Features
No expiration date: All links that are created using TinyURL will be usable for the foreseeable future.
Shorten links instantly: If you shorten links often, TinyURL's toolbar may be just what you're looking for. The toolbar allows you to shorten links with the click of a button, and is available for most browsers.
Free custom links: While all TinyURL links will begin with https://tinyurl.com/, it's possible to customize the end of your new URL with whatever text you like!

Everything's free: Unlike most of the other tools listed here, you can use all of TinyURL's features free of charge.
| | |
| --- | --- |
| Is there a free option? | Yes |
| Cost of premium plan | No premium plans available |
| Does it include analytics? | No |
| Can it be anonymous? | Yes |
Bl.ink – The Link Tracking Superstar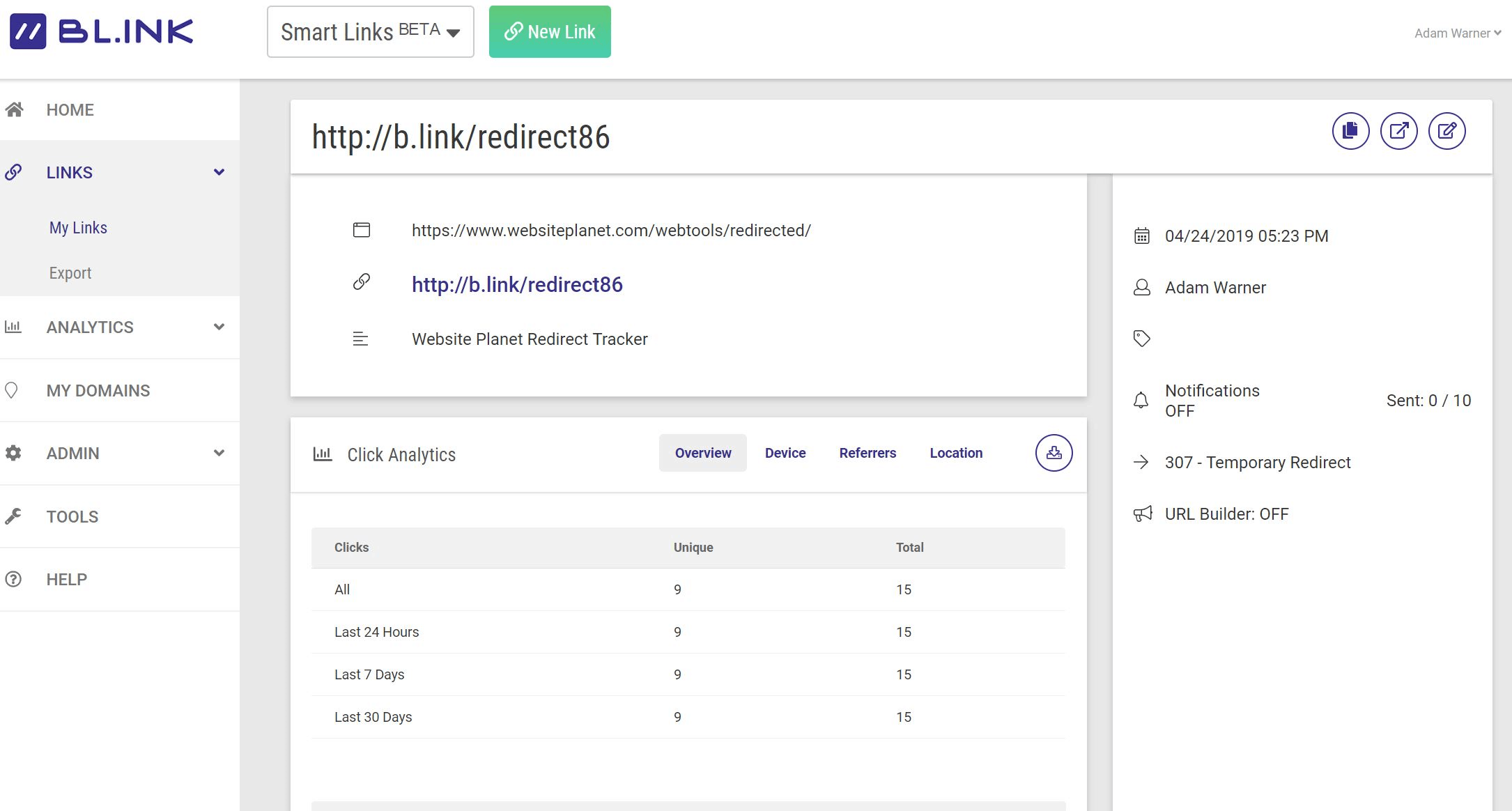 Bl.ink's is another great option for shortening your URLs. You can use a limited version of this tool for free, but if you want full access to all
Bl.ink
has to offer, it's going to cost you. Fortunately, the free plan is rather generous.
You get 1,000 shortened links, branded links, unlimited redirects, and browser extensions.
This makes Bl.ink the perfect solution for marketers on a budget who need to track their analytics.
Features
Awesome free features: If you decide to stick with Bl.ink's free version, you still get to enjoy many of this tool's powerful analytics. You can track users by location, the device used, clicks per hour, and referrers.
Something for everyone: Whether you're a large business looking to track thousands of links, or you're a small business with minimal needs, Bl.ink has the perfect plan for you.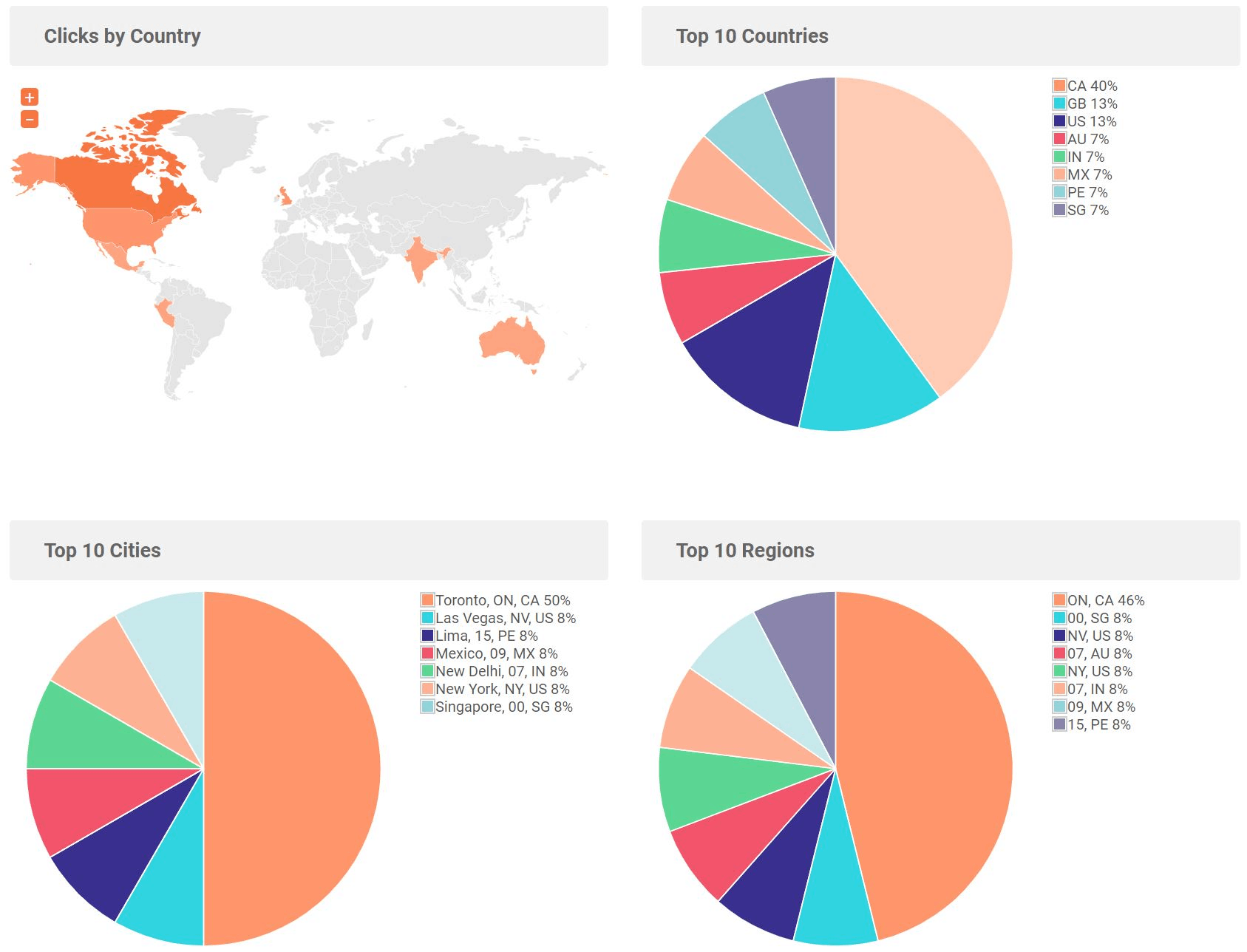 Use it anywhere: Whether it's through the Google Chrome extension or the iOS app, it's easy to track your metrics and shorten links no matter where you are.
Try it for free: If you want to see if Bl.ink's premium plan is right for you but you aren't ready to commit, then take advantage of the 21-day free trial!
| | |
| --- | --- |
| Is there a free option? | Yes |
| Does it include analytics? | Yes |
| Can it be anonymous? | No |
is.gd – The Fastest Link Shortening Tool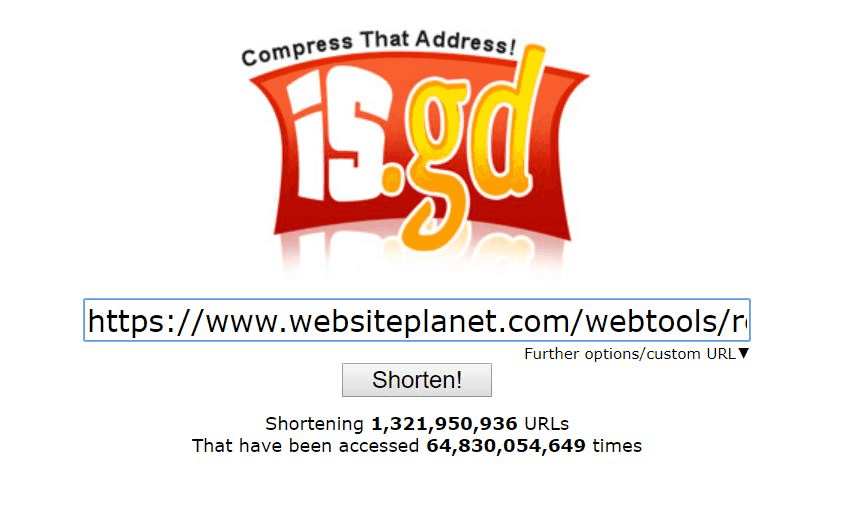 Like TinyURL,
is.gd
is another free, anonymous link shortening tool. One big difference between the two is that is.gd lets you follow your link's statistics. While it may not have the same in-depth analytics as some other tools, with is.gd, you can track a shortened URL while remaining anonymous. Whether through the website or with free third-party extensions, shortening links with is.gd is incredibly simple.
All your links will last forever too, so you won't have to worry about them not working anytime soon
.
Features
More ways to access your link: When you create a link, you're also given the option to generate a QR code to it–all with the click of a button.
Don't go in blindly: Any link you shorten can either send you directly to the destination site, or, if you choose, send you to a link preview site. This way, users will see where the shortened link takes them before actually going there.
Lightning fast: Whether you're using a third-party extension, or you copy and paste your link into the website's text box, this is one of the quickest link shortening tools available.
Anonymous stats: This is one of the only tools that lets you track some basic stats without creating an account. This can be done either by adding a dash to the end of your link (https://is.gd/yourlink-), or by turning on your link's preview page.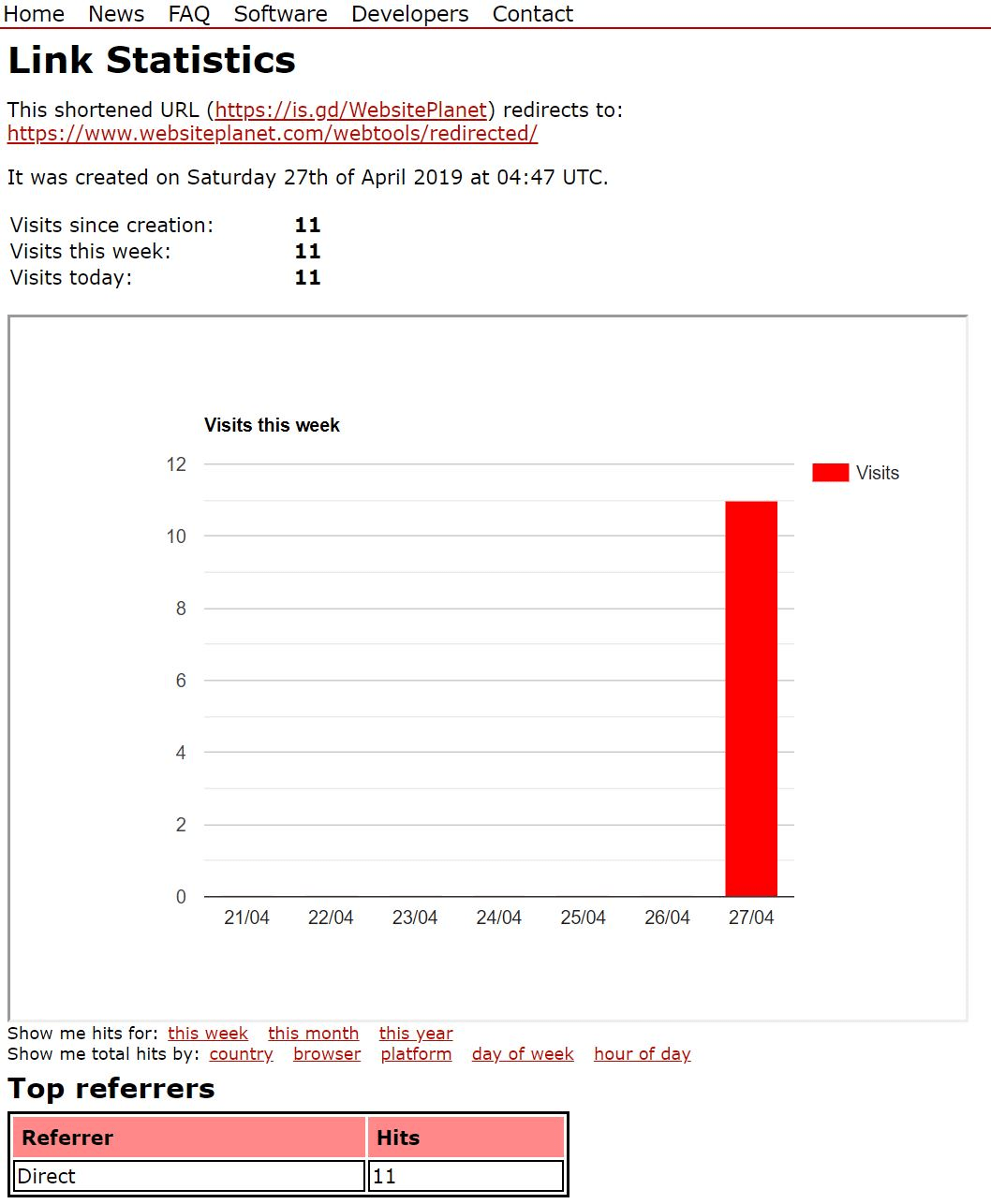 | | |
| --- | --- |
| Is there a free option? | Yes |
| Does it include analytics? | Shows minimal statistics |
| Can it be anonymous? | Yes |
Rebrandly – The Perfect Tool for Branded Links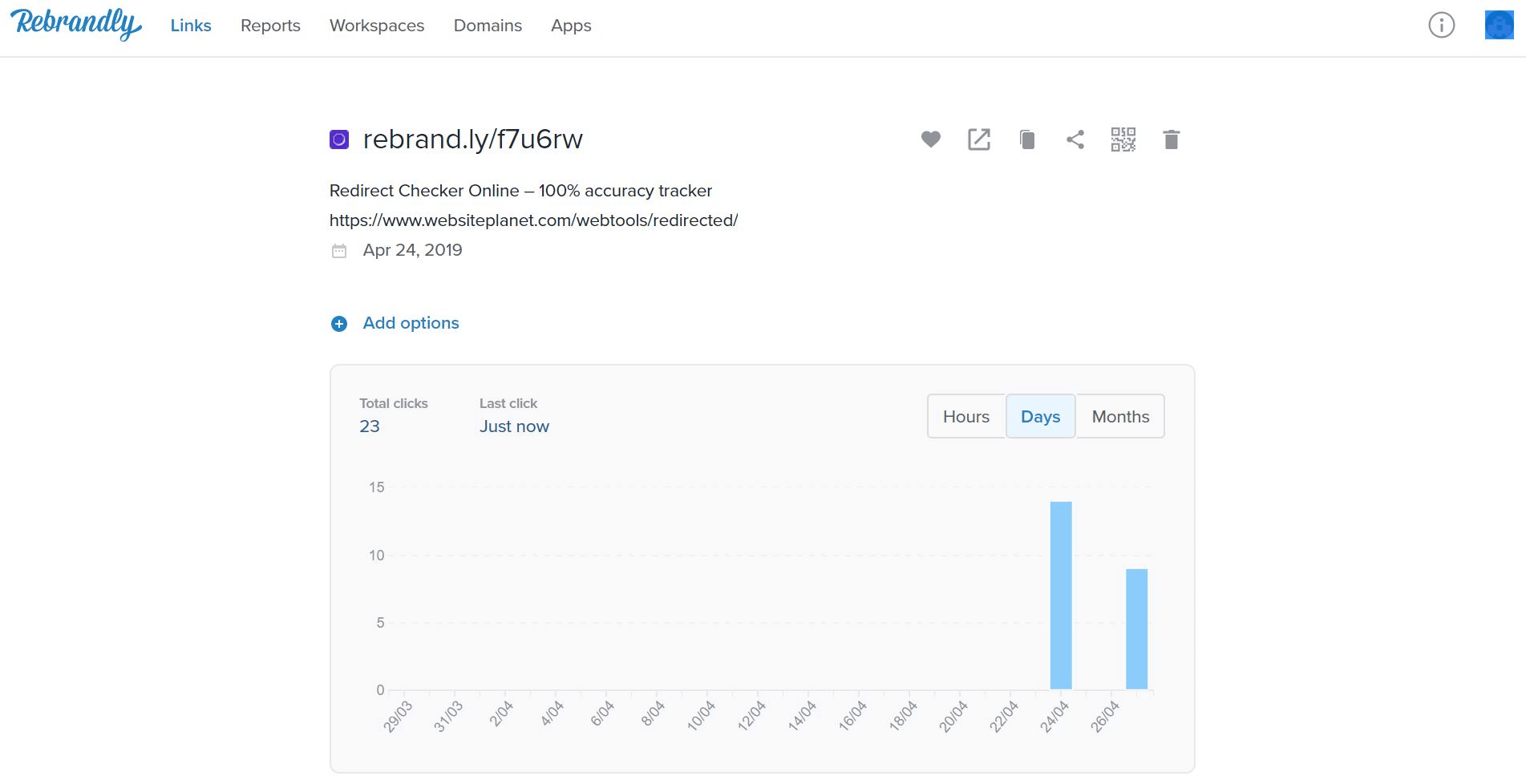 Rebrandly
is a bit different from other link shorteners. This is because the tool's main focus is on branded links. With Rebrandly's fully customizable URLs, all domains that you create can include your brand name. For example, if I were to shorten a URL to a blog on Website Planet, I could make it something like Web.Planet/Blog.
URLs that contain your brand's name are proven to improve click-through rates, link trust, and brand visibility
. Fully customized links may cost you a bit, but you can stick with Rebrandly's default link setting of rebrand.ly for free.
Features
Edit whenever you want: Rebrandly is one of the only link shorteners that lets you edit your URLs after they've been created.
Know what's going on: With Rebrandly, you can track where your traffic is coming from, what device is being used, the peak hours and days of your traffic, and the browsers accessing your site. You can also create custom reports to follow the metrics that matter the most to your business.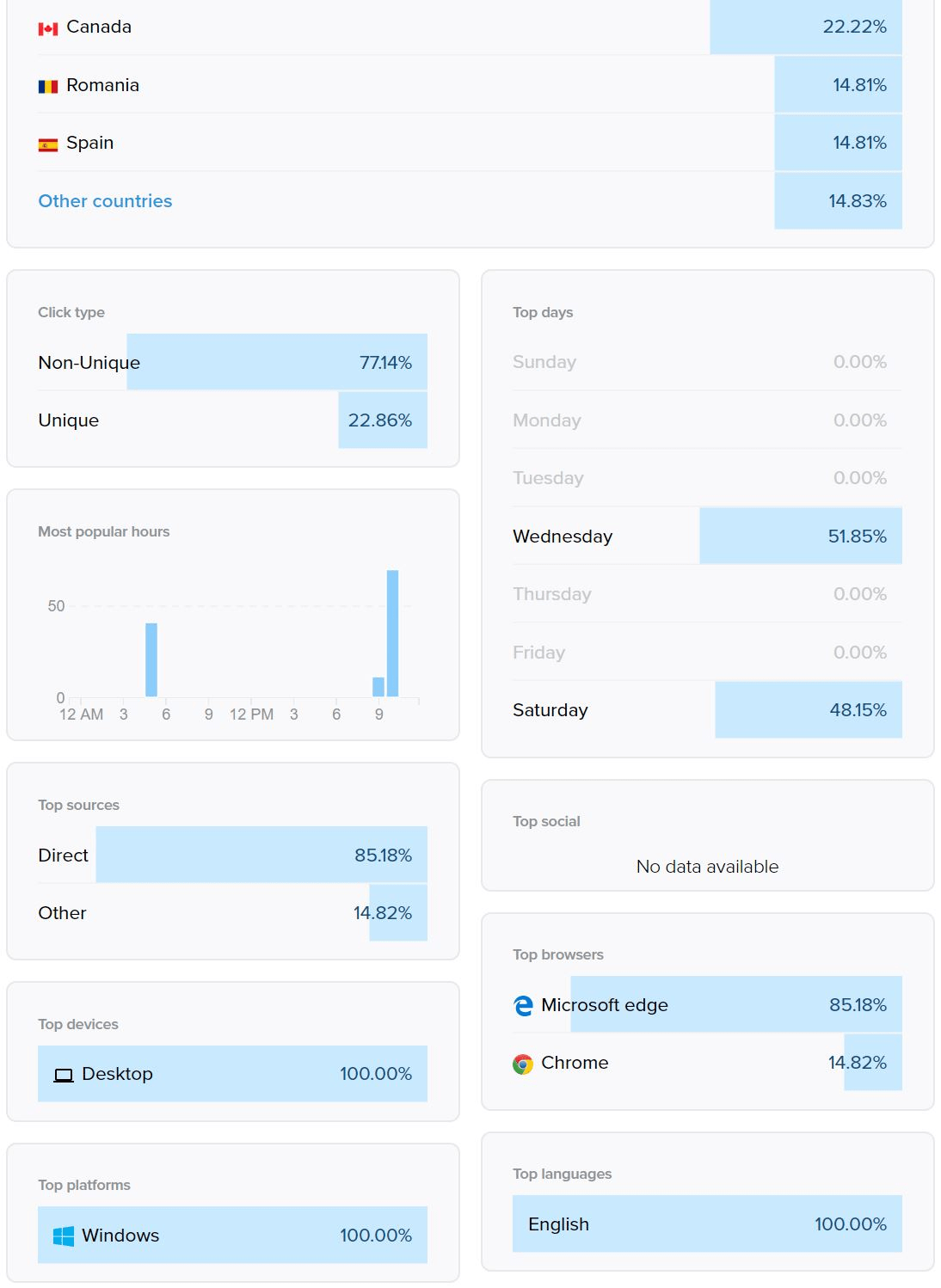 Links that die: If you want a link that'll only be active for a limited amount of time, making it is easy with Rebrandly. Simply set your links expiration date, and it will become inactive after that time.
Reliable help: As a Rebrandly customer, you gain access to the tool's team of experts. They can help with things like your initial setup, account management, and importing links.
| | |
| --- | --- |
| Is there a free option? | Yes |
| Does it include analytics? | Yes |
| Can it be anonymous? | No |
Which One Should You Choose?
There's no one-size-fits-all when it comes to URL shorteners. Depending on what you're looking for, the tool that best fits your needs can vary wildly.
For organizations with hefty requirements, tools such as Rebrandly, Bl.ink, or Bit.ly are perfect for shortening and tracking large numbers of links.
Small businesses with minimal needs can take advantage of any of the above tools and not run into any issues.
For social media marketers, Ow.ly is the obvious choice, as it comes with Hootsuite's powerful social media management tools.
You can also check where a shortened link goes to–no matter whose it is–with a URL unshortener
. This gives you a bit of added security, as you can unshorten a link before you click on it. No matter what you're looking for, you have options when it comes to both shortening and unshortening any URL you'd like! For a quick comparison of the above tools, take a look at the table below:
| | | | |
| --- | --- | --- | --- |
| Tool | Primary Pro | Primary Con | Who Should Use It |
| Bit.ly | Widely recognized as one of the biggest names in the world of link shortening tools | The premium packages can get a bit pricey | Medium to large businesses that wish to track the success of any shortened links |
| Ow.ly | As a part of the Hootsuite dashboard, this tool is perfect for use on social media platforms | Unless you're solely shortening links for social media posts, this tool may be more than you need | Social media marketers who would like to shorten links across social networks |
| TinyURL | Shorten links anonymously and completely for free | Doesn't include any analytics for tracking your link's success | Individuals who wish to shorten their links anonymously and aren't concerned about tracking them |
| Bl.ink | When you create an account you're given 1,000 custom links for free | Doesn't include an option for shortening links anonymously | Small to medium sized businesses who are looking for a tool with a generous free plan |
| is.gd | Not only can you shorten links anonymously, but you can also track them with some minimal statistics | While you can track the clicks your link received and its referrers, those are pretty much the only stats you have access to | Anyone who would like to shorten a link anonymously and still have the ability to track some basic stats |
| Rebrandly | Create fully customized links that are consistent with your brand | The free package is rather limited compared to some other tools | Businesses who would like to increase brand awareness with custom links |