wide range of free online infographic tools available
, there's no excuse for presenting dull and lifeless information to your customers and stakeholders. Obviously the nature and frequency of each company's needs will vary, but that's no problem, as each available tool comes with its own unique features, specialities, and interface. We did the hard work for you and picked out our favorites, so all you need to do is determine the right one for you.
#1: Google Charts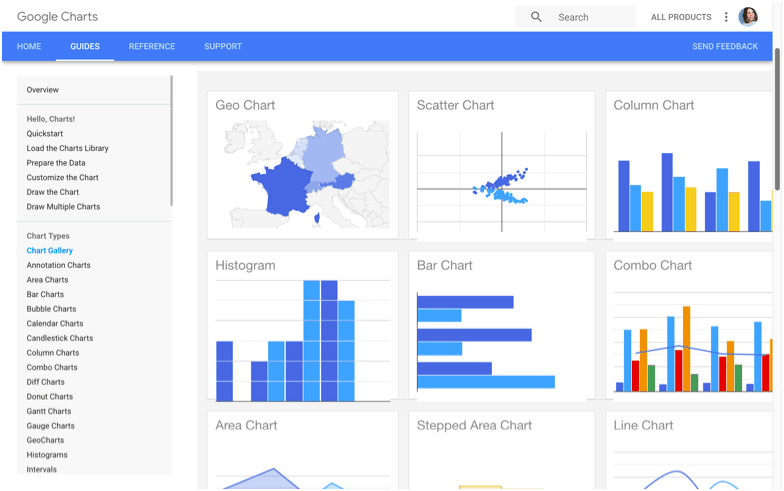 If you need any web-based tool, chances are Google has a free one. Infographics are no exception. Since they are
interactive and HTML-based
, using Google Charts involves a lot of copying and pasting HTML code into a .html file and then opening it in a browser. If you are comfortable with HTML, Google Charts offers around two dozen infographic types to choose from, including the basics like pie charts and timelines, and more unique options like a candlestick or bubble chart.
The guides are easy to read and follow, and copying the codes can be done in a click
. You can customize the colors to your website and data is updated in real time. Best of all, the service is completely free.
#2: Infogram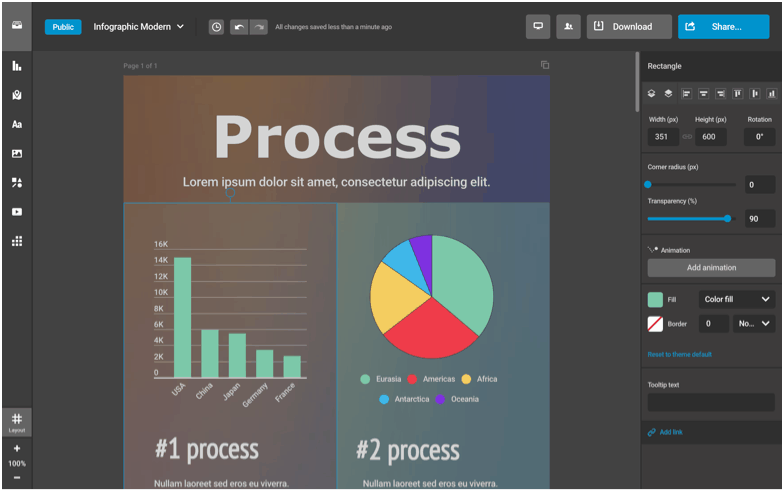 If HTML isn't your thing, there are still plenty of options to help you make infographics. Infogram provides free infographic templates that help you display information:
In a report scheme
As a process
As statistical information
As a timeline
As a map
You can also create single line, bar, radial, column, or pie charts, or use a "facts & figures" template. Above is an example of an infographic report template.
You just click on an element to edit it and a spreadsheet pops up so you can easily input information
. Infogram also offers other layouts that may be useful for presenting information. There are basic monthly and annual report templates. You can even use Infogram to
help you design social media posts for every social media platform
, including an email header, YouTube thumbnail, or LinkedIn post. Upgrading your plan gives you access to premium infographic layouts like a photo story or an icon infographic.
The premium plan also has a data analysis feature
.
#3: Piktohart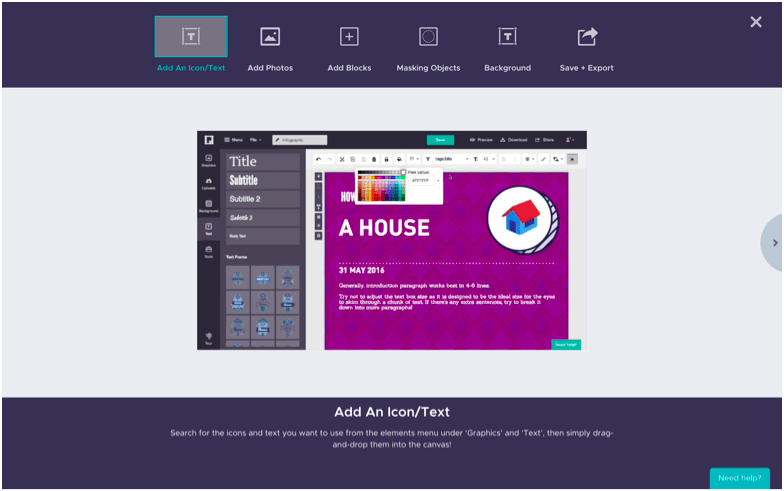 On Piktochart, you can create dynamic infographics, printables, and even presentations. You can
start with a blank template or click the "Inspire Me" button
to get complete examples of projects made by other users and work from there. Upload photos to use or
choose from a gallery of images
curated by the Piktochart staff. Easily pick a premade color scheme and add maps, video, and charts to presentations. Paid plans feature PDF and HD image exports, and the ability to create custom colors. There's a unique
plan for teams that allows for role assignments
and collaborations.
#4: Visme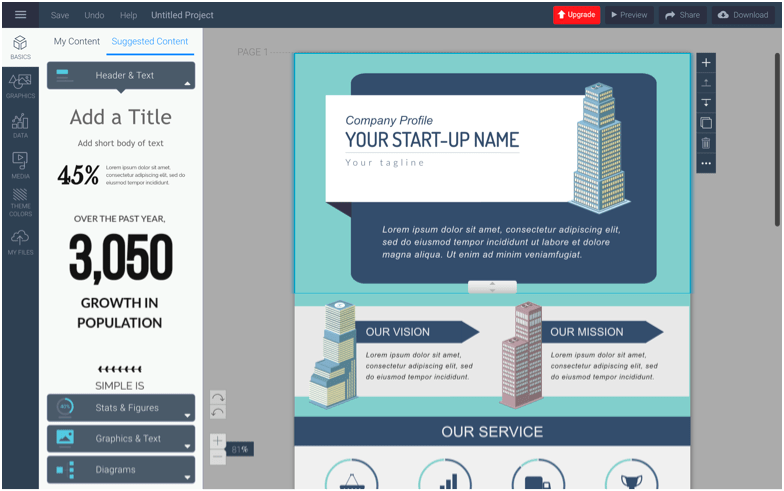 Visme separates their infographics into a number of useful categories, including:
Featured
Process
Timeline
Reports
Informational
Business
Sales & marketing
All of the categories make their
unique template keyword search feature
even more useful. For example, if you are doing a health-related presentation you can easily type in "health," to narrow down your choices fast. Presentation, document, and printable layouts are also offered along with social and web graphics. Or, you can make your own custom-sized template. With the free package you can
create up to five projects
. The paid business plans include some unique features like the ability to record audio, a brand kit, folder organization, a slide library, and more!
#5: Easel.ly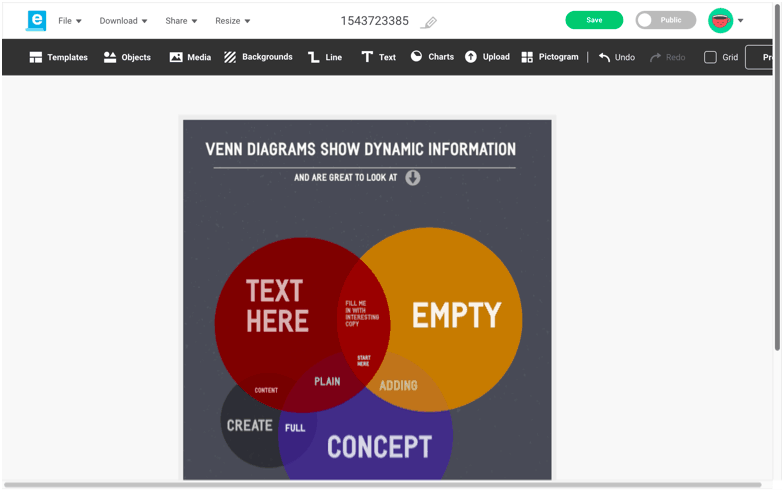 Easel.ly is the infographic tool for you if you want something
fast and easy to use
without too many overwhelming layout options to choose from. The free version offers ten templates from a number of standard business categories (e.g. timeline, process, report) and four chart types. The number of
accessible layouts and charts are rather small
, but you do have the ability to add pictograms, charts, objects, and even YouTube videos to your infographic in the editor. A limited number of images are available in the media library. A paid account will get you access to a greater number of templates (320+), as well as options in more creative categories (e.g. food, science, real estate).
You'll also be able to "work privately," as a free account means that your infographics can be viewed by other Easel.ly users
.
#6: Canva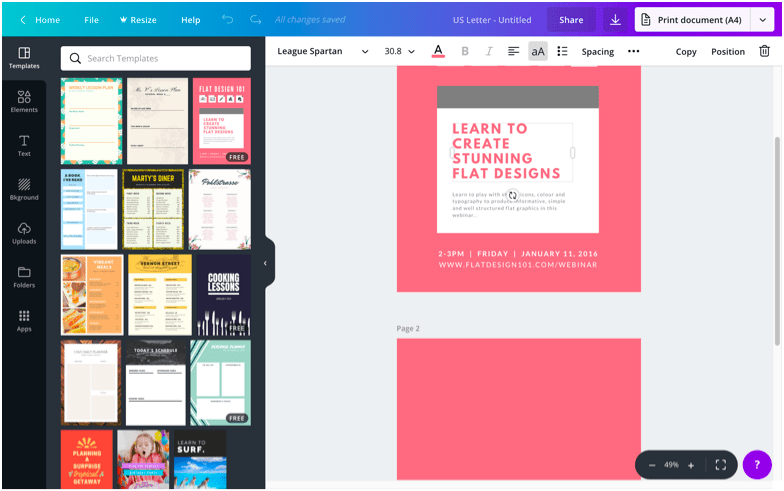 Canva is one of the most popular infographic services out there, and for good reason. They boast over 50,000 layouts to choose from, for projects way beyond infographics. While not all of the layouts are free, you can search for anything from a logo to a lesson plan and find
at least one free layout to use within that category
. They offer
one of the most robust free graphic design services
available, including far more than infographics. With so many projects to design, you may think you'll be overwhelmed. But the
Canva Design School offers step-by-step guides
to creating any project on their site. They also help you choose everything from colors to fonts. You can
test drive a paid subscription for 30 days
, at which point you'll have access to more than 400,000 photos, the ability to easily resize your projects, and easily share between team members. After the trial period, a paid subscription can either be billed on a monthly or annual basis.
#7: Venngage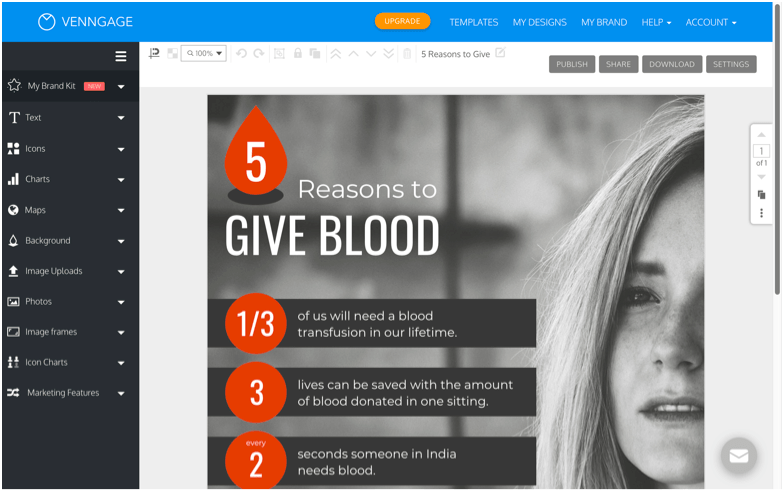 Like many of the services on this list, Venngage offers more than just infographic design. They have
12 infographic categories to choose from
, including everything from geographic, comparison, informational, and "fun data." They also have 14 chart categories including: editorial, mixed, word clouds, scatterplots, and Venn diagrams. When you sign up for an account,
Venngage asks you questions about your business and design preferences and then recommends layouts for you
. They provide a short guided tour in the editor, as well as video tutorials. Venngage premium plans are similar to their competitors. Features include: team functions, brand identity features, and access to more templates.
#8: BeFunky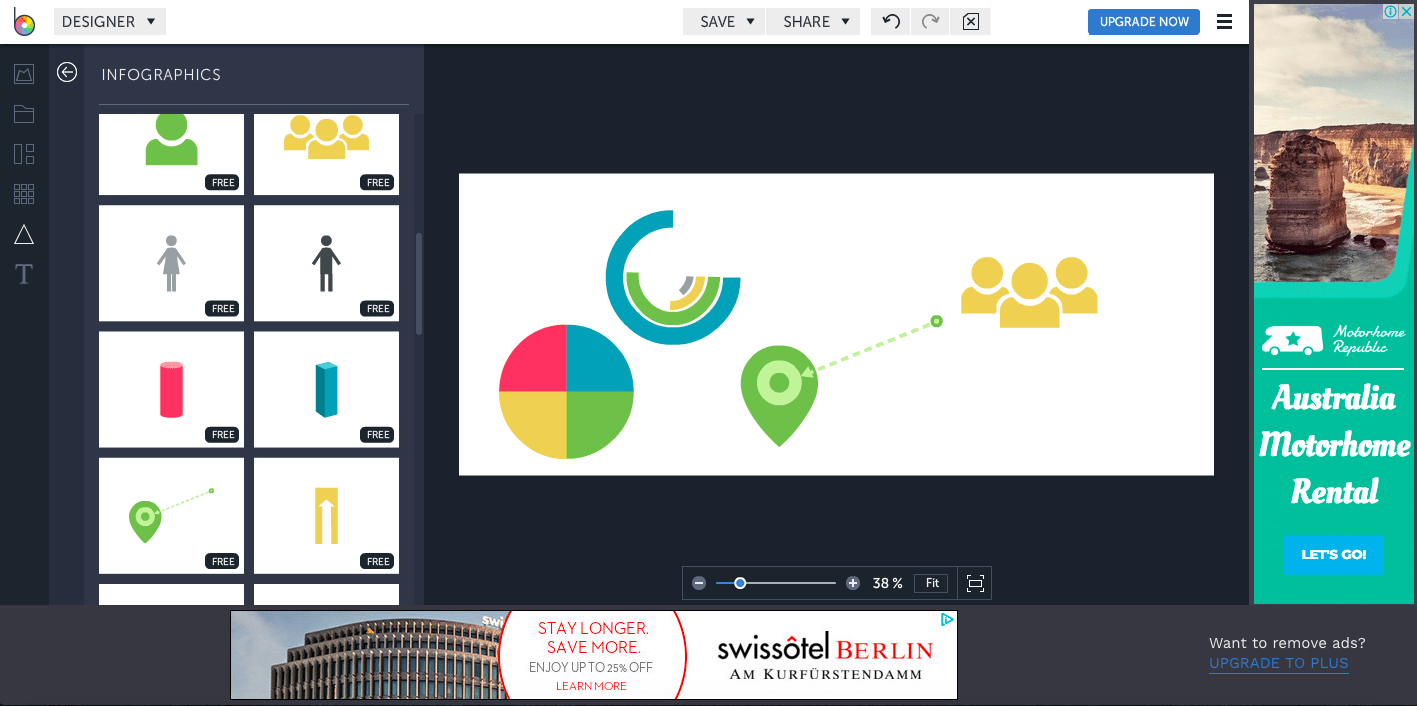 BeFunky is a photo editor, collage maker, and "designer" with a business section that allows you to create basic infographics, ads, and social graphics for your company. There is a very small number of templates available for free accounts, and few options when it comes to customization. That said,
if you have a designer's eye but not much practice making infographics, this could be all you need
. There are plenty of templates in different sizes, and a number of elements you can use to create your design, but not much base structure in the templates. BeFunky Plus gives you access to features like
more layout options and a selection of graphics
.
#9: AniMaker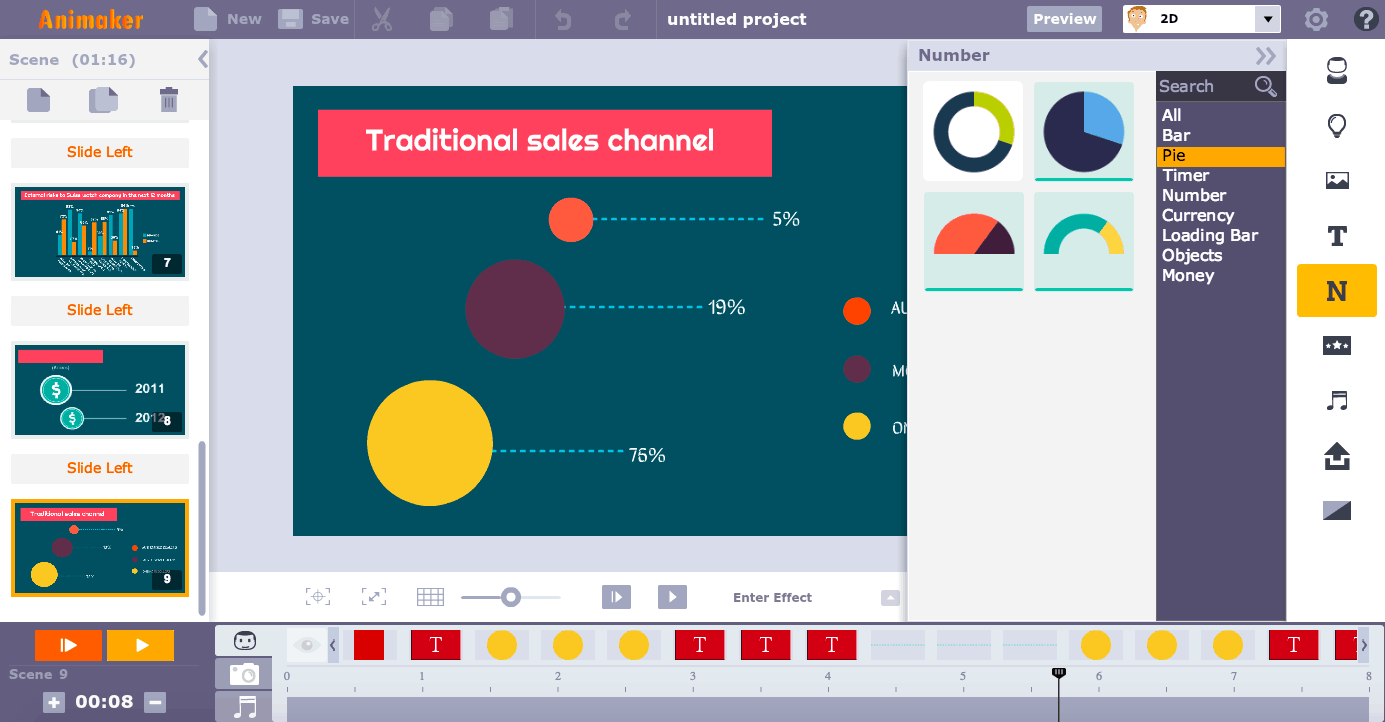 Animaker is the only
video infographics maker
on our list. While most of our other options help you elevate a plain infographic into something more, Animaker can help you take it to a completely new level. They have
both an infographic and business category
, with several themes that overlap. Some of the business-themed videos you can create are:
A product explainer
A service promotion
A sales meeting
A sales report
A business presentation
A product advertisement
A company history
Infographics themes include:
Social media reports
"Story" videos
Fact presentations
There are
six unique video styles
to choose from, which you can mix and match in order to create something truly unique. Upgrading to a Business account provides longer video times (up to 30 minutes), greater number of exports (up to 100 per month), and higher quality video. Not to mention, you'll also have more access to templates, fonts, icons, and music tracks.
#10: Mind the Graph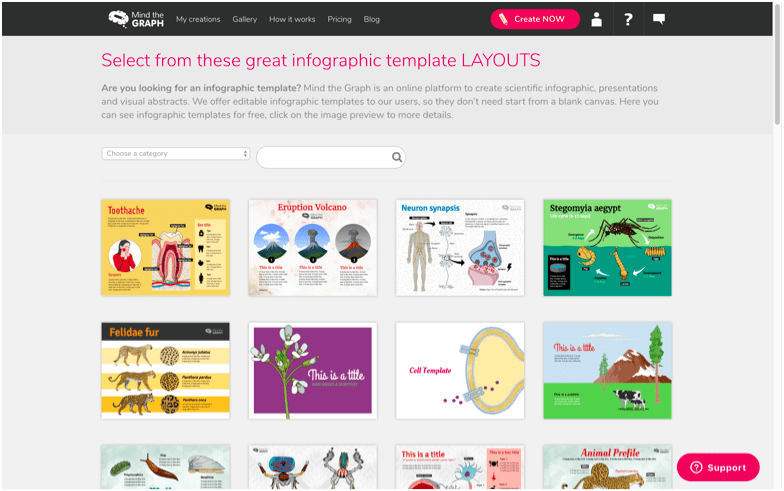 Mind the Graph is
the most industry-specific free infographic maker
on our list. But if you're in a scientific, educational, or animal-related industry, it's the perfect option for you. They offer:
Comparison charts
Cycle charts
Facts & figures charts
Flow charts
Timelines
Maps
Process charts
The free version is unfortunately
only good for testing the service
, but the "Researcher" plan includes:
External uploads
Private mode for images
High resolution exports
If you like the editor layout, you can make Mind the Graph work for you no matter what industry you're in.
#11: Snappa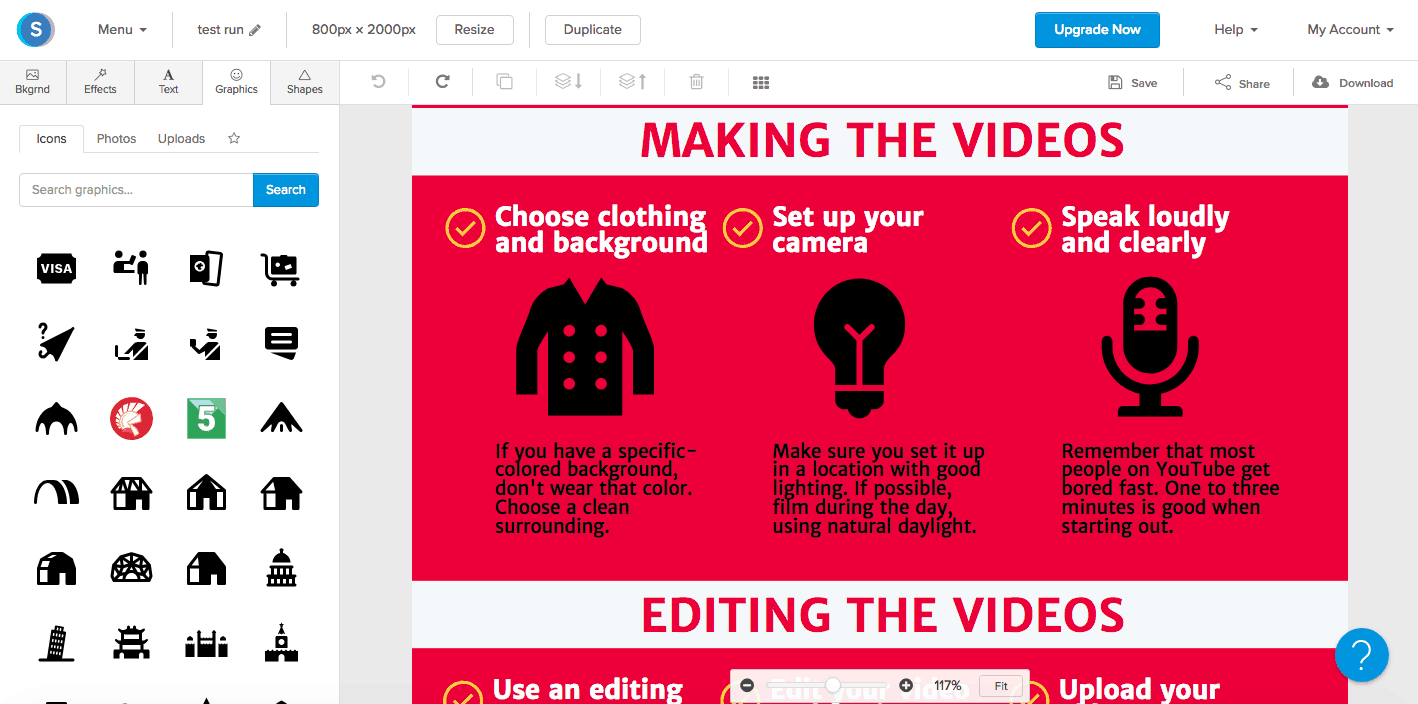 Snappa is a well-rounded choice for any small business owner's graphic design needs, be it an infographic, social media post, or ad. The free version gives you
access to all templates and images that the service offers
, a rarity among its competitors. You can also connect up to two social accounts with a free plan. Infographic layouts are not named, so
it's hard to pin down what layouts meet your specific needs
quickly, but the category offers 50+ ways to display information in layouts, such as:
A flow chart
A comparison chart
Labeled diagrams
Facts & figures
Decorated checklists
This is
one of the best services for a start-up business owner to use
. A paid subscription will give more team members access to your account, plus unlimited downloads, and the ability to save designs and folders.
#12: PicMonkey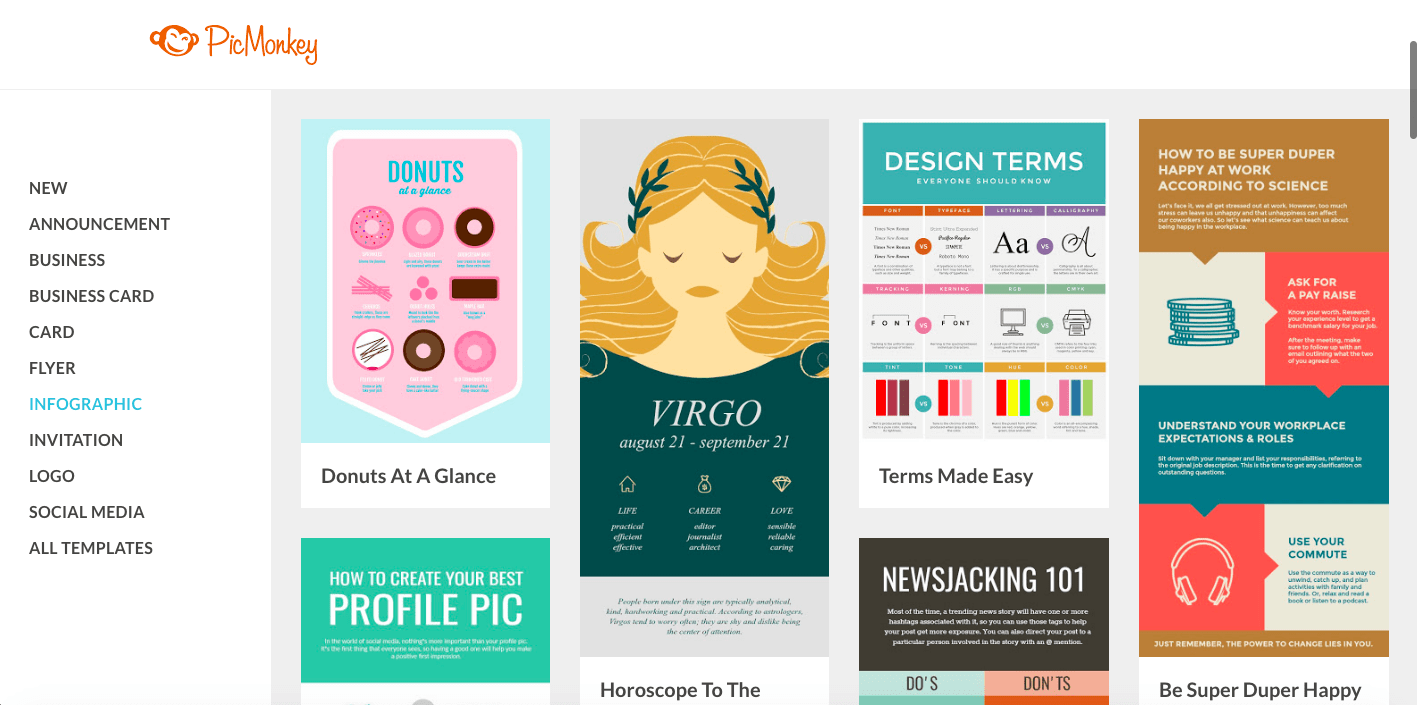 PicMonkey's "free" option is just a week-long trial. That being said, if you like what you see, it can be a great option for anyone wanting to learn a bit of graphic design. They're
known for their tutorials and for being an image editor
, but they also have a section of infographic templates as well.
There are "Basic" and "Pro" paid subscriptions
. The features are the same in each, but the Pro plan provides unlimited storage on the site and the ability to organize your work into different collections.
Design Your Future
Before you decide on a service, try to anticipate your company's graphic design needs. Don't choose a service only to realize later that it doesn't quite fit. Many of the services above
offer more than just infographic design
, so take advantage of things like social media imagery and ad development. Especially for a startup, smart spending is one of the keys to early success.
| | | | | |
| --- | --- | --- | --- | --- |
| Infographic Tool | With the Free Version You Get: | With the Paid Version You Get: | The Free Version Is Best For… | It's Time to Upgrade When… |
| #1: Google Charts | 20+ chart varieties Pre-built HTML code | — | Someone who knows HTML | — |
| #2: Infogram | Single charts & infographic report layouts Social media post layouts | Data analytics features Premium report layouts | Someone who needs a basic infographic report & social media templates | You need data analytics |
| #3: Piktochart | 600+ templates for infographics, presentations, and printables 100MB storage for images | 1G image storage HD/PDF exports Watermark removal Team collaboration features | A small business owner new to infographics | You've built a team that needs to collaborate on design |
| #4: Visme | Variety of templates in key business categories Social and web graphics Up to five projects | Extra media storage 500,000+ photos and 10,000+ vectors for editorial/commercial use Unlimited projects (business plans) | A small business owner with less than five infographic projects per year | You and your team need to collaborate on many dynamic infographic projects regularly |
| #5: Easel.ly | Limited number of infographic layouts and charts Limited media library | Private storage of infographics 320+ layouts | Someone who needs a simple infographic fast | You know you like the service and need an affordable infographic tool |
| #6: Canva | Extensive tutorials Wide variety of free project layouts | Team functions Upload/save brand-specific elements | Someone who is interested in learning graphic design to create projects for their business | You need team functions, more storage, and richer layouts |
| #7: Venngage | Save five infographics Access five layouts | Add multiple pages to infographics Custom templates | A small business owner with very few infographic needs | You know you like the service and need infographics branded for your business/HQ files |
| #8: BeFunky | Photo editor and collage maker with an infographic designer Basic layouts and elements to add to designs | More layouts Advanced designing and editing tools | Someone with photo editing needs in addition to their infographic design needs | You need advanced editing tools and more than just basic layouts and graphics |
| #9: Animaker | 2 minute videos Standard quality video | 100 exports per month (business plan) Commercial video rights | Someone who wants to make short, simple infographics | You need commercial rights to longer video presentations |
| #10: Mind the Graph | A blank template Upload 1 image | Start from templates Create presentations | When you just need a quick slide | You're in a data-heavy business and want specialized layout options to present information |
| #11: Snappa | Five downloads a month Access to 5,000+ layouts and 600,000+ photos | Team collaboration (team plan) Upload custom fonts | You're a start-up owner who needs high quality graphics each month (less than five) | You need a team to help you design graphics |
| #12: PicMonkey | One week free trial | Access to all tools and features (more storage for Pro plan) | You want access to a full service for free | You need infographics regularly |