If you plan on including photographs on your website, you must ensure that they maintain or exceed the high standards that thee rest of your site boasts. Many beginners mistakenly underestimate the importance of images when they build their site. This article explains why it's crucial that your site's photos be professional looking photos, and it'll introduce you to some fantastic free tools.
Why You NEED Professional-Looking Photos
You might wonder why you actually need professional-looking photos on your site. After all, that might not even be what your site is based on or why users visit it in the first place. But of course,
most people are incredibly visual and easily influenced by what they see
. Professional-looking photos are important for the following reasons:
   

Aesthetics

: Even if they try, visitors can't focus only on your site's content and ignore all its images! High-quality and great-looking photos will make your site appear more attractive — period.

   

Credibility

: Whether or not it's reasonable, site visitors can't help but to view subpar or poor-quality images with skepticism. A business whose site's photos look professional will naturally seem like they take themselves seriously and don't stoop to downloading free images.

   

Consistency

: This might seem like a small detail, but it's something visitors pick up on subconsciously. Having images with varying quality, resolution or tones throughout your site will confuse visitors and make it less attractive.

   

Sell yourself/products

: As visual beings, humans are naturally attracted to things that look nice. High-quality and informative product photos have long been known to be a crucial conversion factor. Better photos of yourself will also make visitors more likely to trust you.

   

More users will visit your site

: If someone does a Google search, they are more likely to follow the higher-quality image to a site.
How Can a Photo Editor Help You?
You don't need to be a Photoshop pro to use an editor to make photos on your site look professional. In fact, a proper camera and photographing techniques already do much of that for you. However, there are a few essential tasks that a photo editor will help you with:
   

Resizing/cropping

: Although you should be able to resize your photos using code or a website builder, it doesn't always work out great, or the tools can be limited. Sometimes it's better (and easier) to do it beforehand with a tool.

   

Resolution

: Resolution inconsistency can frustrate visitors. Excessively large photos can impact your page load times. Photo editing tools can help you adjust the resolution of your images.

   

Touch-ups

: For a consistent design or look, you may sometimes need to adjust the tone/brightness/color of some of your images to match the overall feel.
Top 5 FREE Photo Editors
Paint.NET
Simply put, Paint.NET is one of the best free photo-editing tools out there. It manages to strike a fine balance between the complexity and features of programs like Photoshop and GIMP without being as challenging to grasp.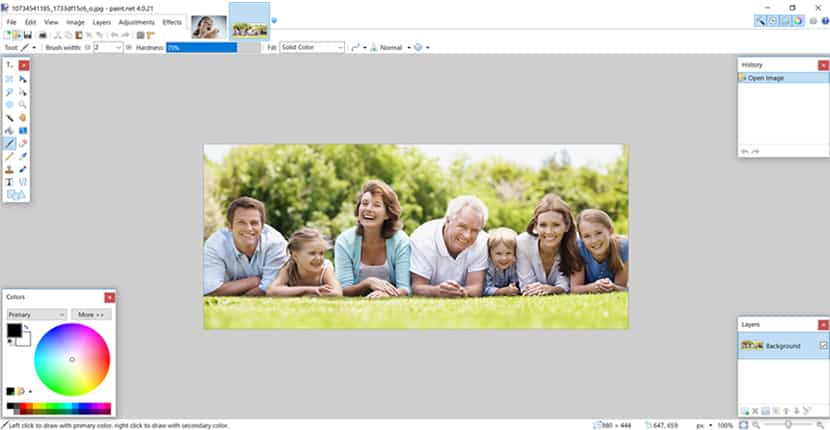 You can use almost any advanced photo-editing features like filters, layers, masks, and curves.
Pros:
     Advanced features

     Easier to use than similar software

     Completely free, with no limitations
Cons:
Pixlr
Pixlr has an extensive set of features for a free image-editing tool. The interface will remind you of other platforms like GIMP and Photoshop with all its settings, tools, and options. This means it can be slightly daunting for beginners, but that's a price you pay for power.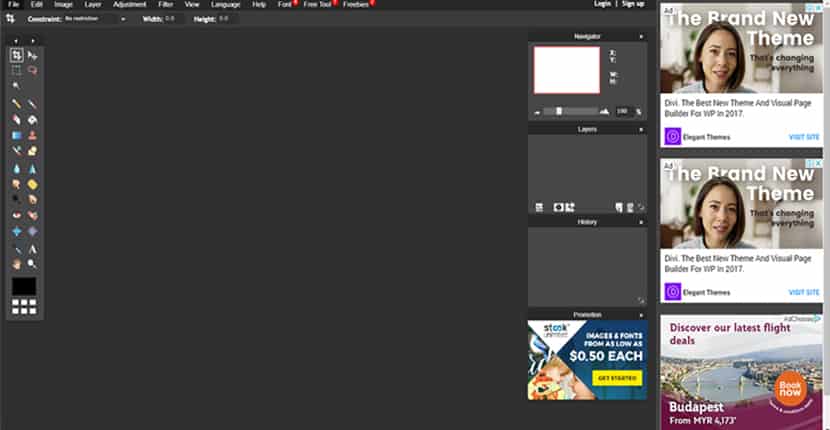 You'll have advanced features like red-eye removal, advanced filters, layers, masks, etc. With a pro account, you get access to premium fonts, images, and templates as well as an improved interface.
Pros:
     A large number of free features

     Access to all the advanced tools you could hope for
Cons:
     Slightly complicated for beginners
GIMP
GIMP is a very popular free and open source image-editing tool that has been around since 1996. With over 20 years of development behind it, it's no surprise that GIMP currently has some of the most advanced features you can find in a free photo-editing tool.
You can work on multiple layers, create masks, use curves or levels, and easily remove imperfections using their healing tools. You can even create your own preset brushes or stamps. Unfortunately, that also means it's slightly more complicated and may take you a while to get used to.
Pros:
     Extremely advanced features

     Plenty of community extensions/plugins

     No usage limitations or ads
Cons:
     Slightly complicated interface

     Needs some time to get accustomed to
Canva
One of the best things about Canva is how it manages to pack a vast number of features into a relatively familiar interface. It almost feels as if you are working in your favorite text editor. There are also many tips available for new users to ease them into the process.
An interesting feature of the Canva platform is that they feature a marketplace where you can buy community-made icons, photos or templates. There are also some simple, yet fundamental photo-editing tools to crop, resize, filter, flip or adjust your images.
Pros:
     Fantastic, intuitive interface

     Marketplace with extra content
Cons:
Fotor
Fotor is all about speed and ease of use. That means that you won't find all the advanced tools of some other editors like GIMP. However, you'll have access to some powerful one-click tools, like the '1-TAP ENHANCE' feature.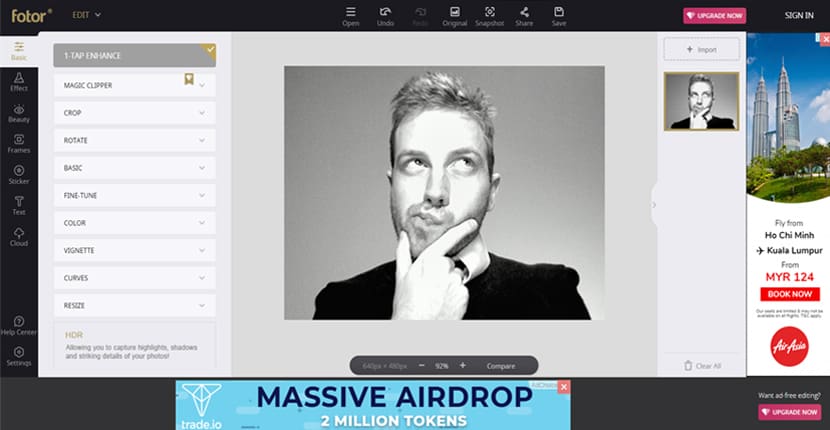 Some advanced features are behind a paywall (unless you can live with their watermark on your images), and the free version has ads. Overall, it's more of a retouching tool to beautify and enhance your images than a full-fledged editor. A great feature is that it's compatible with almost all devices and can even be used online.
Pros:
     Multi-device support

     Great retouching tools and filters

     Easy to use
Cons:
     Some features require a watermark

     No real advanced editing tools
You Don't Have to Pay to for Professional-Looking Photos
Do your site a favor and try some of these great free photo-editing tools to enhance and beautify your images. The tool that's best for you will depend on your experience, needs, and which one you find most intuitive. You and your site have nothing to lose, and everything to gain.