Based in the Czech Republic, Mioweb is a highly user-friendly website builder. Not only does Mioweb help you build your website, it also hosts it for you and provides you with your own domain.
The interface is available in multiple languages (unspecified), but the Mioweb website is only available in Czech. That being the case, the website is still very sleek and easy to browse. All prices are displayed in Czech koruna.
Features and Ease of Use
Building your own website from scratch with Mioweb is quite easy and doesn't require any advanced technical skills. Once you subscribe, you can choose from 70+ different templates, pages, and blocks.
After choosing your website template, use the layout editor to adjust the design of your website according to your requirements. The toolkit on the left side of the page allows you to easily adjust all aspects of the website through a simple drag-and-drop procedure.
With Mioweb, your website will have predefined blocks, so you can easily add content or new pages without having to worry about the structure or affecting the layout of your website.
Fill in your page content by choosing from individual elements and inserting them into your page as needed. You can further adjust the appearance of your content as each element has its own settings.
All themes and designs created by Mioweb are fully responsive. This means that your website will automatically adjust itself to look perfect on any device (mobile, tablet, desktop).
You can also use the simple editor to create your own blog within the website. In addition, Mioweb allows you to integrate social media into your website (e.g., Facebook, Twitter, Google, and more).
Mioweb runs on WordPress which is the most commonly used content management platform used among both website builders and web hosting providers.
Other features offered by Mioweb include advanced graphic features, multilingual options, web analytics and links to Google Analytics, and eShop plugins (up to 100 products, listings and product details, express purchase button).
Pricing and Support
Mioweb doesn't have many plans, instead it offers one all-inclusive package. Unlike most website builders, Mioweb doesn't offer a free plan or a free trial. However, it gives you a 30-day money-back guarantee. 
Even though the plan is packed with a wide range of features, it's still expensive compared to other website builders in its tier. You can subscribe on a monthly basis.
Mioweb will charge you for technician service intervention, moving your website to Mioweb's servers, or restoring your website from a backup.
There's an extensive Knowledgebase and video tutorials covering most major topics on the website.
To quickly reach the customer support team, you'll find a live chat icon at the bottom right corner of the page. However, the chat is with an AI chatbot. Nonetheless, I was quite impressed as the chatbot was able to answer most of my questions.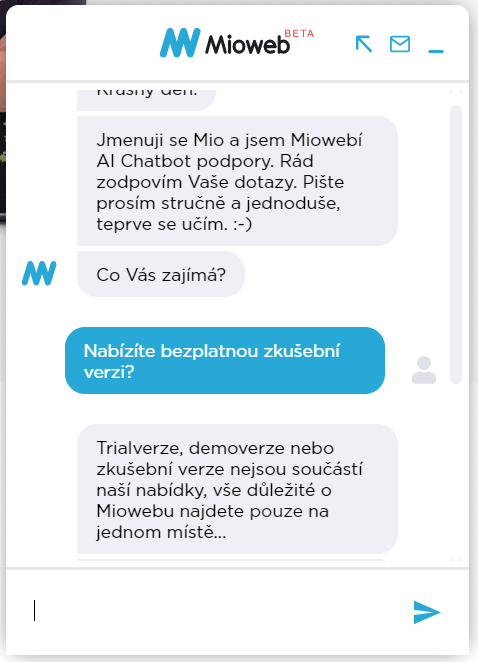 Other forms of contact include phone and email for technical support. Phone support is only available during working hours (Mon. – Fri.: 9 AM – 4 PM).