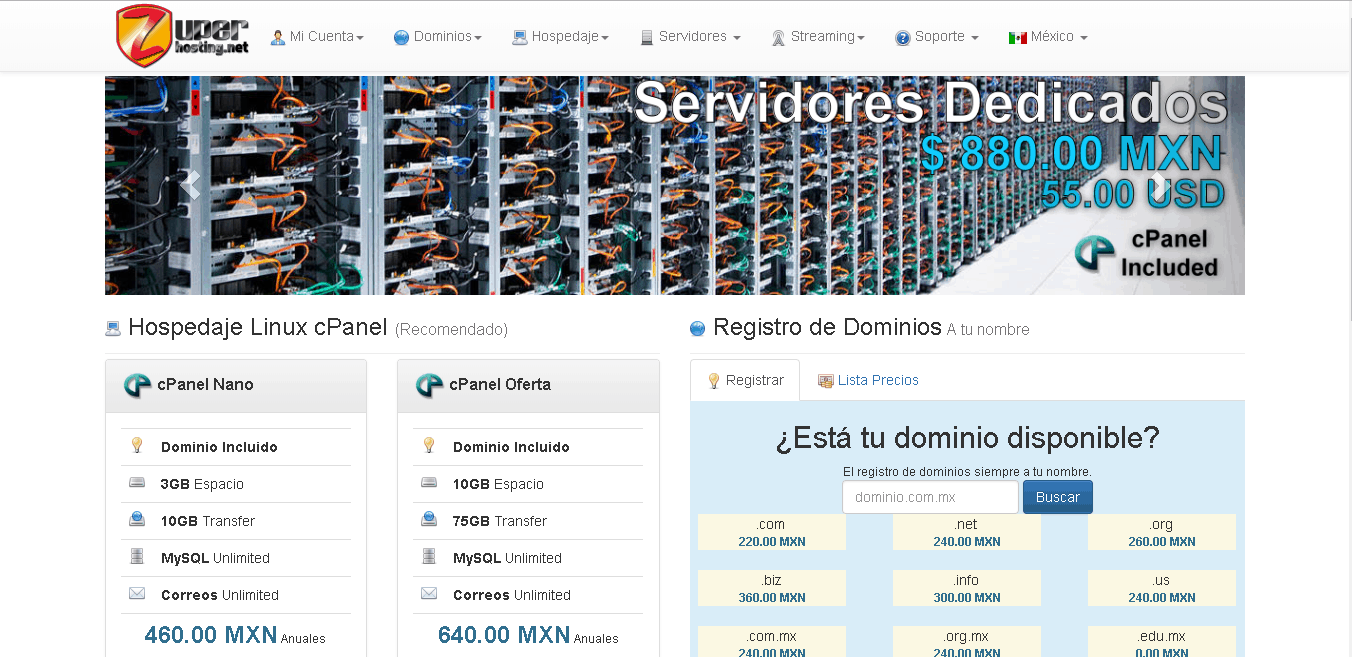 ZUPERHosting.NET was founded in 1998. They provide a wide range of hosting services, and their website is available in Spanish.
Features and Ease of Use

ZUPERHosting.NET offers a wide selection of shared hosting plans (cPanel Linux, Plesk Windows, Plesk Linux, DirectAdmin Linux, Vesta Linux, Sentora Linux), reseller plans (cPanel Linux reseller), dedicated servers, and virtual private servers, plus radio, TV and live streaming services.
The Linux shared hosting plans, in particular, come with the following core features:
99.5% uptime commitment
Domain registration available for purchase
Unlimited add-on domains
From 3GB to 250GB web space
From 10GB to 500GB transfer
Unlimited MySQL databases
The recommended plan for shared hosting is the cPanel Linux plan that comes with six resource levels called Nano (3GB web space and 10GB transfer), Offer (10GB web space and 55GB transfer), Micro (30GB web space and 150GB transfer), Mini (100GB web space and 250GB transfer), Mega (200GB web space and 350GB transfer), and Zuper (250GB web space and 500GB transfer). As well as pretty substantial resource quotas, they have several unlimited features such as add-on domains, parked domains, and MySQL databases.
In terms of beginner-friendly features, the plans come with a premium version of Softaculous one-click installer with over 350 programs. For experts, they support Perl and PHP (version 5.4.39, not the far faster version 7.2). They also provide support for lots of advanced coding languages including Python, JavaScript, and Java. The list of supported languages depends on which control panel you pick.
You get yet more features with their premium hosting plans that come with either 750GB or 1500GB web space and unlimited transfer, plus SSH and SMTP access, hourly/daily/weekly automatic backups, support for PHP and Javascript, and an array of security measures.
Pricing and Support

ZUPERHosting.NET's cPanel Linux plans provide a price point for everyone. The cheapest three plans are very affordable, but the higher packages get pretty pricey. The premium plans are very expensive. That said, the 3GB web space, 10GB transfer, and unlimited domains on the cheapest plans should be sufficient for most everyday users. Domains cost extra on all plans.
You can purchase their plans only on annual terms, which is quite rigid, and the minimum commitment is not mitigated by any money-back guarantee. Getting set up is slightly more complex than with other hosts as you need to create an account and then pay separately via PayPal.
They offer 24/7 support by online chat (although the link was not working when I checked), support ticket, Facebook, Twitter, WhatsApp, Skype, and telephone.
They also have a support forum, guides and tutorials, a news page, and a server status pages. Overall, very substantial customer service offerings.