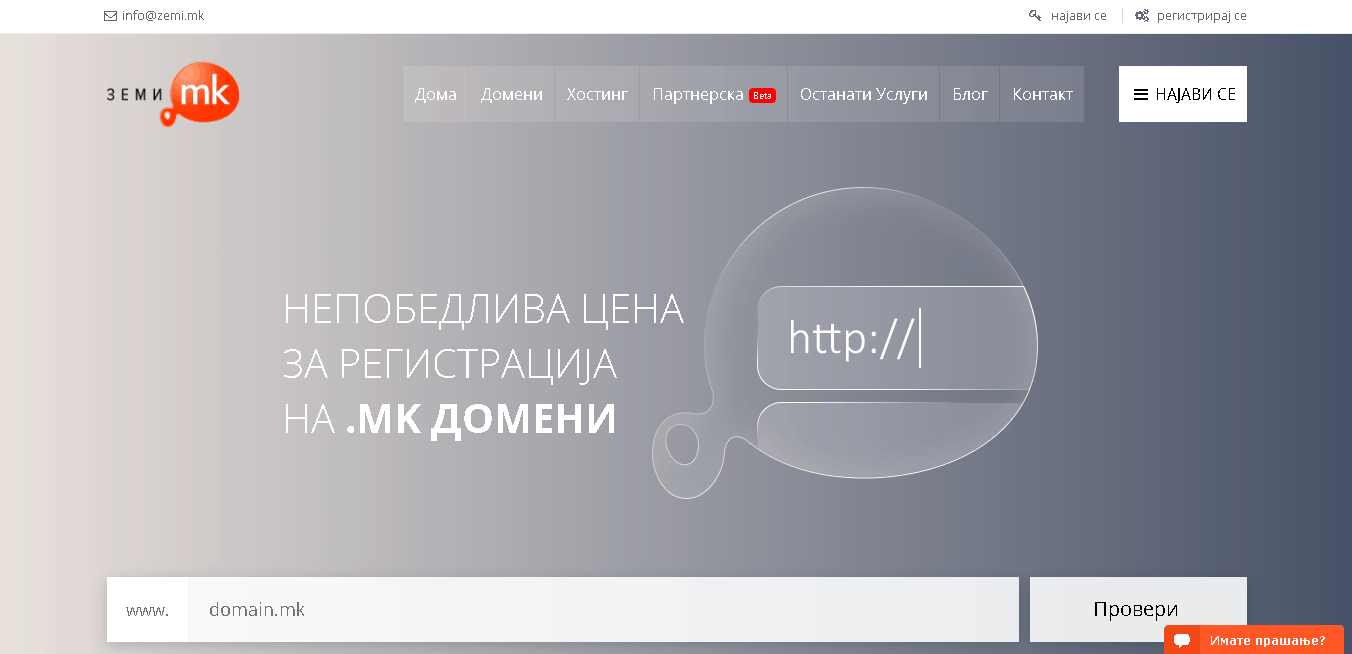 To compare the best web hosts, we hosted the same WordPress website on each one and tested performance, customer service, and value for money.
Check out the results here.
Zemi.mk offers web hosting, dedicated servers, ShoutCast hosting, domain registration, website development, and software development. It is a brand of Vortechs Media and its servers are located in Germany. Its website is in Macedonian only.
Features and Ease of Use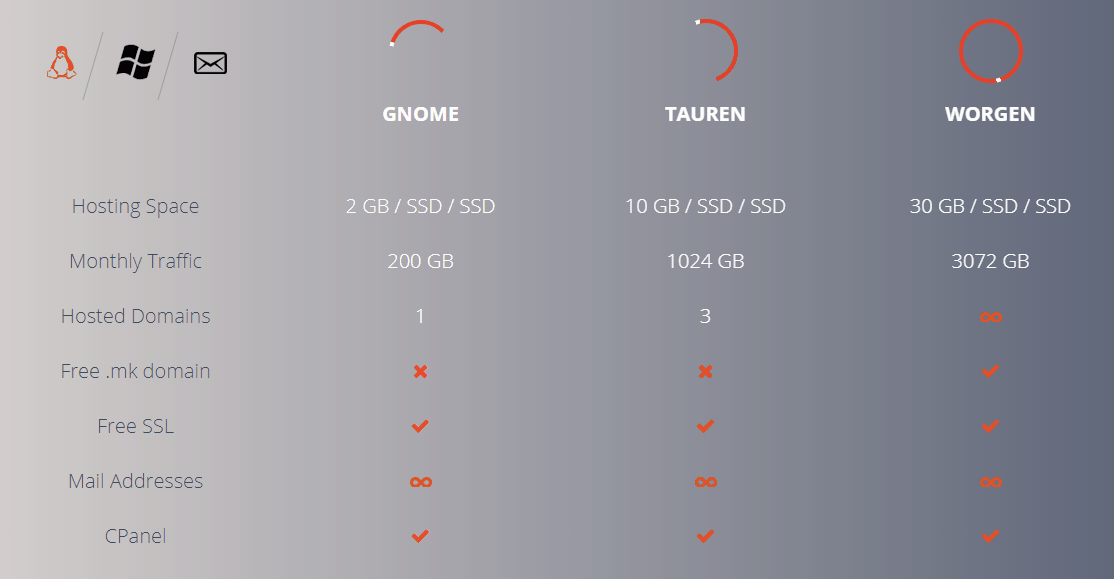 Zemi.mk offers Linux and Windows shared hosting, with three plans in each category, offering a mix of features. These plans are suited to small to medium websites, such as portfolio websites and simple company websites. Larger websites such as international E-commerce brands are better off with the dedicated servers that this company offers.
Shared hosting customers benefit from the following:
99% uptime guarantee
Free SSL certificate
Free domain registration (.mk domains) on the top plan
From one to unlimited domains on one account
Anywhere from 1GB SSD to 30GB SSD
Anyone who isn't familiar with web hosting and wants to manage a website for the first time could face issues with understanding the process, and even worse, if the hosting company doesn't offer beginners tools that take the pain out of hosting management. Zemi.mk knows this and has put Softaculous in the control panels of both Linux and Windows OS users. With this plugin, you can install WordPress, Magento, Drupal, phpBB, and a host of other applications in one or two clicks.
If you're not familiar with website building and don't want to use any of the applications that Softaculous can install, you'll have to pay a developer to get your website up and running. That's because Zemi.mk doesn't provide a website builder.
Being able to manage websites on-the-go is a big plus. Mobile phones are easier to carry about than laptop computers. I like that Zemi.mk has made sure that customers can manage their hosting on mobile with its mobile application. With it, you can get notifications on offers immediately and cash in quickly, monitor your uptime, change name servers, and more.
Every extra second that your website takes to load is enough time for a potential visitor to close the tab and move on. Optimizing load time is more about minimizing your code, optimizing your images, caching content, and a few other tactics. Using a server that's close to your target audience is also another critical tactic.
If you own a local business, you can easily choose a server in your state. However, if you own an international brand, you'll need a CDN. Zemi.mk offers a quick and easy connection with Cloudflare CDN to deliver content fast to your customers regardless of their location.
It also provides better server security and reliability with CloudLinux and CageFS for Linux customers.
Pricing and Support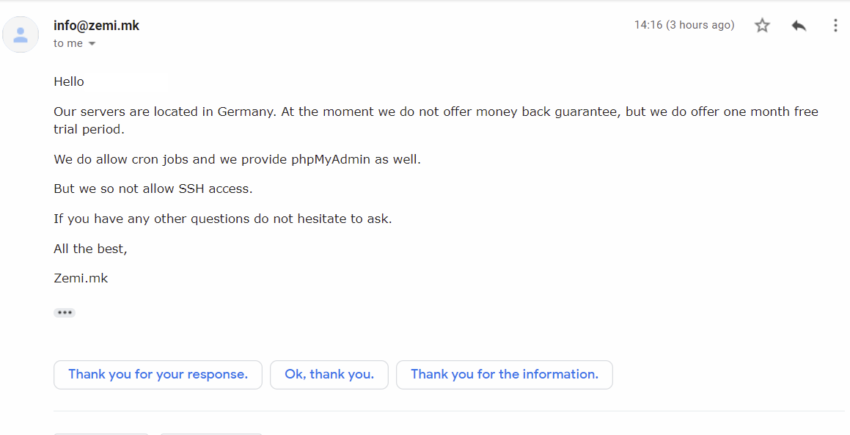 Pricing in Zemi.mk differs based on the features offered. All shared plans are reasonably priced for the features that this company offers on them. Its subscription period is 12 months and it gives a free .mk domain and an SSL certificate along with the hosting package.
They do not provide refunds for hosting payments, which can be frustrating. However, they do offer a one-month free trial, giving you ample time to evaluate if it suits your business needs.
Zemi.mk doesn't have a knowledge base, but customer support is available 24/7 through email and ticket. It also uses phone, live chat, Viber, WhatsApp, and Skype to handle customer complaints, but you can only get access to an agent from 9:00 AM to 6:00 PM from Mondays to Fridays using these mediums.
I sent an email and received a reply almost 24 hours later.