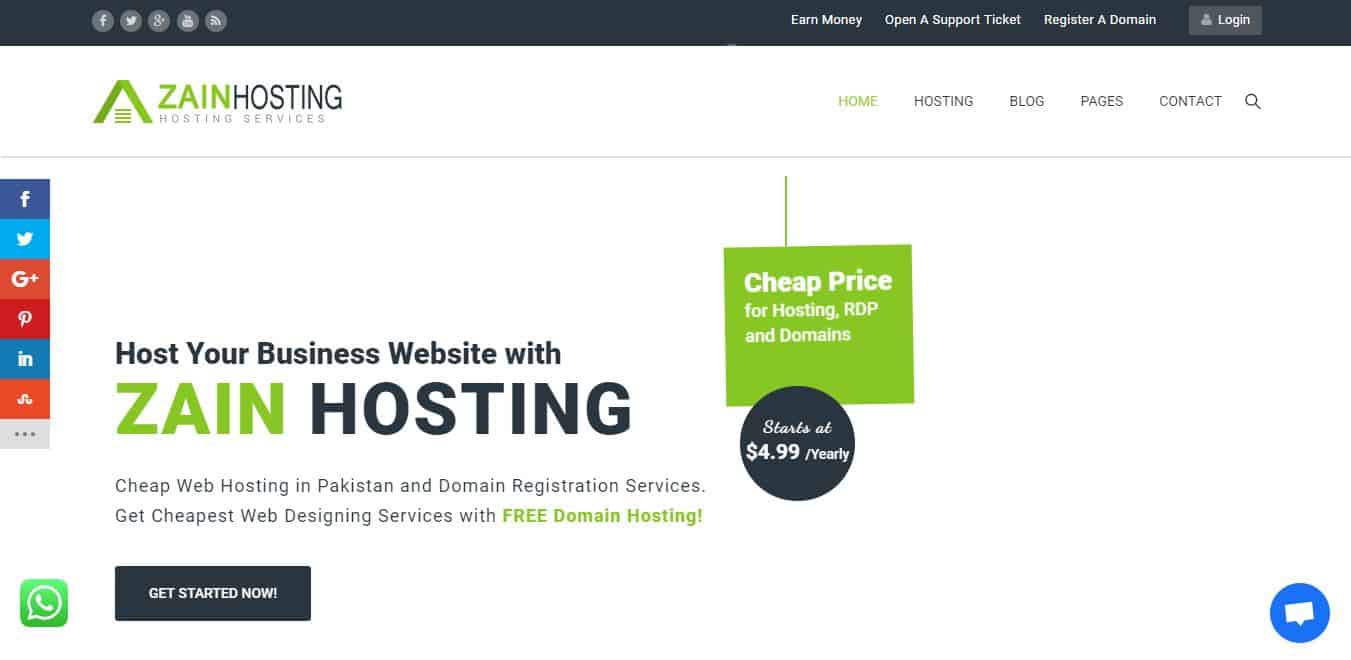 To compare the best web hosts, we hosted the same WordPress website on each one and tested performance, customer service, and value for money.
Check out the results here.
Founded in 2010, Zain Hosting is a budget-friendly Pakistan-based website hosting provider. They have registered more than 100,000 domains, they host over 90,000 websites, and they have 45,000+ customers located in Pakistan and the rest of the world. Their website and support are in English only.
Features and Ease of Use
Zain Hosting is a full-service website hosting provider offering shared website hosting, reseller hosting, virtual private servers, dedicated servers, and domain registration. They also offer website design services, search engine optimization, and remote desktop servers.
As standard, their website hosting plans enjoy the following features:
99.9% uptime (without service level agreement)
Automatic overnight backups
Domain registration (available at additional cost)
From ten to unlimited subdomains, depending on the package
From 1GB to unlimited web space, depending on the package
Like many website hosting providers, Zain Hosting offers a one-click installer for popular programs, but they also provide more than 160 free scripts to go with it. And upon request, they offer free manual script installation, which is a great extra value-add for beginners.
The language used on their website is jargon-free everyday English, their packages are clearly laid out, and the website user experience is great. In short, Zain Hosting provides a very beginner-friendly solution for website hosting.
What concerns me about Zain Hosting is that their 99.9% uptime statement is not backed by any kind of guarantee or service level agreement (SLA), so – as far as I can tell – there is no compensation if the uptime falls below the advertised level.
Pricing and Support
Zain Hosting's prices are very affordable when compared to other companies in Pakistan and large international competitors. In fact, their annual price is as low as some companies' monthly prices. With such competitive price points, it's clear to see why they have more than 45,000 customers.
You have the option to buy website hosting on an annual, biannual, or triannual basis. It would be great to have a monthly package, but considering the affordable prices, it makes sense to have a minimum term of one year. They also offer a seven-day free trial.
As if the prices aren't cheap enough already, they also offer discounts for purchasing longer terms. But be warned: the refund policy is so strict that you are unlikely to get your money back if you're unhappy.
Now a couple more caveats. For the low prices paid, you still get 99.9% uptime and 24/7 support. However,  the uptime is not guaranteed, and in my experience, the 24/7 customer service might not be quite 24/7 as advertised. Whilst Zain Hosting offers many options for getting in touch – via email, WhatsApp, telephone and live chat – I have struggled to get hold of them at times. For budget web hosting, this wouldn't be so much of a problem of they clearly communicated their actual availability on their website.