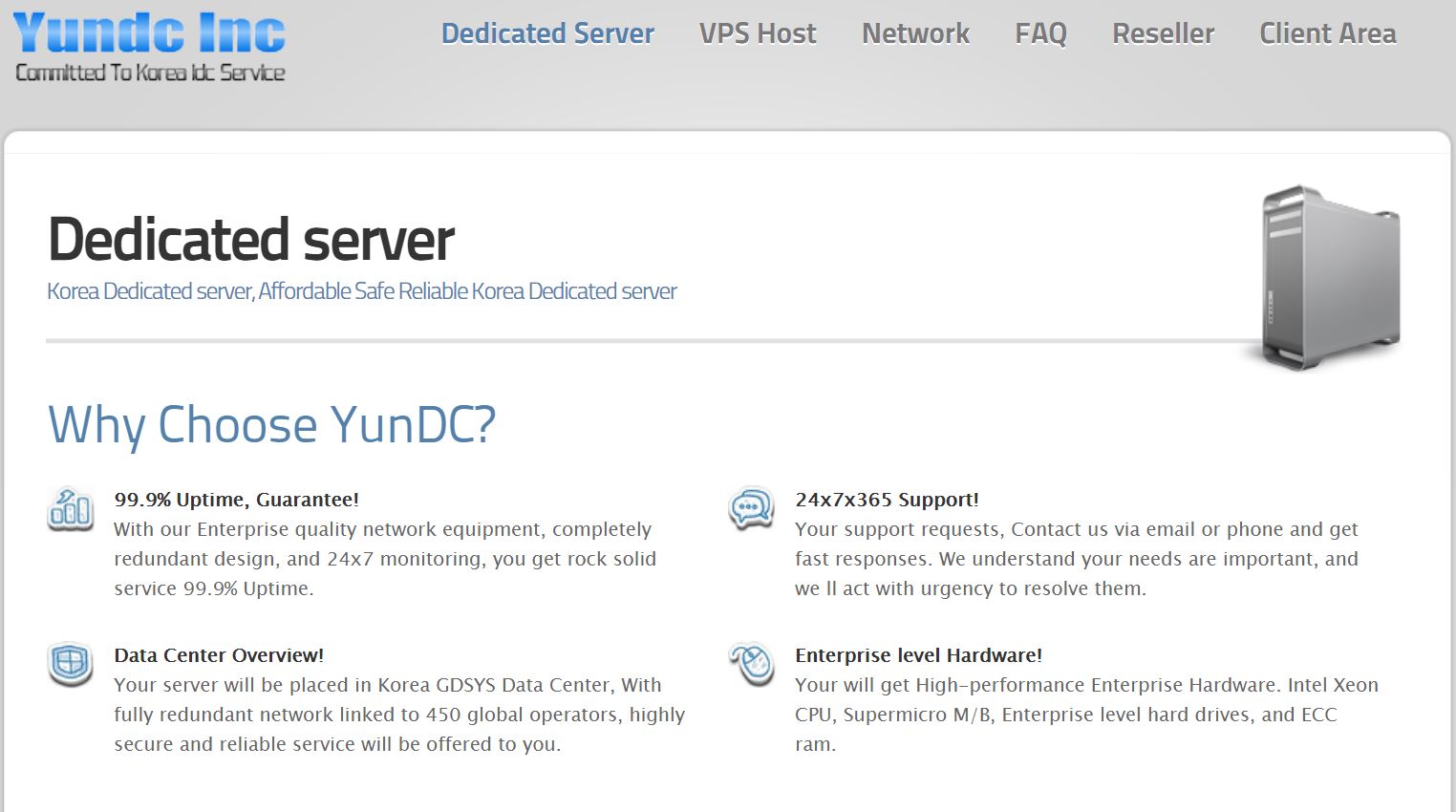 Located in Seoul, South Korea, YunDC is a small hosting provider that has specialized in Linux-based VPS and dedicated server hosting for almost a decade.
The YunDC.net website is in English, but its client area can be switched into several alternative languages.
Features and Ease of Use
YunDC offers three VPS packages for Ubuntu, Fedora, and CentOS, which come with a number of useful features including:
100% guaranteed uptime

Full root access

SSH access

XEN and KVM

300 GB to 800 GB bandwidth

30 GB to 50 GB SSD storage

2 to 8 hours setup time
The VPS servers include processors with eight cores, and RAM ranging from 1024 MB to 3072 MB. You also get one dedicated IPv4 with any subscription, but – as with most Korean companies – you cannot add more IP addresses. Unfortunately, the VPS packages don't come with a control panel, but you do get full root access and the ability to manage your server through SSH. Put simply, these solutions are not for you if you don't have a technical background.
Moving on from virtual private servers, YunDC does three dedicated server plans with the following features:
99.9% uptime guarantee

4 GB to 16 GB RAM

1000 GB to 2000 GB bandwidth

Support for Linux and Windows

12 to 24 hours setup time
Unlike the virtual servers, the dedicated servers are more customizable. For example, you can install your own operating system through IPMI, or let YunDC do it for you. You can also add more IP addresses, and manage your server via SSH, IPMI or KVM. Dedicated server storage varies according to your subscription, and you can choose between 128 GB SSD storage, 1000 GB SATA III, and 2 x 1000 GB SATA III.
YunDC keeps its servers in a private cage located in Korea's KDT data center, which is a state-of-the-art facility hosting major broadband operators like LG, SK, and KT in South Korea.
Pricing and Support
YunDC offers reasonably priced VPS packages that should satisfy all your basic needs. The dedicated server packages come at a higher monthly cost, and (like most Korean providers) you have to pay setup fees. This company doesn't do refunds.
You can contact YunDC's customer support team by telephone, support ticket, or email. Unfortunately, I received no reply for several days… and counting. If you have to resort to self-support, it appears that you're limited to two F.A.Q. pages: one for virtuals servers, and one for dedicated servers. Despite what it says on the website, these are not really knowledge bases: