To compare the best web hosts, we hosted the same WordPress website on each one and tested performance, customer service, and value for money.
Check out the results here.
For over a decade, xServers has been in the web hosting business providing hosting solutions to individuals and enterprises in Romania and beyond. Over the years, the company has sought to maintain the highest service standards in the industry and in the process has become one of the most preferred hosting services vendors in Romania. Their services are primarily for Romanians, thus the website is only available in Romanian. All the same, the company is open to providing website hosting even for clients beyond the Romanian borders.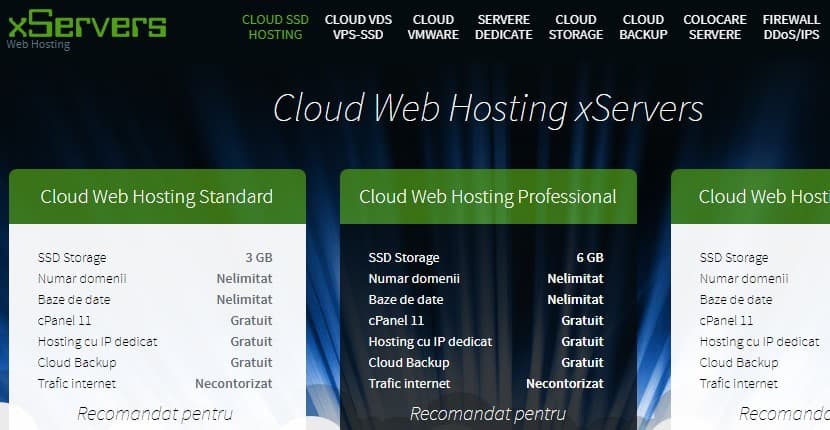 Features and Ease of Use
xServers has designed all their hosting packages with an array of features. Their main offerings revolve around cloud hosting, with the most basic plan having the following features:
3GB SSD storage
Unlimited number of domains
Unlimited traffic
Unlimited email addresses
Free dedicated IP Hosting
Free cPanel 11
Free cloud backup
Free firewall hardware
In addition, xServers offers certain features that make them stand out in the web hosting market. These include:
Enterprise-class SSD storage – xServers is one of the few hosting vendors in Romania that use enterprise-grade Raid SSD drive storage. With a read/write speed of 500Mbps, xServers is able to give an assurance to their clients of a high SEO score for their websites.
99.985% uptime guarantee – xServers assures its clientele of a 99.9% uptime for all its hosting solutions, except its VMware Cluster service which has a slightly higher uptime guarantee of 99.985%.
Protection against Malware, DDoS, Injection, etc. – xServers uses state-of-the-art security protocols to protect the websites it hosts. Its expert anti-flood protection system is able to remove malicious packages when a DDoS attack occurs. Its HP Tipping Point IPS protection system is effective in protecting websites against Cross Site Scripting, SQL Injection, and other such intrusions.
Advanced redundancy protocols – xServers data center is located in Bucharest, Calea Floreasca 169. This data center has numerous redundancy interconnections provided by some of the main internet service providers across Romania and beyond. The direct international redundancy links have a capacity of 30Gbps while the Romania interconnections have a capacity of 50Gbps. This makes it possible for xServers to guarantee dependable internet access to all their customers anywhere in Romania.
Compared to other vendors in Romania, the xServers web hosting platform is not the simplest solution for a beginner. However, for someone who knows something about web hosting, there is a lot to take advantage of and many features to use when you subscribe to this company's solutions.
Pricing and Support
From the cheapest plan to the most expensive, all xServers hosting plans include unlimited traffic, free cloud backup, and free firewall hardware. Compared with other hosting solutions in Romania, xServers prices are quite affordable. xServers does not provide a free version for of any of its hosting packages, nor does it include a trial version.
xServers is proud to offer high-quality 24/7 support services to all their customers. For the majority of organizations, the free xServers standard maintenance package would be sufficient. However, for larger enterprises in need of dedicated support, xServers offers several paid support plans to choose from. Upgrading or downgrading a subscription is also a straightforward process. xServers has provided a phone number for its customers to reach out to their technical support team. Additionally, xServers customers can contact the technical support team via email. When I reached out to the vendor's support team through email, they promptly responded and provided a somewhat detailed explanation on how to resolve the issues I had raised.