To compare the best web hosts, we hosted the same WordPress website on each one and tested performance, customer service, and value for money.
Check out the results here.
Founded in 2003, XServer is a web hosting company based in Japan. They currently serve over 1.5 million operational websites and stand as one of the top providers of web hosting in the country. They market primarily to a Japanese customer base, so their website and service are only available in Japanese.
Features and Ease of Use
X Server offers web hosting for both individuals and businesses. While they offer a variety of different packages, here are a few features included in all X server packages:
99.9% uptime guarantee
Automatic daily backups retained up to seven days (14 days for databases)
Unlimited email accounts
Free SSL certificates
SSD RAID 10 storage
NGINX web server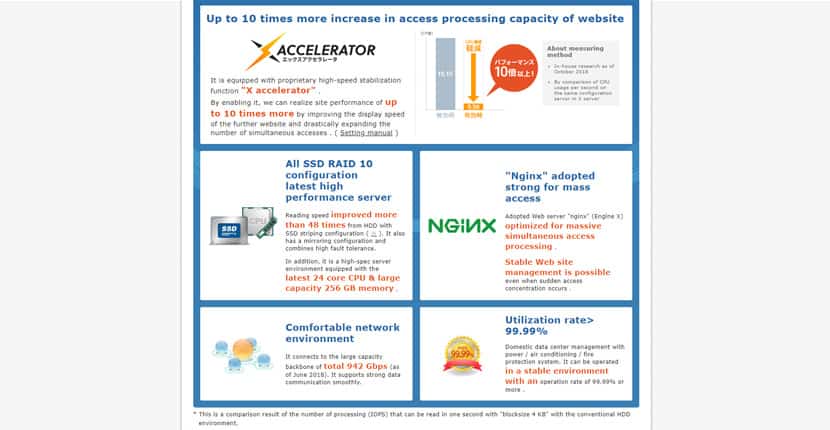 What I liked about XServer is that they provide reallyhigh-qualityy technology to regular website owners. For example, all plans come with SSD RAID 10 configuration as standard. This is basically the latest in high-performance servers, with disk reading speeds improved by up to 48 times from HDD. In addition, XServer boasts a high-spec server environment equipped with the latest 24-core CPUs.
I also appreciated their provision of a one-click installer, which enables users to quickly and easily install popular programs such as WordPress. For beginners, this feature is very helpful.
Since XServer is a Japanese web hosting company targeting mainly Japanese users, they don't have data centers located in other countries at present. Given their apparent lack of a CDN, this may be problematic for Japanese webmasters wishing to reach out to an international customer base. Furthermore, they only seem to offer basic shared hosting services — albeit shared hosting with very high storage space allocations — so users hoping for a VPS or dedicated server option will be left disappointed. However, for the most part, XServer is a highly reliable platform for those who are satisfied with their high-capacity shared hosting plans.
Pricing and Support
XServer can be pricier than other global and Japanese hosting providers. But, it provides many features for the price, such as the SSD RAID 10 setup and web servers optimized with NGINX. To me, these bonus features justify the higher cost.
In terms of contract length, they only list annual rates along with an initial server setup fee. It was disappointing to see that they charged for setup, considering that most hosting providers would waive this; however, this seems to be the norm with Japanese and Korean web hosting providers. They don't offer a monthly billing period or free plan, but they do offer a ten-day free trial and as a limited time offer, a free domain registration.
One major downside is their customer service options, which are pretty limited. They offer email and phone support between 10AM and 6PM on weekdays; there's no live chat or Facebook messaging option. Actually, they have deactivated the message button on their Facebook page. Ideally, I would prefer to have a much more convenient way to contact them. In my opinion, outstanding service should include some form of instant messaging and much longer business hours.