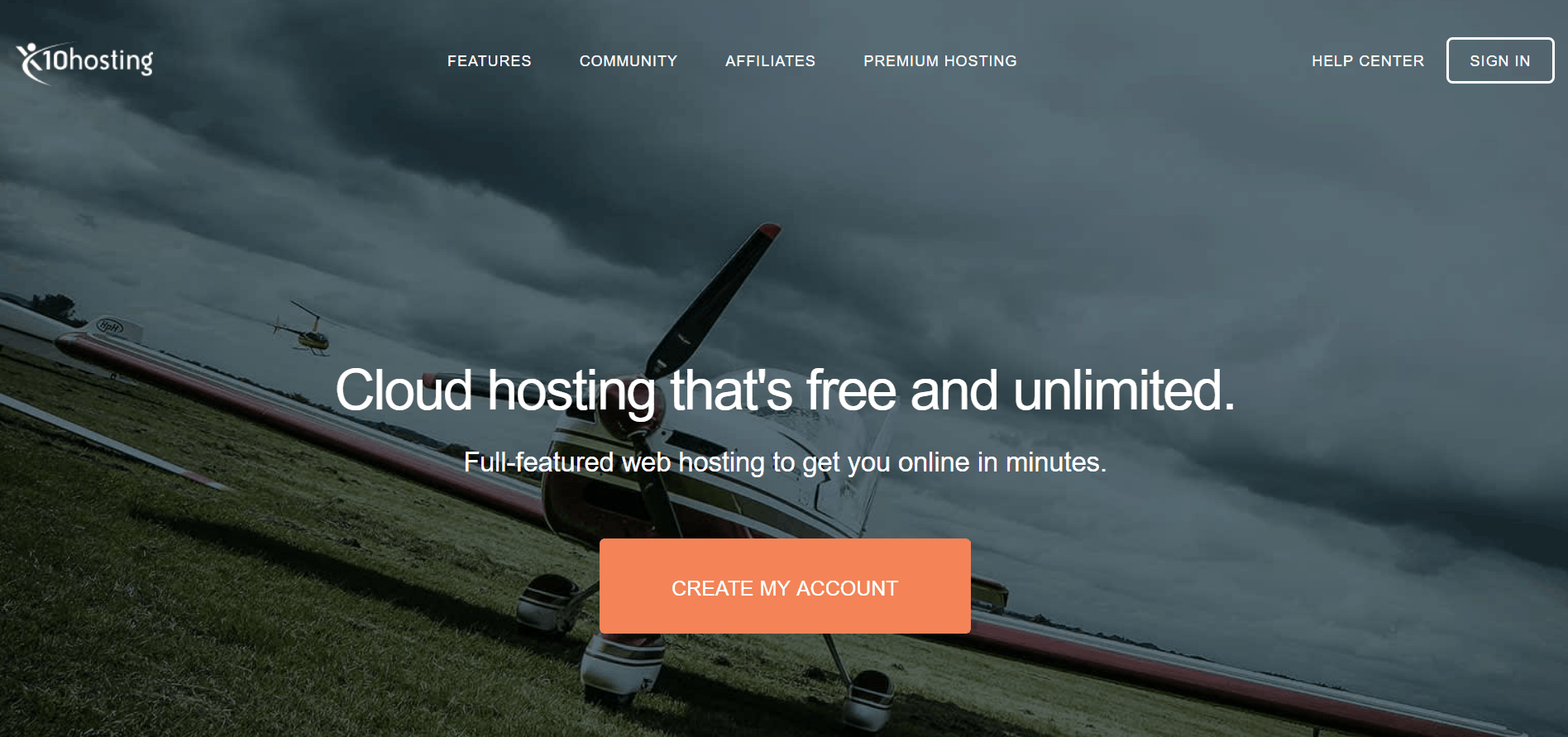 Headquartered in Tilton, New Hampshire, privately owned American hosting provider x10Hosting was established in 2004 with a mission to provide free web hosting to webmasters worldwide. In 2010, the company launched its x10Premium hosting service as a more reliable and faster hosting solution. It additionally offers the x10VPS virtual server service and the Infinity+ dedicated server solution.
x10Hosting's sleek website is in English.
Features and Ease of Use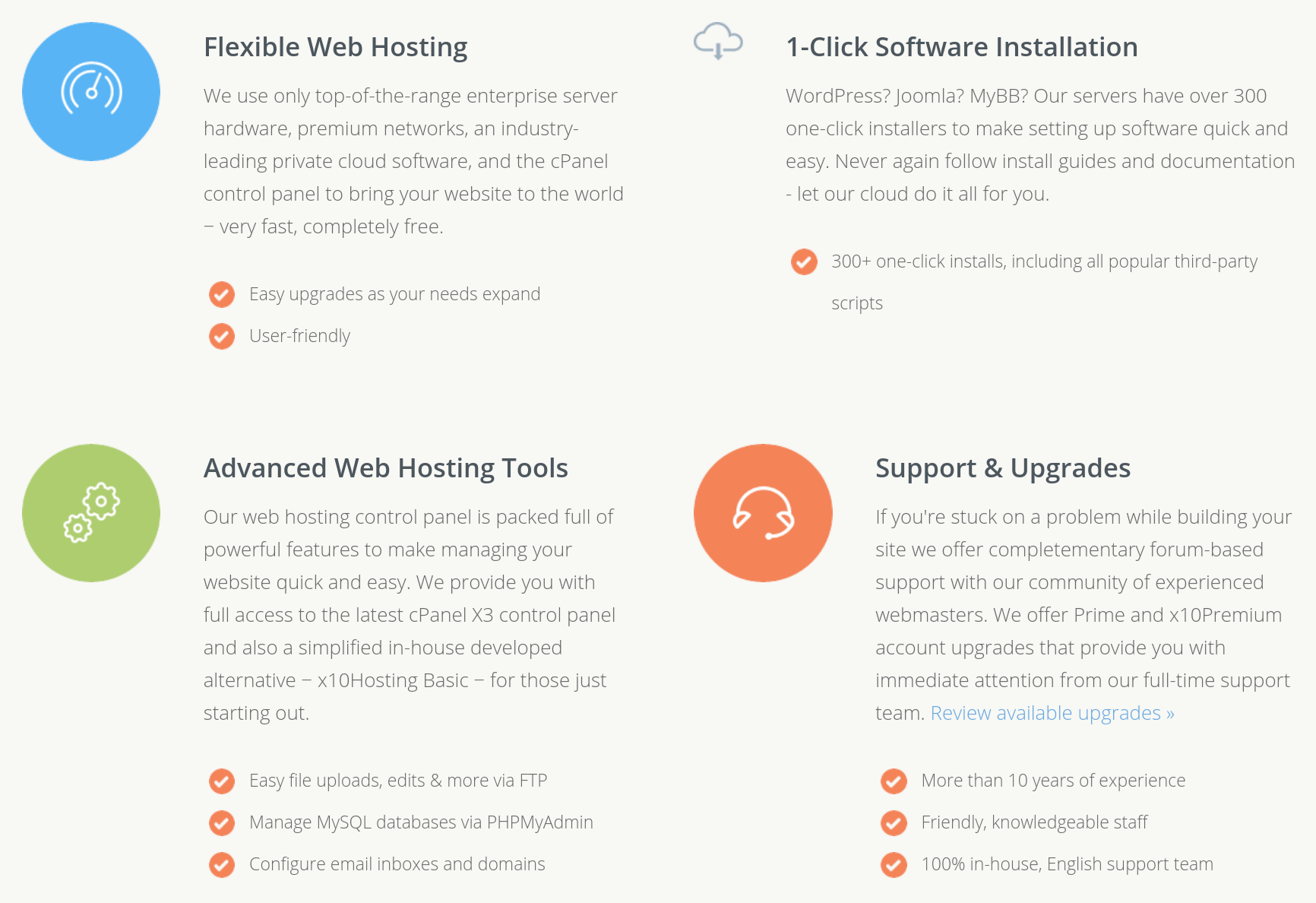 The free cloud web hosting service gives you access to:
100% cloud SSD servers

Free site builder

One-click software installer

cPanel/custom control panel

Unlimited bandwidth

Unlimited disk space
For a free service, x10Hosting does a pretty good job of grabbing my attention with its SSD storage (which is faster and more reliable than HHD storage) and the popular cPanel control panel (which simplifies your website management). You can also easily switch to x10Hosting's own-brand custom control panel to carry out more complex tasks. 
Although this provider's website states that disk space and bandwidth are unmetered, I have seen some user report about being allocated 512 MB by default. I have also seen some reports about problems signing up and logging in. So, I suggest you use the free hosting only as a vehicle to test the services before signing up for a paid plan. Also, be sure to read this vendor's terms of service to avoid suspension (particularly on the free plan).
The x10Premium Infinity paid shared hosting plan (which has its own website) comes with the following standard features:
99.9% SLA

Unlimited bandwidth

Unlimited disk space

Unlimited domains

PHP 5.4, MySQL 5.5, Perl, and Python 2.6

Automatic daily backups

cPanel control panel

Site builder

Softaculous installer
With this paid package, your data is backed up automatically several times per day thanks to the R1Soft Server Backup Manager. You also get easy access to the file and database archives via the user-friendly control panel. If you want to boost your search engine ranking — and who doesn't? — the premium package also provides Attracta SEO Tools.
Pricing and Support
There really isn't anything to say about the free plan's pricing, because… it's free.
When it comes to paid hosting, x10Hosting sells quality web hosting plans at competitive prices. You get some freebies such as a free domain, a free SSL certificate, and a free IP address if you commit to a two- or three-year term. Also, longer subscriptions are better value-for-money.
As far as I can tell from the terms of service, you can't get a refund if you cancel early. However, x10Hosting reserves the right to cancel the service at any time, in which case it will refund the remainder of your subscription so long as you haven't violated any of its terms. This all sounds pretty draconian to me, but you can get credit if uptime falls below 99.9%.
For x10Hosting's free services, the only support channel is the community forum. However, Premium subscribers can access a 24/7 support email service. I'm somewhat disappointed with x10Hosting's support, since my email and ticket submissions when unanswered. On the plus side, there is a self-help knowledge base: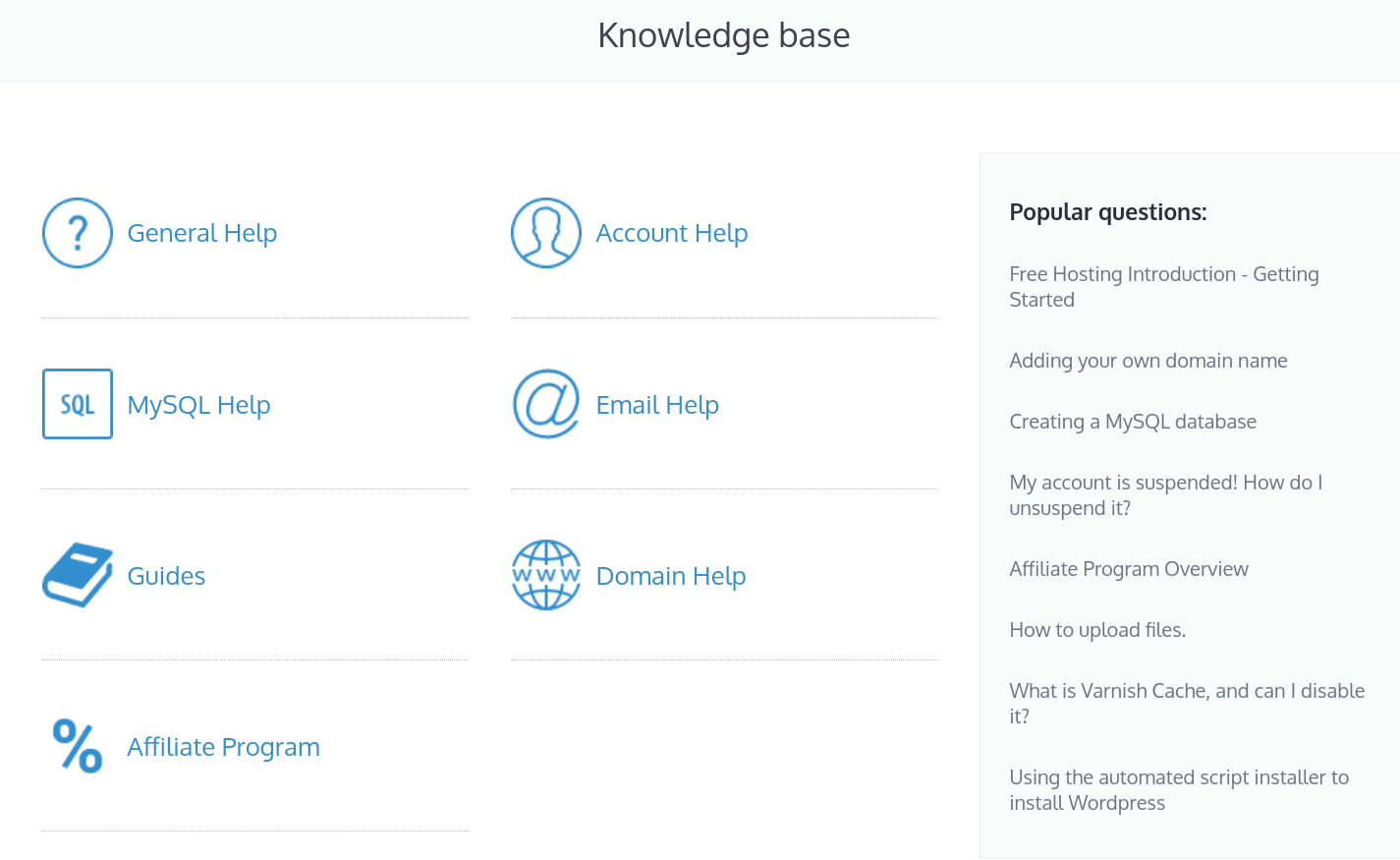 How much does x10Hosting cost?x10Hosting offers plans from $4 to $7. The price depends on which type of hosting plan you choose. You can see the updated pricing table (updated weekly) below.
Which x10Hosting plan should I get?My recommendation is to start with a cheaper plan. You can always upgrade later on. x10Hosting can help you with the migration to a more expensive plan. The increase in visitors many times takes longer than expected and you shouldn't pay a lot of money until the need arises. Of course, your needs may vary, and you can consult with a hosting expert from x10Hosting here.
How good is x10Hosting's customer support?x10Hosting is not ranked as one of our top web hosts. But that can also be a result of x10Hosting being a small, under the radar, hosting provider. There are advantages to a small hosting company – as a customer, you are more important to them. You can also check out our comparison of the most popular web hosting services here.