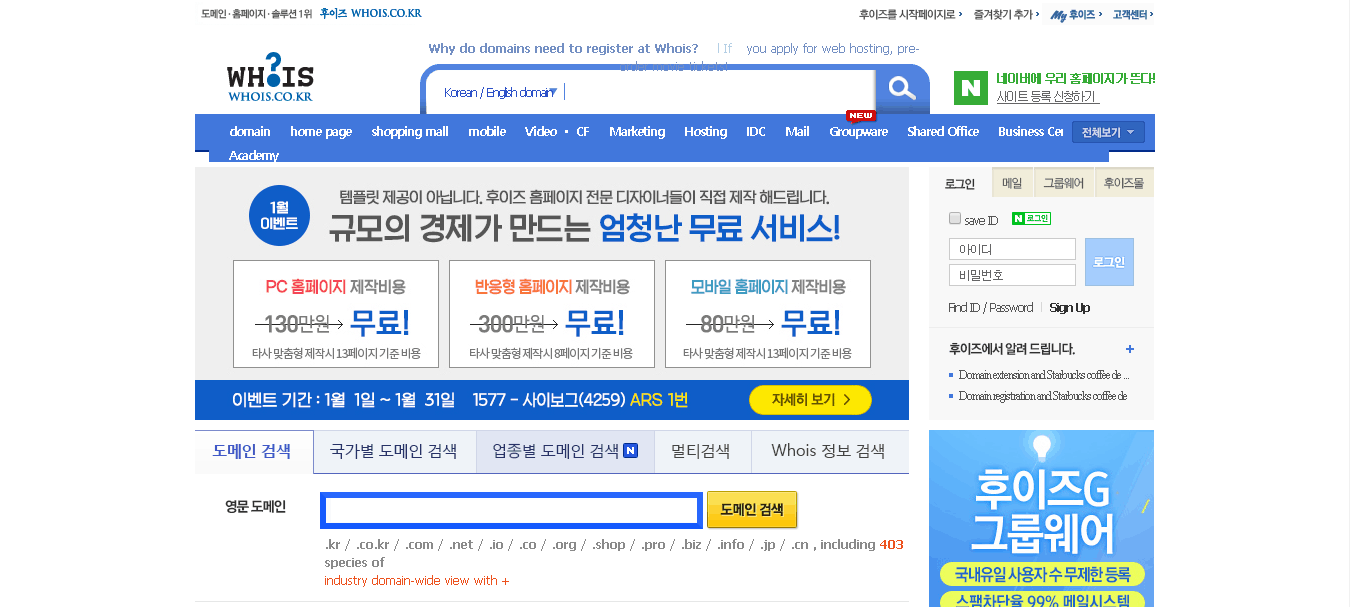 Korean company Whois has been in the business of selling domain registration and hosting since 1999. They have worked with an astonishing 400,000 companies, have been awarded Deloitte's Asia 500 Fastest Growing IT Company, and are currently expanding into Japan. Their website is available in Korean, which doesn't translate fully into English in your browser.
Features and Ease of Use

Whois offers a wide range of domain and hosting-related services. Here are some of the core features they include in their shared hosting plans:
Choice of Windows or Linux operating system
Domain registration available for purchase
Discounts available on additional domains
SSL certificates available for purchase
From 1.5GB to 15GB file capacity
From 150MB to 1GB database capacity
From 2GB to 15GB traffic per day
Whois connects their equipment directly into the backbone network, and they have technicians monitoring their infrastructure 24/7/365. They have server-specific firewalls, web firewalls, and a complete triple-backup policy. They use solid-state drives for faster read/write speeds than traditional hard disk drives.
Whois offers six shared hosting plans with varying resource levels from Plan 1 (1.5GB file capacity, 150MB database capacity, 2GB daily traffic, 250MB email) up to Plan 6 (15GB file capacity, 1GB database capacity, 15GB daily traffic, 2GB email).
Customers can choose between Windows and Linux operating systems. Linux plans come with SSH access, support for PHP (5.2, 5.5 and 7.0), and MariaDB and MySQL databases. Windows plans provide MS SQL databases and database connections using OLEDB and MDB (Access DB). But beware that ASP.NET is not supported at all.
Regardless of operating system, all plans come with a one-click installer for popular programs such as WordPress, Textcube, and GNUBOARD and – for more advanced users – CGI, JavaScript and Perl support.
In addition to their shared hosting plans, Whois also offers a good range of Windows or Linux virtual private servers with seven plans ranging from 5GB to 50GB HDD, 200GB to 1000GB monthly traffic, and five to seventy domains. You can customize the plans slightly by adding HDD and traffic via the customer control panel.
Pricing and Support

Prices are in line with local and international competitors, or maybe a little cheaper, and you get a good level of resources and added features. Although it's discounted when you purchase hosting, domain registration costs extra. Sometimes, setup fees are added, and SSL certificates also cost extra.
Quite a few discounts are on offer if you purchase higher-priced plans. For example, if you purchase either of the highest two plans, you get 50% off the installation fee, 50% more file capacity, 50% discount on DB capacity, 50% discount on second domain, 50% extra traffic, and 50% discount on e-mail.
You can reach out to Whois customer services through telephone, email, and live chat. They promise a response time of thirty minutes and boast an impressive 93% happiness rating from over 51,000 customers.