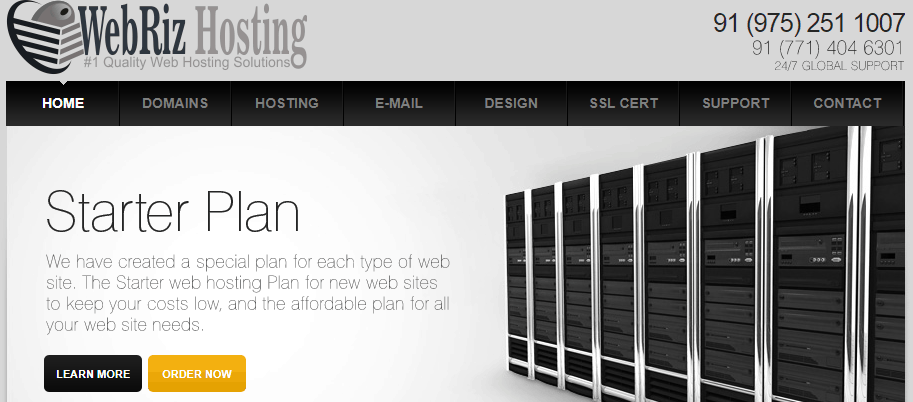 To compare the best web hosts, we hosted the same WordPress website on each one and tested performance, customer service, and value for money.
Check out the results here.
As well as helping customers register their domains, WebRiz Hosting provides them with a familiar set of web tools including G Suite, professional emails, and ample space to host their websites, blogs, online stores, and enterprise web apps.
The old style WebRiz website is in English.
Features and Ease of Use

WebRiz Hosting uses state-of-the-art web servers configured with RAID and a fiber network to ensure your websites are reliable and load fast. When you sign up with WebRiz, you get access to the following features:
One free domain with an annual plan
DNS zone editor
Unlimited email accounts
Unlimited FTP accounts
Unlimited MySQL database
Perl, PHP 5+
Logaholic/Webalizer/AWstats
The familiar and much-loved cPanel control panel powers every shared web hosting plan. It makes web administration look like child's play, and its clean interface lets you take charge of your websites, emails, databases, and security. Try it for yourself by clicking the cPanel Demo link on this vendor's home page.
As a web developer who struggled to write website code in my formative years, I can tell you that not many people can code a complete website from scratch. This is where the free Softaculous script installer saves the day by providing hundreds of installation scripts for free web apps. As with cPanel, this vendor's website links to a Softaculous Demo. You can go further and install e-store software such as Zen Cart, osCommerce, CubeCart, or the Agora shopping cart.
If you're truly interested in building your website from scratch, you can rely on server-side scripts and programming tools like Perl, PHP5, and Zend Optimizer. They are there to assist you in your website development journey.
Once your website is working, you'll want to back it up (or at least you should) regularly. You can use the backup and restore wizard to back up your emails, databases, and website files on a daily, weekly, or monthly basis. Alternatively, you can integrate CodeGuard into your panel.
Pricing and Support
WebRiz Hosting's Linux and Windows hosting plans are available in four flavors: Starter, Economy, Deluxe, and Premium. Start with the basic package and scale up as your business grows. You can also add extra domains, dedicated IPs, SSL certificates, and SiteLock at the checkout.
You'll find that an annual commitment is cheaper than signing up on a monthly basis, and you'll feel better about making the longer commitment when you hear that you can cancel within a month thanks to the 30-day money-back guarantee.
You can summon support by logging into your client area and submitting a support ticket. Alternatively, you can use the 60+ articles in the knowledge base to research your own solutions: