To compare the best web hosts, we hosted the same WordPress website on each one and tested performance, customer service, and value for money.
Check out the results here.
WebHostFace was founded in 2013 in the United States and currently has offices in Delaware and London. Their chief focus is on delivering shared hosting that provides tools that their customers are comfortable with using to manage their websites. One of the best things about WebHostFace is their global reach with four data centers spread around the world in the U.S., Europe, and Asia. They also provide a number of payment options including PayPal, credit cards, and Diners Club.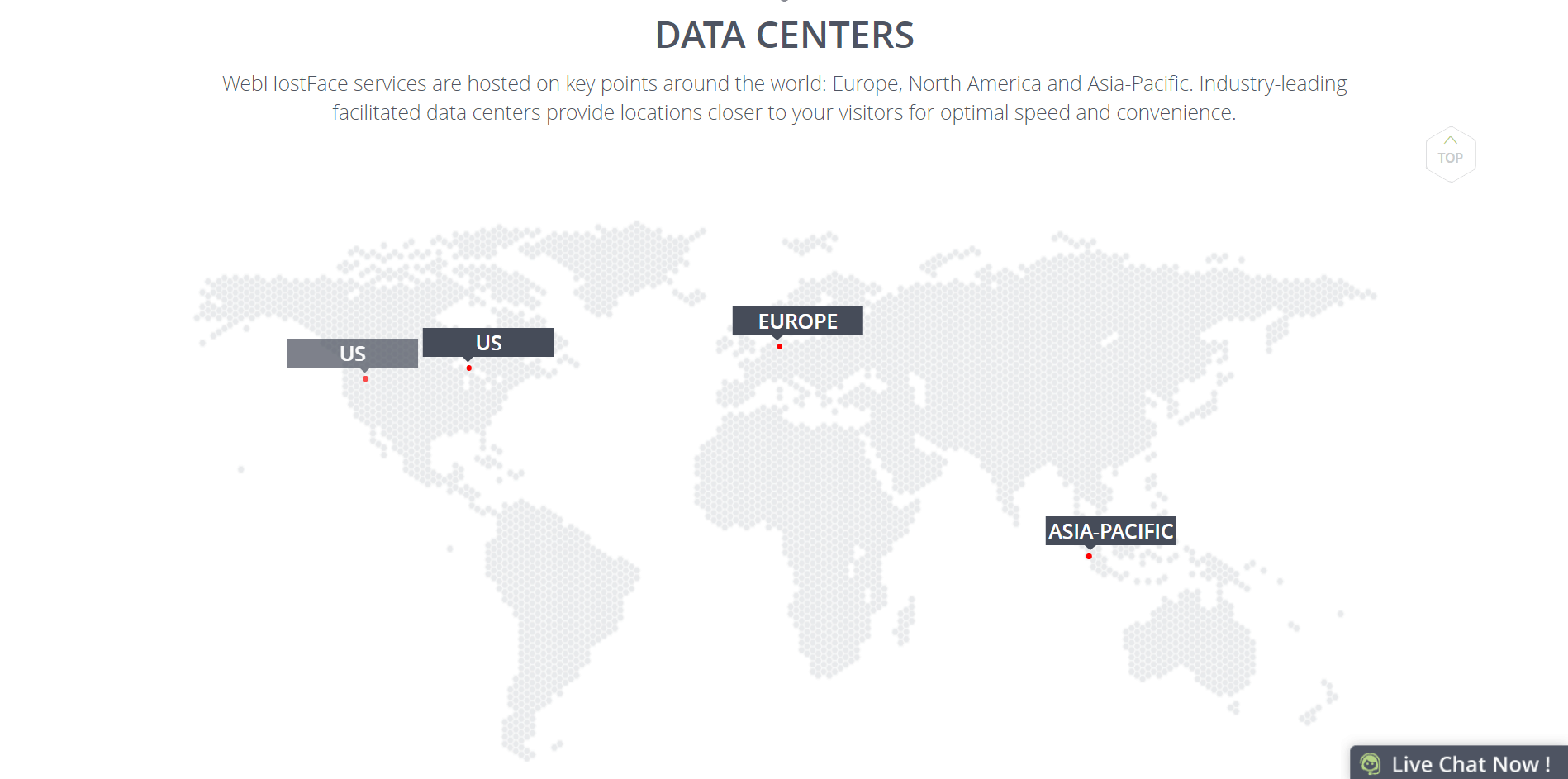 Features and Ease of Use
WebHostFace is one of those one-stop web hosting platforms that provide all of the fundamentals of web hosting so you can stay with a single provider:
Domain registration (free with a plan)
SSL certificates (free with a plan)
DNS set up (free with some plans)
CDN (free with some plans)
Anti-spam and anti-virus security
Free website transfer
One of their best features is their wide variety of shared hosting platforms:
Website Builder Hosting: Choose from your favorite content management systems to have it pre-installed and configured on your server including WordPress, Joomla, Drupal, Magento, PrestaShop, and OpenCart.
Framework Hosting: Choose a hosting solution purpose-built for the framework of your choice. Options include Laravel, Phalcon, Pimcore, Symfony, and FuelPHP.
Once you get past the confusing pricing structures, it's very easy to sign up with WebHostFace. There are quite a few upsells, but these are all unticked and presented in a way that makes it easy to add or remove. You can also choose what experience you want to have as they offer managed WordPress. They pre-install website management software of your choosing so you can jump straight into building your site.
Pricing and Support
The shared web hosting pricing on WebHostFace can be slightly confusing as they provide the exact same packages but with different website builders, frameworks, or e-commerce applications installed. All hosting packages have the same pricing structures and come with unlimited bandwidth, Weebly Sitebuilder, free domain, free CDN, and a free SSL certificate. These are standard for all products:
Face Standard: 15 GB storage and one domain.
Face Extra: 20 GB storage, multiple domains, SSH, and SEO boost.
Face Ultima: 30 GB storage, premium support, and a free merchant account.
You can then choose from the following types of hosting:
Open Source hosting: These include solutions with WordPress, Joomla, or Drupal installed.
E-commerce hosting: You can choose between Magento, PrestaShop, or OpenCart.
Framework hosting: You can choose from a number of frameworks like Laravel, Phalcon, Pimcore, etc.
Their other plans work a bit differently with a free IP also included:
VPS:

Face VPS 1: 20 GB storage,1 GB RAM, 1 TB traffic, 1 CPU core.
Face VPS 2: 40 GB storage, 2 GB RAM, 2 TB traffic, 2 CPU cores.
Face VPS 3: 80 GB storage, 4 GB RAM, 3 TB traffic, 4 CPU cores.
Face VPS 4: 120 GB storage, 8 GB RAM, 4 TB traffic, 6 CPU cores.

Dedicated Server: There are four packages that allow you to choose the CPU model, storage, memory, and bandwidth.
Reseller hosting: These plans look very similar to shared hosting plans but with more resources.
Managed WordPress hosting: This is a fully managed solution with two pricing plans.
There is also a lifetime billing option for a one-time amount.
WebHostFace offers ticket, email, live chat, and phone support 24/7. In general, this is the best aspect of their offering and their support team is amazing. They always respond quickly, are extremely helpful, and I haven't come across a problem they couldn't resolve swiftly. Customers with higher-end plans also receive premium support tailored to their specific requirements.
How much does WebHostFace cost?
WebHostFace offers plans from $3 to $10. The price depends on which type of hosting plan you choose. You can see the updated pricing table (updated weekly) below.

Which WebHostFace plan should I get?
My recommendation is to start with a cheaper plan. You can always upgrade later on. WebHostFace can help you with the migration to a more expensive plan. The increase in visitors many times takes longer than expected and you shouldn't pay a lot of money until the need arises. Of course, your needs may vary, and you can consult with a hosting expert from WebHostFace here.

How good is WebHostFace's customer support?
WebHostFace is not ranked as one of our top web hosts. But that can also be a result of WebHostFace being a small, under the radar, hosting provider. There are advantages to a small hosting company – as a customer, you are more important to them. You can also check out our comparison of the most popular web hosting services here.