Web24 forms part of the huge parent company Hostopia Australia Web Pty. Ltd. As such, they have years of combined experience in the web hosting industry.
Their main products are their highly scalable and configurable dedicated server solutions.
They are based only in Australia with two data centers: one is in Sydney and the other in Melbourne.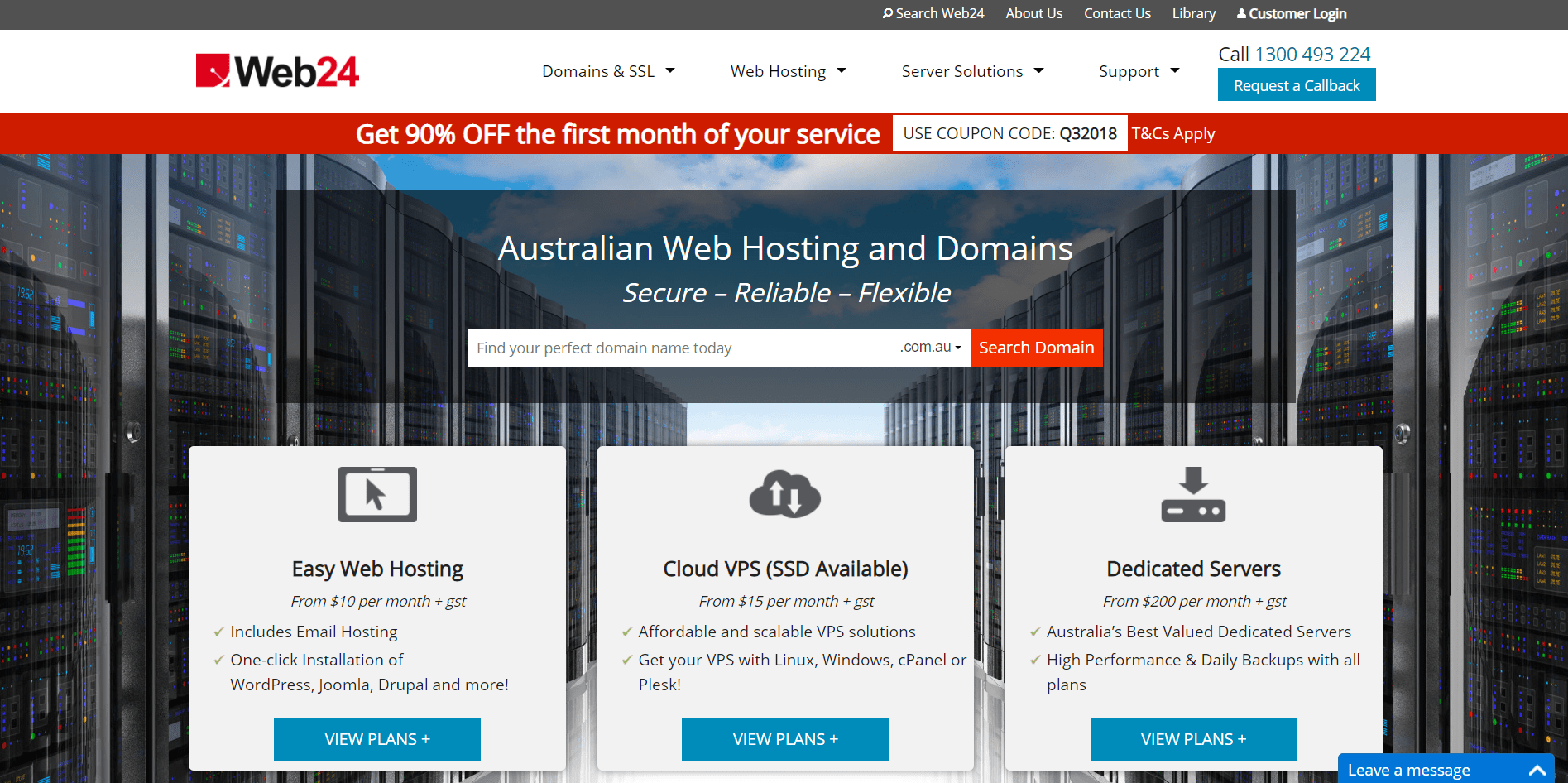 Features and Ease of Use
As a very established and solid web hosting service provider, Web24 provide all the essential services you need. These include:
Domain registration (free with some plans)
SSL Certificates (free with some plans)
Email accounts and administration
cPanel and a number of other management consoles
Backup services
Web24 also provide the following top services and features:
Extended Support: Dedicated servers come with highly valuable extra support such as Heartbeat checks to monitor your server, a firewall for security, and expert technical support.
Upgradeable Resources: Dedicated servers are built on a scalable infrastructure that can easily be upgraded to suit your growth.
WordPress Toolkit: All shared website hosting plans come with the WordPress toolkit. This makes it easy to install and manage WordPress, copy and synchronize your sites, and implement security.
Web24 take their support services, especially for their dedicated server clients, very seriously. As such, their setup fees include everything you need to get a functioning server solution up and running. They also provide the WordPress Toolkit for their shared web hosting to make it easy to manage the WordPress installation that you can use to build and manage your site. The dedicated server process is a bit more complicated with some upsells and configuration options. However, it is great that you can customize your infrastructure.
Pricing and Support
Web24 offers all the main types of hosting. Terms and billing periods can differ from plan to plan so make sure to check the details of your chosen solution.
Web Hosting Plans: There are four standard and four ASP.Net hosting plans. They offer 1 to 4 domains, 10 to 60 GB storage, 50 GB to 500 GB traffic, and 5 to 40 MySQL databases (2 to 15 MS SQL databases for the ASP.NET plan). All solutions provide unlimited domains and email accounts as well as a free SSL certificate and domain. You can choose from monthly to 2-year billing cycles.
Dedicated Servers: There are four different dedicated server plans aimed at small to large businesses as well as large enterprises. These plans have a setup fee. You can choose from multiple configurations based on CPUs, RAM, storage, etc. Extended support is provided. All plans include 2 TB of monthly traffic and a 1 GBPS connection.
Cloud VPS: You can choose from standard cloud VPS products with either mid- or top-end infrastructure, mission-critical cloud VPS with high-availability and security, and fully provisioned VMWare VPS servers. There are plenty of options with different resource configurations and 1-month to 2-year terms.
They also provide a choice of either Plesk cPanel plans either for individual businesses or for resellers.
Web24 provide support services through the phone, email, or via a ticketing system. Their support is available 24/7, although the day support team tends to respond faster and is generally the best to work with. In general, the support experience has been excellent, and I haven't had much reason to complain. Customers with dedicated servers can expect extended support with increased availability and a wider range of services.