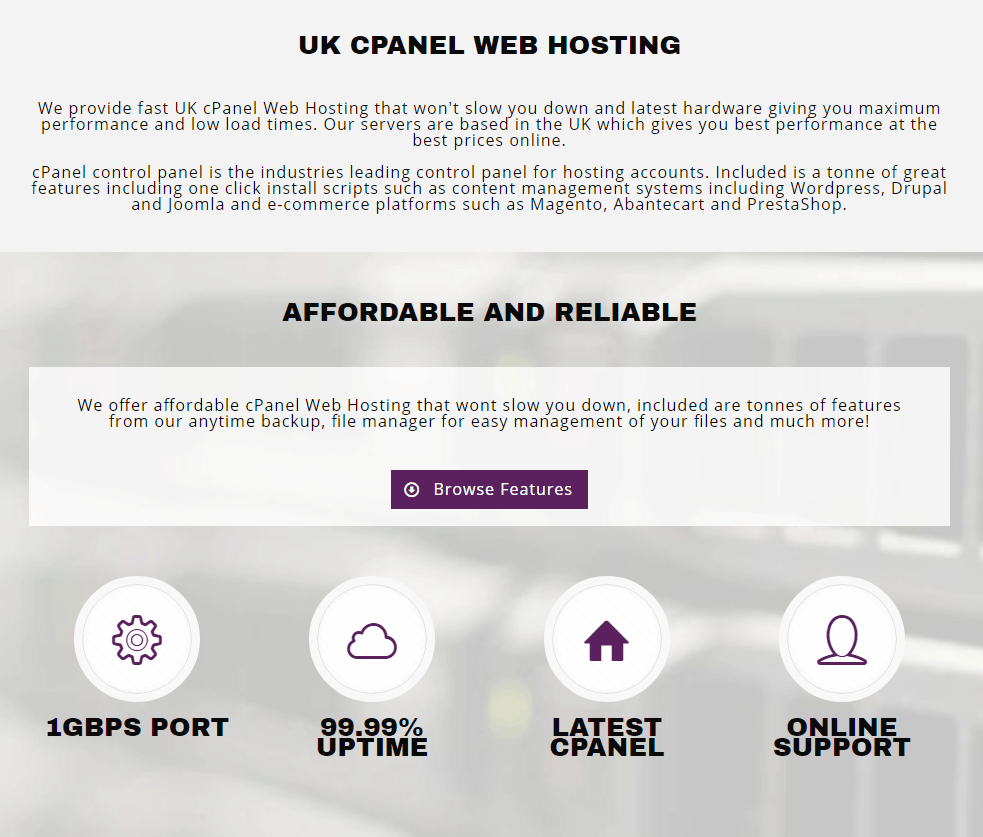 Web Hosting UK was established in 2012 and is based in London, U.K. with their data center located in the same city as well. Their customers vary from casual one-page site owners to small and medium businesses. They currently host over 500 websites on their servers.
Features and Ease of Use
Web Hosting offers cPanel, cloud, WordPress, and Reseller hosting packages to its customers. Here's an overview of their features:
99.99% uptime
Backup your website at any time and keep a local copy
Domain Registration and transfer possible
At best, only 5 add-on domains
Free SSL certificates
Limited storage and bandwidth in all packages
Web Hosting UK is a good option for non-technical people who want to stay away from coding for their website. This is evident not only from the availability of a WordPress hosting option but also from the free website builder available in the cPanel. On top of that, they offer Web Design services using WordPress where they make the website according to your needs. The advantage of this package is that while you do pay for the website building process, you don't have to pay for the hosting and the domain for the first year! And what's more, they even have a dedicated service for e-commerce, helping you create your online store in a professional manner.
As the name suggests, their data centers are located in the U.K. and are powered by the Linux operating system. Unfortunately, there aren't any Windows-based accounts available. They also use fast SSD storage which offers approximately eight times faster data transfer compared to SATA drives, giving you a great advantage when it comes to page loading speeds (and therefore search engine rankings).
Thanks to their magnificent uptime and security features like SSH Access, IP Blocker, Hotlink and Leech Protection, etc., you can create a safe browsing environment for your website visitors. Backups are easy to create through the cPanel, which will be really useful in protecting your own progress on your website. Free SSL certificates round up the security features and ensure everyone's data is safely transferred through the servers and isn't at risk of any malicious attack.
Pricing and Support
 The packages come in four different sizes ranging from 5GB to 30GB disk space and 10GB to 100GB bandwidth. Add-on domains are severely restricted with a maximum of five domains allowed in the best package, making it not only unpopular among multiple website owners, but also expensive for its price tag. You can upgrade or downgrade at any time which, together with the 7-day money back guarantee, gives you some flexibility in deciding on the right package. They don't have any discounts at the moment but do allow discount coupons. You can select monthly or yearly payment at the time of registration.
Web Hosting UK has a great 24/7 online chat. You will be assigned a real person within a minute to quickly resolve your issues. I love how their support team answered my query promptly and accurately. While phone and email support are only available during working hours, their live chat system is excellent and you probably won't need anything else.