To compare the best web hosts, we hosted the same WordPress website on each one and tested performance, customer service, and value for money.
Check out the results here.
Warez-Host is an offshore VPS, dedicated server, and shared web hosting provider that's been in operation since 2007. They offer customers the opportunity to purchase secure and private offshore hosting services in data centers located throughout Europe in Sweden, the Netherlands, Bulgaria, and Russia.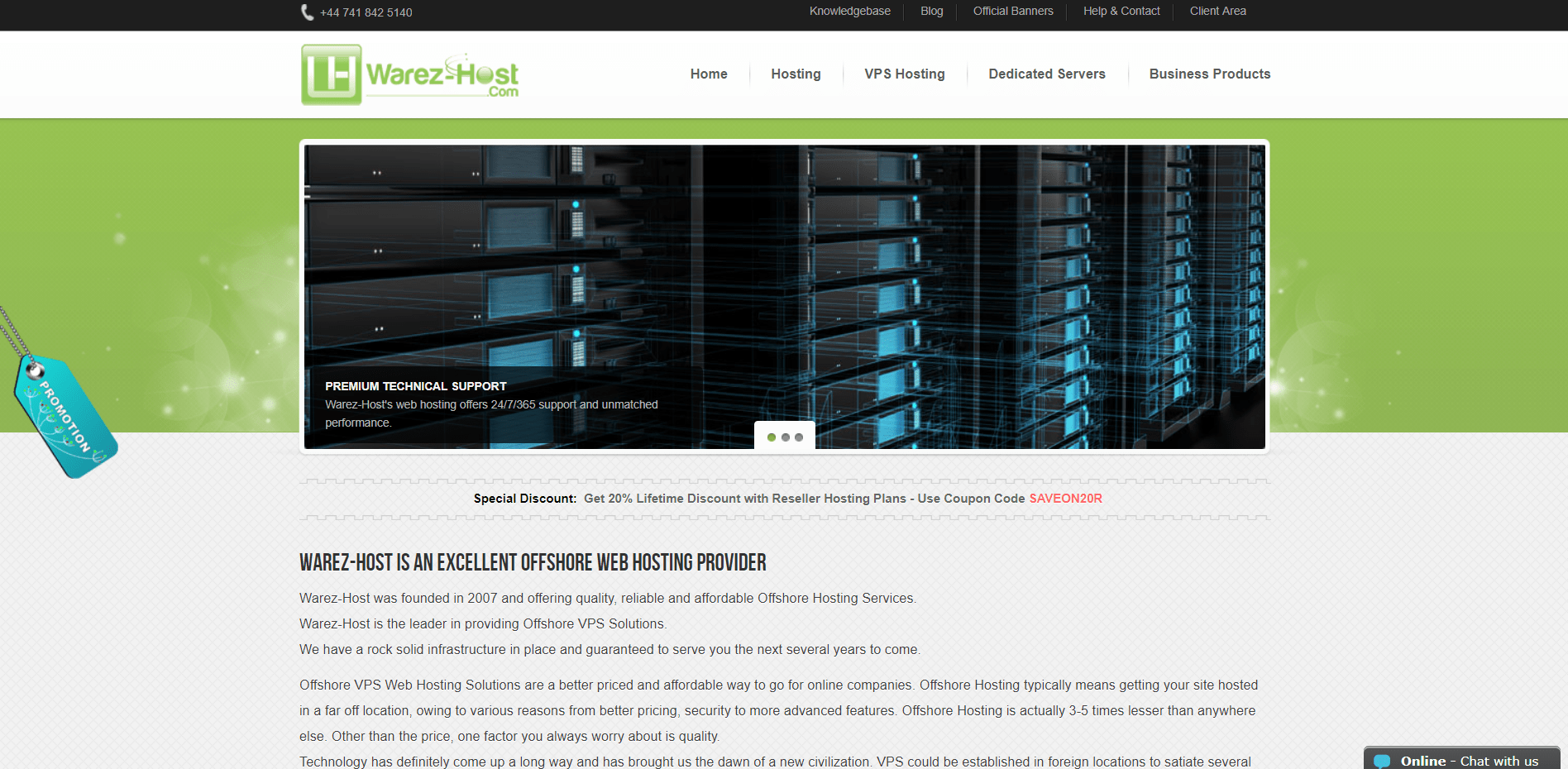 Features and Ease of Use
As an offshore hosting provider, Warez-Host affords their customers many perks, such as better security and privacy, greater content freedom, more affordable pricing, and multiple data center locations. They're a comprehensive web hosting service provider and offer all of the following:
Domain registration (not included in packages)
RapidSSL and QuickSSL certificates (not included in packages)
Free website migration services
Latest version of cPanel
Backups for 10 days
1Gbps network uplinks
SSD storage
There are also a number of premium features of the Warez-Host service that will make them highly appealing to any customers:
CloudLinux OS: This operating system ensures better protection and isolation of your account's resources from other users on the shared server.
Softaculous: With the Softaculous script installer, you can install hundreds of hosting scripts from CMSes to community forums.
Add-on Domains and IPs: Warez-Host makes it really cheap and affordable to add on IPs or extra domains to your hosting package.
It's hard to come up with any shortfalls when it comes to Warez-Host's product features and services. It would've been nice if there were some pre-installed WordPress options, but with cPanel and Softaculous you can install almost anything anyway. The signup process is also easy and straightforward, although it can take a few hours to provision new virtual or dedicated servers. Note that Warez-Host doesn't readily advertise an uptime guarantee; however, my tests yielded excellent uptime well above the average of 99.9%.
Pricing and Support
Warez-Host offers a range of hosting services. However, the terms of their contracts are quite strict as they only offer upfront billing and a seven-day money back guarantee that doesn't cover anything other than the cost of your hosting. Most of their services come with only monthly and quarterly billing terms, which is pretty short. Shared hosting is the only exception with monthly or annual billing terms; longer billing terms are always discounted.
All plans come with free migration, setup, and support. With shared hosting and semi-dedicated servers, you can choose your preferred data center location from either the Netherlands, Sweden, or Bulgaria. VPS and dedicated server hosting packages have the additional option of Russia.
While they aren't the cheapest option around, Warez-Host's services are good value for money and they offer generous resource caps with all plans. The savings you accumulate with their longer contracts are quite significant and worth the longer commitment periods.
The only slight downside to the exceptional 24/7/365 support granted by Warez-Host is that this is only available via a ticketing system and live chat. However, their support staff go above and beyond to help you resolve issues and generally reply promptly. You can also find support in a number of languages supported by Warez-Host. Their social media channels are regularly maintained and their knowledge base is extensive.
How much does Warez-Host cost?Warez-Host offers plans from $5 to $12. The price depends on which type of hosting plan you choose. You can see the updated pricing table (updated weekly) below.
Which Warez-Host plan should I get?My recommendation is to start with a cheaper plan. You can always upgrade later on. Warez-Host can help you with the migration to a more expensive plan. The increase in visitors many times takes longer than expected and you shouldn't pay a lot of money until the need arises. Of course, your needs may vary, and you can consult with a hosting expert from Warez-Host here.
How good is Warez-Host's customer support?Warez-Host is not ranked as one of our top web hosts. But that can also be a result of Warez-Host being a small, under the radar, hosting provider. There are advantages to a small hosting company – as a customer, you are more important to them. You can also check out our comparison of the most popular web hosting services here.