To compare the best web hosts, we hosted the same WordPress website on each one and tested performance, customer service, and value for money. Check out the results here.
The name VPSie is actually short for 'Virtual Private Server I Expect' and ties in with their promise of delivering superb VPS solutions that are accessible to customers. It's an American, privately owned company that was founded and still mainly operates in the U.S. They now have four separate data centers spread throughout the United States and have just launched a new one in Amsterdam to better serve a European audience. For now, they only provide their services in English.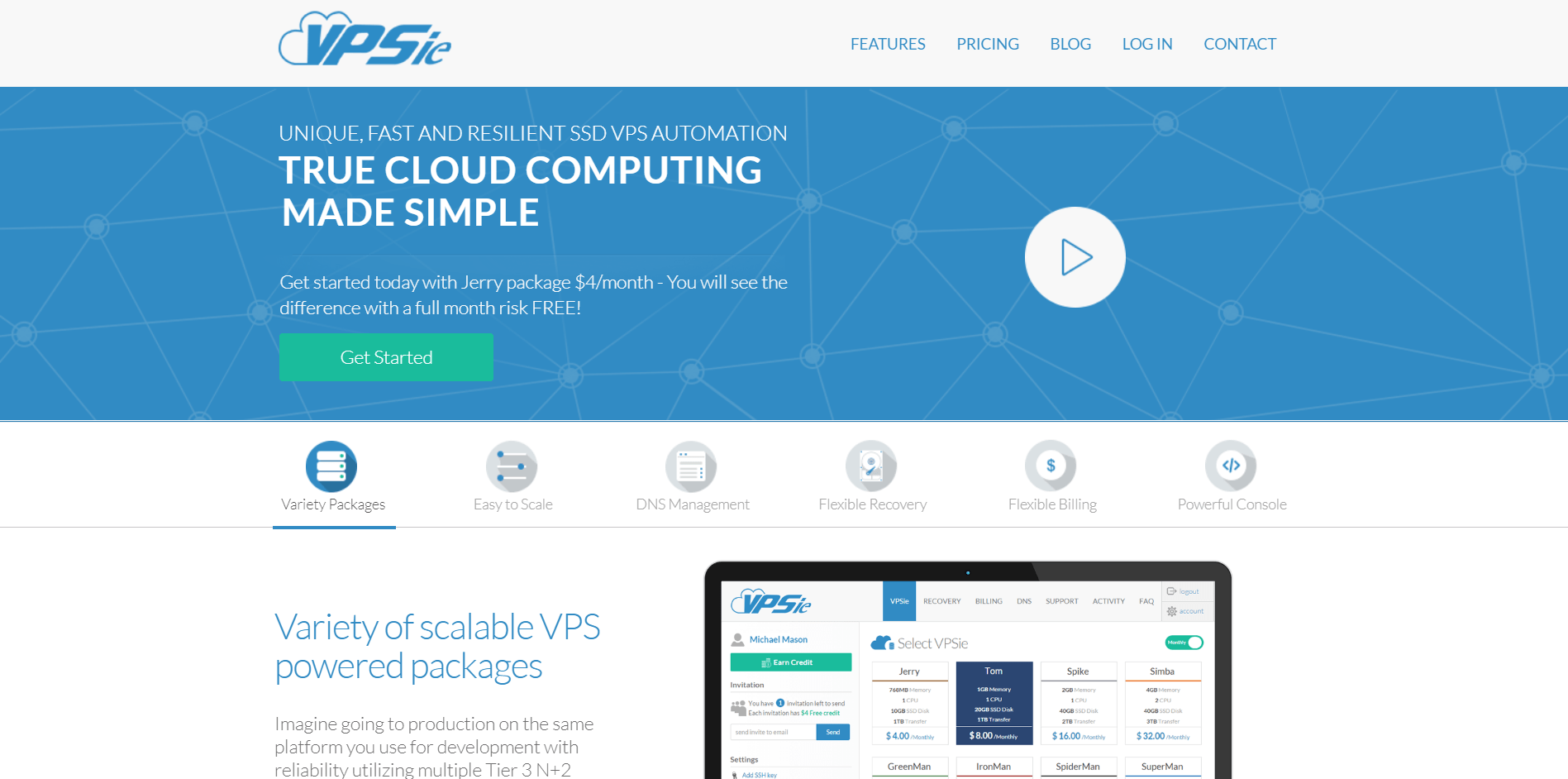 Features and Ease of Use
One of the few complaints you could have against VPSie is that they include few other attention-grabbing features. They provide very robust and high-performance VPS products and not much else. Their great servers run on SSD storage, they provide a control panel, are instantly upgradeable, and protect your data using VPN or PCS technology. They also enable you to do the following:
Backups: The VPSie control panel provides powerful backup tools that you can use to configure how backups will be handled (for example, automatic vs. manual).
Easily add apps: Through their control panel, you can easily install software like cPanel, WordPress, Gitlab, different OS's, etc.
A server in 60 seconds: With VPSie, you can spin up a VPS almost instantly, or at least under a minute.
Luckily, the VPSie control panel does make it very easy to get started putting together your software platforms or hosting on their virtual private servers. From it, with basically 1-click you can install platforms like WordPress or even change your OS. They don't hold your hand as much as some other services. However, this is a premium VPS service we are talking about.
Pricing and Support
VPSie focuses solely on offering VPS hosting solutions, which is why their pricing is straightforward. You have the option to choose between hourly or monthly billing for all plans. Keep in mind that even with hourly billing, you'll be charged for reserved resources, including unused hours. While this flexibility is beneficial, it's important to note that you are committed for the agreed-upon term.
Their plans are divided into "small" and "big" plans:
Small:

Jerry: 768 MB RAM, 1 CPU, 10 GB storage, and 1 TB data transfer.
Tom: 1 GB RAM, 1 CPU, 20 GB storage, and 1 TB data transfer.
Spike: 2 GB RAM, 1 CPU, 40 GB storage, and 2 TB data transfer.
Simba: 4 GB RAM, 2 CPU, 40 GB storage, and 3 TB data transfer.

Big:

Greenman: 6 GB RAM, 2 CPU, 80 GB storage, and 3 TB data transfer.
Ironman: 8 GB RAM, 2 CPU, 80 GB storage, and 4 TB data transfer.
Spiderman: 12 GB RAM, 4 CPU, 100 GB storage, and 5 TB data transfer.
Superman: 16 GB RAM, 8 CPU, 100 GB storage, and 5 TB data transfer.
The prices shown are for Linux-based machines. Windows machines will be slightly more expensive to account for the license fees. Overall, their prices are very affordable for VPS hosting, although it would be nice to have some unlimited options.
VPSie takes their support seriously. From personal experience, and from reading other customer reviews online, it's clear that you will almost always have a positive outcome to your problems. When I had trouble sorting out my DNS with invalid certificates errors, they quickly helped me solve it as well as sent links to resources to guide me further. They provide live chat, phone, and ticket/email support at all hours.