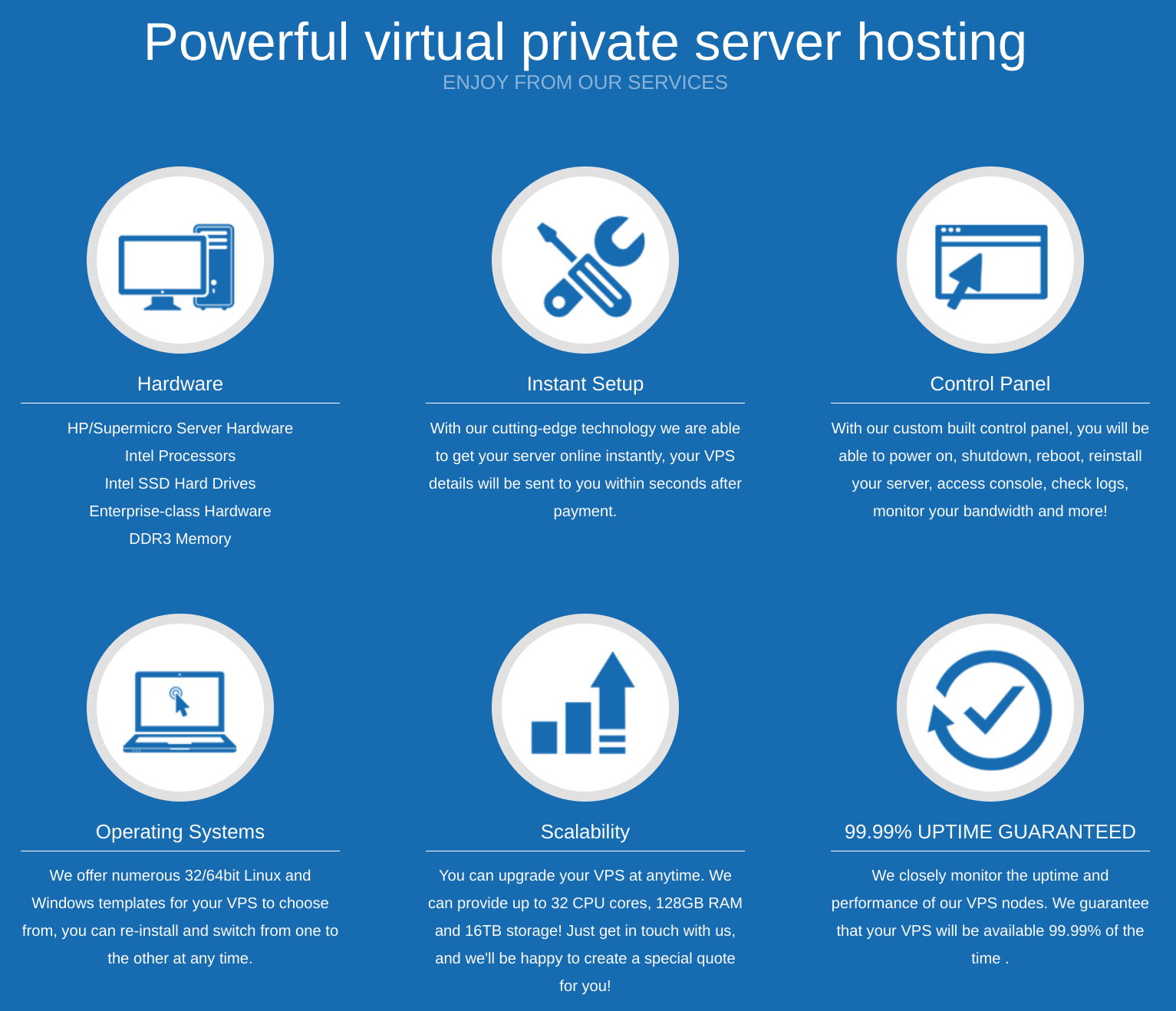 VirtVPS offers virtual servers and dedicated servers (at a Tier 3 datacenter). The primary data center in London is complemented by additional data centers in Germany, the Netherlands, and Finland. While the main VirtVPS website is in English, its WHMCompleteSolution-powered client and cart site can be translated into additional languages.
Features and Ease of Use
VirtVPS has several virtual server offerings: four Kali Linux VPS, six SAS Netherlands VPS, six SSD Netherlands VPS, four Seedbox VPS, six Germany VPS, six UK VPS, and six Finland SSD NVMe VPS. It also offers several dedicated server solutions.
For illustrative purposes, the six Germany VPS plans provide you with:
99.99% guaranteed uptime
Intel Xeon CPU
Virtualizor control panel
1,024 MB to 8,192MB RAM
25 GB to 120 GB SSD disk space
1 TB bandwidth
1 Gbit port
VirtVPS can provide up to 32 CPU cores, 16 TB storage, and 128 GB RAM, or can create a custom quote for you. There are several 32-bit and 64-bit Windows and Linux templates to choose from, and you can switch at any time. Your VPS will be set up instantly.
You can use the proprietary control panel to shut down, power on, reboot, or reinstall your server. It also allows you to access server logs, monitor bandwidth, and more.
The use of Intel SSDs and enterprise-class hardware allows VirtVPS to deliver optimal performance and flexibility for hosting large websites database-driven applications. The Finland VPS plans use NVMe drives for six times faster performance than classic SSD drives, and RAID configurations help protect you against disk data disasters.
Pricing and Support
The VPS plans start cheap, and you can pay for them monthly in U.S. dollars or euros by Bitcoin or PayPal. You can get a full refund within 24 hours, or a seven-day prorated refund if the company can't resolve an issue. Note, though, that dedicated servers are non-refundable.
Except for a server status page that is accessible to logged-in customers, there are no self-help tools. Customer support can be contacted vis support tickets or live chat, and I got quick answers to my queries via live chat: