Founded in 2011, Virtualbox is a
boutique web hosting company
that also provides cloud storage solutions and dedicated servers at pocket-friendly rates.
Features and Ease of Use
Virtualbox offers good hosting packages with various features. Starter hosting runs on Windows 2008 Servers with Dual Xeon Quad Core processors. With 16 GB – 32 GB RAM and RAID 10 disk array, you get a server that's capable of handling a significant workload. All their hosting packages support the latest scripting languages such as ASP.NET 4, PHP 5+, and MVC. With full support for MySQL 5.5, you can build database-driven sites quickly.
Designed and built with performance and reliability in mind, their infrastructure and redundant network guarantees 99.9% uptime. Daily back-ups and full protection against DDoS attacks ensure continuity in operation. In the event of a disaster or malicious cyber-attacks against your servers, backup components will be deployed to maintain service availability.
Their web hosting packages are suitable for small to medium-sized websites. With every package, you also get a good number of tools such that lets you create and manage a website, email boxes, and databases quickly. Some of the key features include:
Control panel access
Scripting languages
File transfer protocol
Subdomains
MySQL and MS Access 2000
Web-based email service
RAID storage
If you require dedicated resources, there's no better option than their range of IBM Xseries dedicated servers with RAID storage. Built for performance, they can meet your demands for maximum speed and unmetered bandwidth for transfers or heavy workloads.  They're not only secure and stable, but they also give you full control to all components of your physical servers and web resources.
Cloud hosting is the other option on the table. It's suitable for customers who want reliable hosting solutions and services minus the stress and cost of managing their servers. Their services are fully managed. With their Cloud solutions, you will enjoy maximum speed, high-level support, and still have room for expansion.
Virtualbox has a management interface that's functional. It gives you just about everything you need to manage your account. When it comes to navigation, I can tell you that I have seen much better websites. I really wish they had an English version of the site for international customers.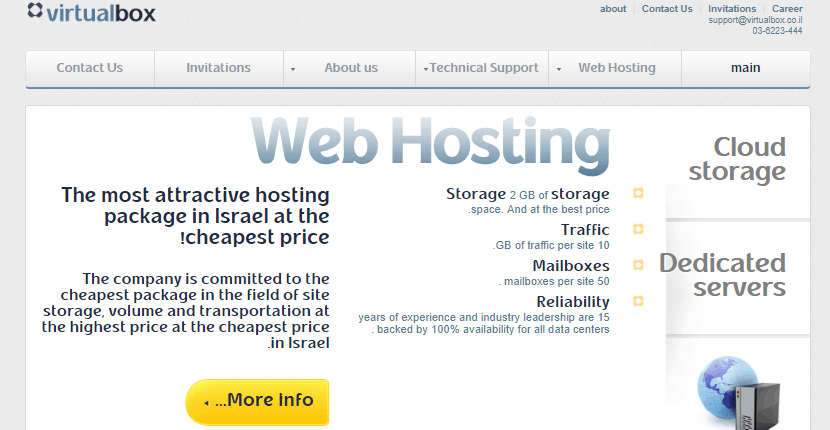 I also found the ordering process to be quite long and unclear. While other hosting services let you place an order and check out online, Virtualbox requires you to download, fill, and submit order requests for their hosting services. They seriously need to rethink and simplify the ordering process. That notwithstanding, they've done a good job if highlighting hosting and email features. So you won't have to guess what's included with your package.
Pricing and Support
Virtualbox offers hosting with zero-liability and flexible plans that come with a good range of features. I have compared their online storage solutions with those of other local and international hosts, and I can confidently say that it's one of the most affordable options in the market. Customers receive full access to licensed software, web-based emails, and open-source tools at no additional cost.
Virtualbox offers scalable hosting packages. As your business grows, you can increase the disk space volume, transfer bandwidth, IP addresses, and databases. For a small fee, you can also order low cost email storage to supplement their free web-based email service.
Technical support is available to customers 24 hours a day. Their support team comprises friendly and responsive professionals with plenty of experience in various aspects of shared web hosting, domain management, VPS, and Cloud hosting. What I like about them is that they handle cases promptly and resolve issues in a satisfactory manner.  You can reach out to them directly on telephone, send a fax, or shoot an email.