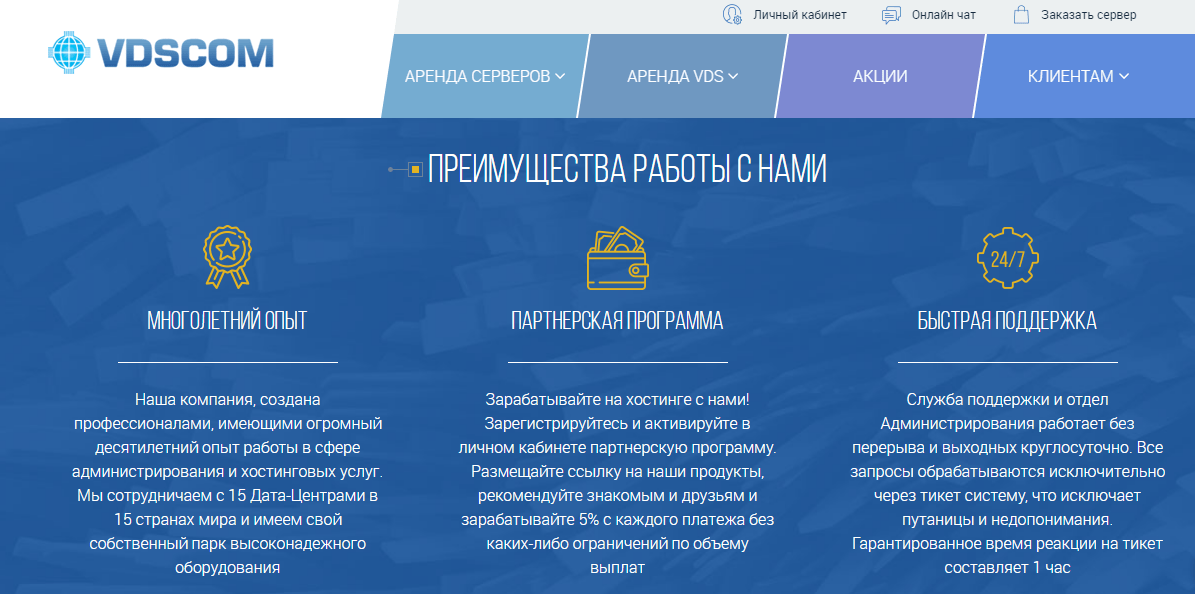 VDSCOM is a trademark of VDSKOM LLC, a liability company based in Russia. The hosting company has been in operation for over eight years and specializes in the provisioning of server solutions to all types of business enterprises worldwide. 
Its offerings include dedicated servers for rent, VDS, and cloud servers, among other server solutions. The VDSCOM website is only available in Russian.
Features and Ease of Use
VDSCOM is not your typical shared hosting provider. Instead, this vendor focuses on providing server solutions such as cloud VDS and dedicated servers. The solutions include the following standard features:
99.99% uptime guarantee

Reliable data centers across 15 countries

Installation one to three days

Unlimited traffic

SSD storage with RAID-10 architecture

DDOS protection
VDSCOM owns a large selection of servers in Europe, Asia, and America that span 15 different countries,
The data centers are time-tested and come with powerful hosting facilities, including servers with up to 100Gbps internet ports and SATA/SSD storage hard drives optimized for reliability.
Besides VDS and dedicated servers, other types of servers that the hosting provider offers to its customers include GPU servers (powerful servers supporting up to 4 GTX 1080 ti video cards), DDoS protection servers (with DDoS attacks protection at the data center level of up to 500Gbps), Cinema online (where customers get turnkey online movie theater optimized for high uploads), and Remote accounting servers (optimally selected server configurations for online bookkeeping).
VDSCOM also helps customers assemble individual servers or VLAN configuration, to best suit their business requirements. Moreover, the hosting firm offers free website transfers from another hosting provider and it doesn't limit the size of the files that customers can transfer to their hosting facilities.
With VDSCOM VDS servers, users get access to free disk backup storage, suggesting that even if the vendor does not perform backup services for its clients, it has made it easy for them to create and manage their own backups.
Pricing and Support
VDSCOM offers hosting prices that are quite standard compared to what other vendors are offering in the same niche. The hosting services come with no hidden fees and include an installation period of between one to three days, depending on the type of servers that customers choose.
The solutions come with monthly billing cycles but the hosting firm has a flexible system of discounts, where three, six, and 12-month payment options offer 5%, 10%, and 15% discounts, respectively at the time this article was written. Prices are listed in U.S. dollars.
The VDSCOM web servers guarantee an uptime of up to 99.99%. Its refund policy differs; for some services, customers can always ask for a refund, while for others, the time frame is for a 30-day money-back guarantee.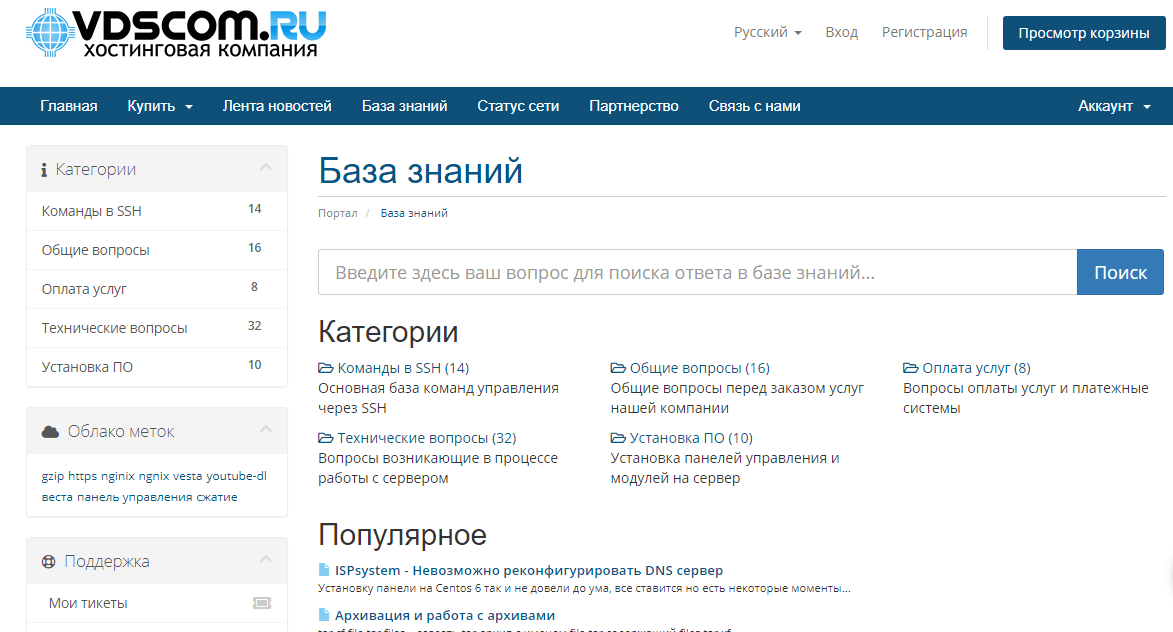 Potential customers can reach out to VDSCOM customer services via telephone, email, ticketing system, and live chat. The customer support team is quite responsive and provides real-time answers to most of its customers' issues.
VDSCOM has a fairly detailed knowledge base, too.