To compare the best web hosts, we hosted the same WordPress website on each one and tested performance, customer service, and value for money. Check out the results here.
uPress is a managed hosting service that provides feature-rich hosting packages to WordPress users. With their shared or managed VPS, you get peak performance and security at a price that competitors can't match.
Features and Ease of Use
Their Managed WordPress and advanced WordPress VPS solutions come with a number of exclusive tools to help them create, operate, and maintain their websites or blogs or e-stores efficiently. There are tools for developers, SEO professional, agencies, and businesses. Some of the key features include:
Dedicated IP addresses
CloudFlare CDN
Free SSL certificates
uPress WordPress Clinic
unlimited mailboxes
Website transfer tool
uPress SuperCache
Web firewall
Automatic 30-day backups
uPress maintains high-grade servers in a number of server locations. You can host your website or emails in data centers located in Israel, Europe, or the USA. Their SSD enterprise servers are designed for peak performance. With 99.9% network and uptime SLAs and round the clock protection against DDoS attacks, you will never worry about performance or security.
Four plans are available. Here's just a highlight of their features.
Personal – Suitable for a simple personal blog or website. With it you get, 1 GB storage space, 50GB monthly traffic, and two website monitors.
Professional – Ideal for a growing business. With 3 GB storage and 100 GB bandwidth, it can host up three websites.
Business – Good for an established business or agency. The package includes 10 GB storage, 250 GB monthly traffic, and 20 monitors                                                                                                                           
VPS – Perfect for large companies with heavy workloads or need for dedicated resources. It comes with 40 GB storage space and supports many websites. Five transfers and five monitors are included.
Worthy to note is that all the higher level plans come with free SSL certificates, daily backups, SuperCache, CDN, and staging environments with a multisite option.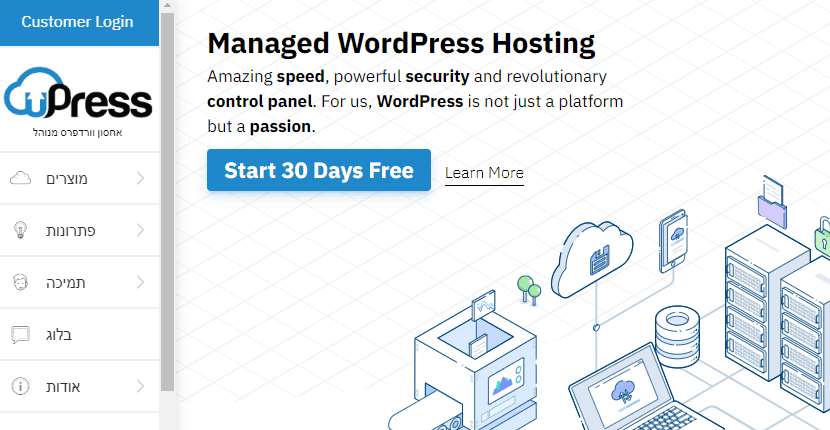 Integrated directly with the control panel is the uPress monitor, which lets you keep track of your website's performance and health. You can set alerts and receive notifications whenever your site fails or malfunctions. In addition, you get history backups for your databases, files, and mailboxes for 30 days. With a few clicks, you can restore all the important files or emails on your website or mailbox following a crash.
uPress doesn't just give you a suite of features, it also gives you a user-friendly control area to manage your websites, emails, and security among other things. From the admin area, you can select server location, perform security scans, manage users and extensions, set up staging sites, and request support from WordPress experts.  It's convenient for advanced users and easy for beginners.
I like the fact that they have multiple versions including English, French, Hebrew, and Portuguese. You shouldn't have problems getting around with any version. If you're getting started, I recommend that you watch their tutorial videos and read the FAQs and their knowledge base. Within a day or two of signing up and learning, you should be able to manage your account efficiently like I did.
Pricing and Support
Typical of managed hosting services, uPress is quite expensive compared to popular hosting services such as Godaddy and BlueHost. Though you will pay more to get onboard, you will get quality services, more dedicated resources, and a high level of support. All plans come with a 30-day free trial.
They don't charge set up fees or include VAT in their prices, which is a plus. So when you sign up with them, you'll get your money's worth. uPress offers the option to subscribe monthly or annually, and they let you conveniently pay via PayPal and credit cards issued by Visa, American Express, or Isracard Ltd.
I have nothing but respect and admiration for the courteous and professional support team at uPress. They're an eclectic team of software developers, network administrators, UI-UX designers, and WordPress experts with years of experience. You can count on them to sort out a range of hosting problems, resolve DNS issues, transfer your website files, or troubleshoot your server. Live operators are available on phone from 8:30 am – 17:00 pm and 24/7 via their ticketing system. You can also reach out to them via email or the online contact form.
How much does Upress cost?
Upress offers plans from $15 to $50. The price depends on which type of hosting plan you choose. You can see the updated pricing table (updated weekly) below.

Which Upress plan should I get?
My recommendation is to start with a cheaper plan. You can always upgrade later on. Upress can help you with the migration to a more expensive plan. The increase in visitors many times takes longer than expected and you shouldn't pay a lot of money until the need arises. Of course, your needs may vary, and you can consult with a hosting expert from Upress here.

How good is Upress's customer support?
Upress is not ranked as one of our top web hosts. But that can also be a result of Upress being a small, under the radar, hosting provider. There are advantages to a small hosting company – as a customer, you are more important to them. You can also check out our comparison of the most popular web hosting services here.