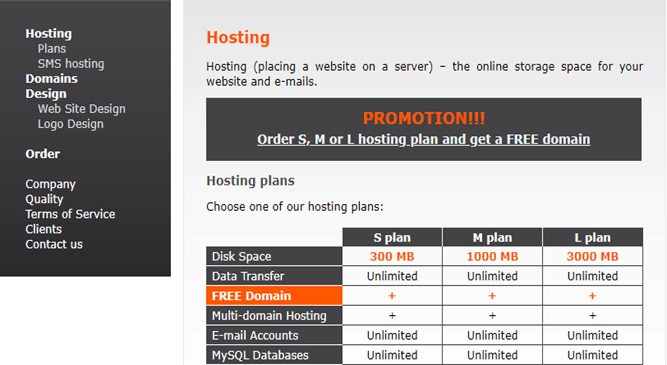 To compare the best web hosts, we hosted the same WordPress website on each one and tested performance, customer service, and value for money.
Check out the results here.
Lithuania-based Universal Solutions has been providing quality internet solutions to local and international customers since 2005. In addition to regular web hosting, it also offers SMS hosting, which merely means you can pay for your hosting by sending an SMS message every month.
The Universal Solutions website can be switched between the Lithuanian and English languages.
Features and Ease of Use
In addition to regular web hosting and SMS hosting (which is pretty much the same thing but payable by SMS message), Universal Solutions also offers domain registration, and website design and development services.
The three web hosting plans come with unlimited data transfer, a free domain, multi-domain hosting, unlimited email accounts, and unlimited MySQL databases. The most basic 'S' plan starts out with limited 300 MB disk space, which can be upgraded to as much as 3000 MB on the high-end 'L' plan. It's still not enough space for a demanding website, and the payable-by-SMS plans offer even lower resources of 100 MB to 1000 Mb disk space.
Few beginner-friendly features are advertised for these hosting plans, so you won't find any intuitive control panel, drag-and-drop website builder, one-click installer, or even an SSL certificate.
As already hinted, Universal Solutions also offers website design and development, SEO, CMS, and e-commerce solutions as separate services.
Pricing and Support
Although the hosting plans provide limited disk space, the unlimited other resources may make them worth the price you pay by PayPal or bank transfer. You can pay for plans on billing cycles from three months to 24 months, with up to 63% discount for a two-year commitment. You might think it's worth taking this chance even though there is no money-back guarantee as far as I can see.
Although there are no SSL certificates on offer (free or otherwise), you do get a free domain with your hosting plan.
Placing an order is easy, but the order pages seem to be insecure (not HTTPS), at least until you get to any final payment step.
You can contact this company's customer support team via email or phone, or by filling out the online contact form. While it would be useful to be able to find answers to common questions in a knowledge base (not provided), I was happy with the email response I received within a couple of hours: