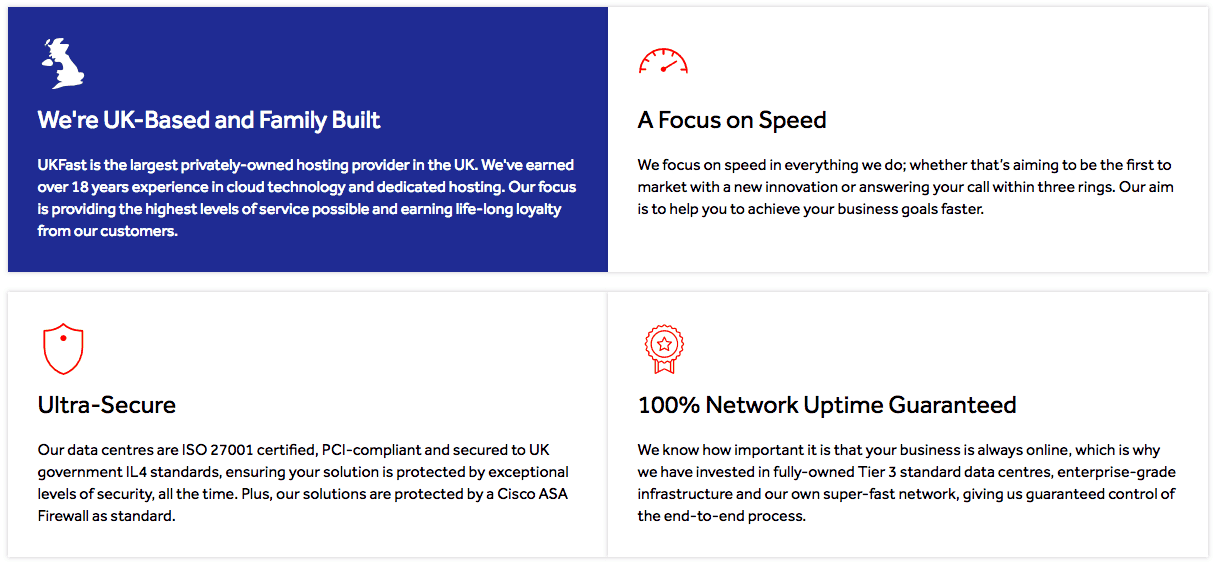 Founded in 1999, UKFast is a long standing, family-run website hosting business. As the name suggests, it's located in the U.K. Having grown from a two person team, there are now
more than 400 people working at UKFast
. This company is so concerned about customer happiness, it's even created a "Net Promoter Score" to measure this, claiming its
customers are ten times happier than the average customer
. The website is available in English.
Features and Ease of Use
UKFast offers a comprehensive range of hosting plans from managed hosting to dedicated servers and colocation. Customers of UKFast can expect to enjoy the following core features:
100% network uptime guaranteed
Customizable and flexible backup and restore solution
Choice of operating systems
Four ISO 27001 certified, PCI-compliant data centers
UKFast has an impressive infrastructure, with four UK-based data centers, which are all ISO 27001 certified and approved by the government to IL4 standards. The centers are Tier III, meaning less than 1.6 hours of downtime per year.
It's excellent that the data centers are owned by UKFast (this generally means much faster response times to issues) and it's even better that there is a 100% uptime guarantee, backed by a service level agreement.
Independent reviews cite the speed of the servers as one of the main reasons customers join and stay with UKFast. Digging into the data, I can see that the dedicated servers use SSD (which are ten times faster than HDD) and the company claims that it runs all of the equipment and circuits far below total capacity to ensure it's not overloaded. The servers are high-performance Dell PowerEdge servers.
The plans come with some security features such as shared Cisco ASA Firewall as standard, plus some optional (paid) extras like backup and restore, 24/7 monitoring (though I think this should be always included), annual security audits, data recovery insurance, and bandwidth insurance.
Pricing and Support
Frustratingly, you cannot get a price or pay for your service online. You need to contact sales and ask them for a quote. I'm not a huge fan of this, to be honest, since as soon as you contact them, it feels very salesy.

The service offered by UKFast is premium, enterprise-level hosting (there's no basic shared hosting plans), so the prices are higher than other companies. That's to be expected given the quality and comprehensiveness of the plans.
The plans can only be bought in a minimum of twelve month terms, which again prohibits all but the most serious of businesses.
The company's commitment to their customers is apparent. The website promises that your call will be answered in three rings, and dedicated server plans come with an account manager, support team (made up of two account managers, two Linux engineers, and two Windows engineers, with extra team members at busy times) and 24/7/365 U.K. based expert support.
It all sounds great on paper and perhaps I am being a little picky, however, I have contacted them on live chat to ask a basic question (how often are backups taken), and my question was not resolved.
The operator informed me that they couldn't assist me since they were a receptionist. They asked if it would be alright for another staff member to call me back. I must admit, I had some doubts about their intentions, as it seemed more like a sales tactic than a genuine attempt to be helpful.
How much does UKFast cost?
UKFast offers multiple plans priced highest to lowest. The price depends on which type of hosting plan you choose. You can see the updated pricing table (updated weekly) below.

Which UKFast plan should I get?
My recommendation is to start with a cheaper plan. You can always upgrade later on. UKFast can help you with the migration to a more expensive plan. The increase in visitors many times takes longer than expected and you shouldn't pay a lot of money until the need arises. Of course, your needs may vary, and you can consult with a hosting expert from UKFast here.

How good is UKFast's customer support?
UKFast is not ranked as one of our top web hosts. But that can also be a result of UKFast being a small, under the radar, hosting provider. There are advantages to a small hosting company – as a customer, you are more important to them. You can also check out our comparison of the most popular web hosting services here.