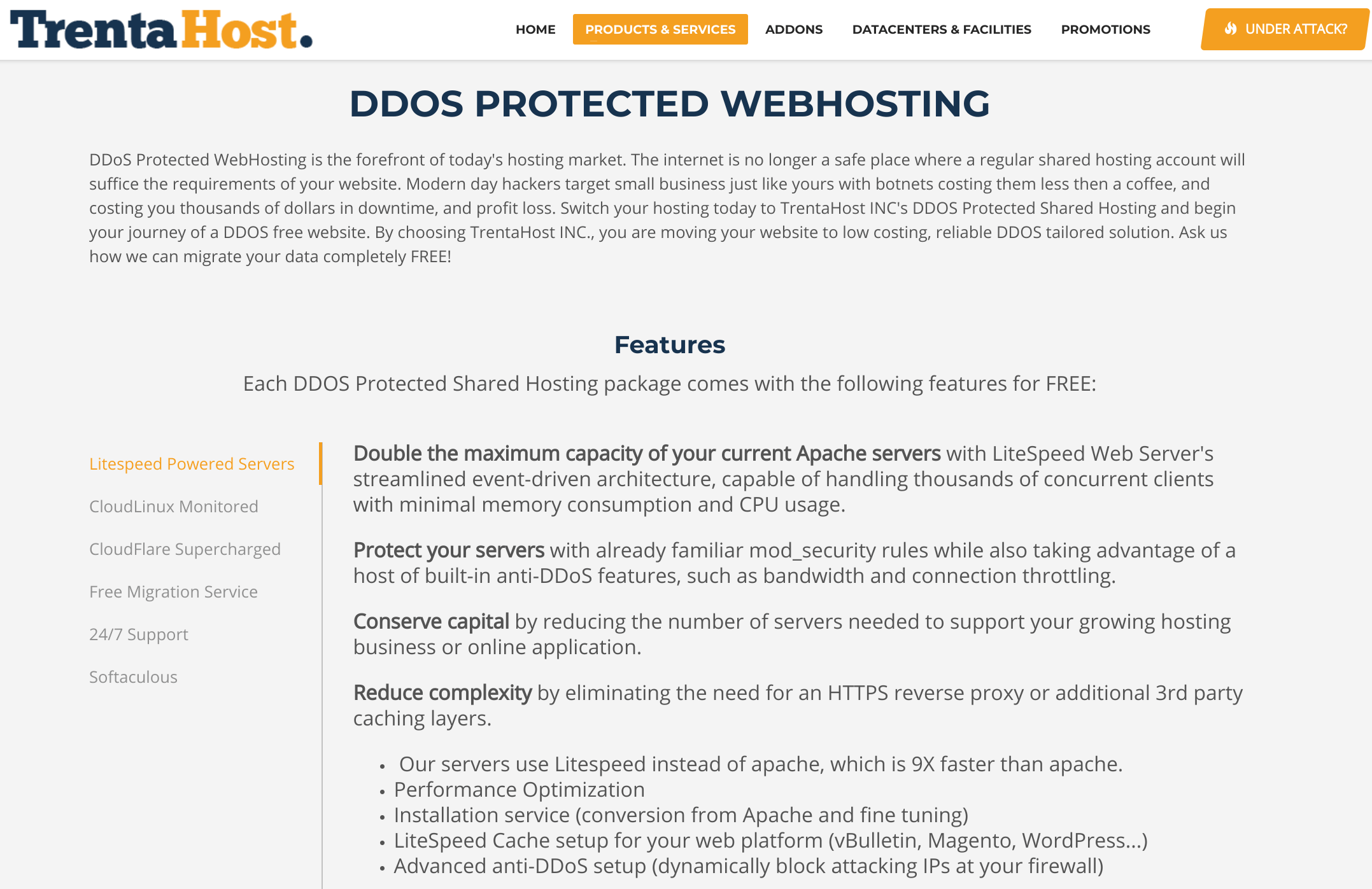 Ever since its inception in 2011, Toronto-based Canadian company TrentaHost has offered quality hosting at cost-effective prices, with a particular focus on DDoS protected shared hosting. It also offers reseller hosting, managed and unmanaged VPS, and dedicated servers, plus domain services and SSL certificates.
TrentaHost's website supports English, but its WHMCompleteSolution cart area supports the usual 25 additional languages.
Features and Ease of Use
TrentaHost offers three DDoS protected shared hosting plans, three DDoS protected reseller hosting plans, five managed VPS plans, five unmanaged VPS plans, and three dedicated servers. The three DDoS protected shared hosting plans provide you with:
CloudLinux OS
5 GB to unlimited SSD storage
Unlimited bandwidth
Unlimited MYSQL databases and FTP accounts
20 to unlimited email accounts
Free DDoS protection
Unlimited addon and parked domains
Unlimited subdomains
Let's Encrypt SSL
PHP selector
R1Soft daily backups
TrentaHost improves the performance of your website by hosting it on LiteSpeed Web Server and by employing the Cloudflare CDN. Not only does Cloudflare reduce page-loading times by 50%, but it also helps protect you against cyberattacks. You also get KernelCare, which patches security vulnerabilities in the kernel without causing downtime.
The Softaculous installer allows you to install several popular applications (such as WordPress and Joomla) with no technical knowledge being necessary. Once your website is up-and-running, the Attracta SEO tools will get your content indexed faster by the leading search engines.
Virtual servers come with the SolusVM management panel that lets you start, stop, reboot, or reinstall your VPS. TrentaHost's powerful VPS nodes provide a trade-off between performance and memory while avoiding overcrowding.
All hosting packages — shared, reseller, VPS, and dedicated servers — provide protection against DDoS attacks for free.
Virtual and dedicated servers are backed by a 99.9% uptime SLA, and (according to the terms and conditions) shared solutions come with a surprisingly low 99% uptime guarantee. I've come to expect at least 99.9% uptime for shared hosting.
Pricing and Support
TrentaHost's shared hosting plans are cheap, but the prices you'll pay in the cart are higher than those shown on the product page. At the time of this review, you could get 50% off hosting services.
Payments can be made in various currencies (USD, CAD, GBP, or INR) via PayPal, credit cards, UnionPay, Alipay, Tenpay, or cryptocurrencies. Available billing periods are monthly, annual, biennial, and triennial, with only the first two available for the Basic plan.
TrentaHost's shared hosting plans provide a 24-hour money-back guarantee, which is way too short to assess the services and is way shorter than the refund windows afforded by most other hosts. This also comes with caveats, and your refund is entirely at the discretion of the vendor.
TrentaHost hints at a thirty-minute support response time and a six-hour resolution, although it also says something about a 24-hour turnaround time for support tickets and/or emails. The website also alludes to live chat, but I couldn't find it. The self-support knowledge base is a little bare, but on the plus side, I did get quick answers to a couple of questions via email: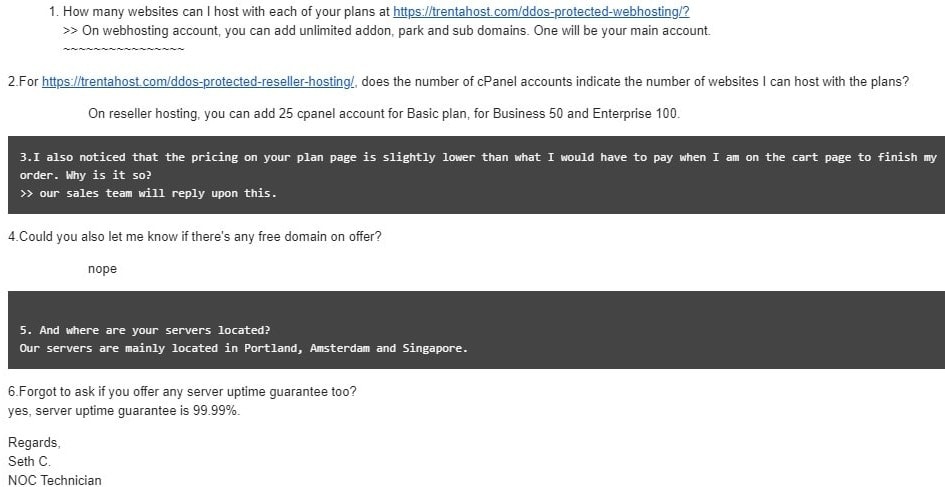 How much does TrentaHost cost?
TrentaHost offers plans from $1 to $4. The price depends on which type of hosting plan you choose. You can see the updated pricing table (updated weekly) below.

Which TrentaHost plan should I get?
My recommendation is to start with a cheaper plan. You can always upgrade later on. TrentaHost can help you with the migration to a more expensive plan. The increase in visitors many times takes longer than expected and you shouldn't pay a lot of money until the need arises. Of course, your needs may vary, and you can consult with a hosting expert from TrentaHost here.

How good is TrentaHost's customer support?
TrentaHost is not ranked as one of our top web hosts. But that can also be a result of TrentaHost being a small, under the radar, hosting provider. There are advantages to a small hosting company – as a customer, you are more important to them. You can also check out our comparison of the most popular web hosting services here.