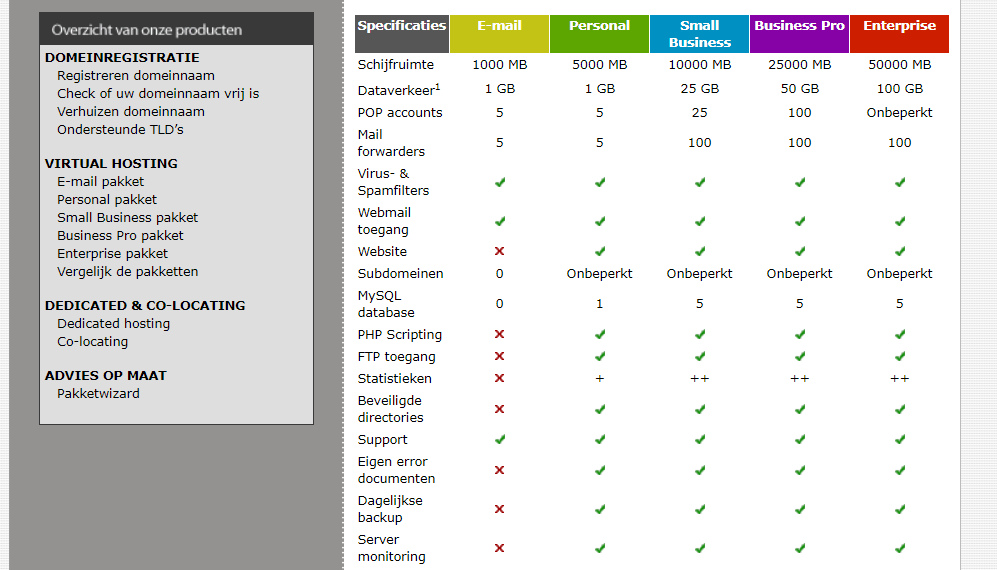 The sole focus of TOPXS.nl is on providing an online platform for SMEs to host their businesses. The hosting company is based in the Netherlands, and judging by the copyright footer on its website, the hosting firm seems to have been launched over 10 years ago. Its offerings include dedicated servers, shared web hosting, and domain name registration services as well as co-location services. The TOPXS.nl website is only available in Dutch.
Features and Ease of Use
TOPXS.nl web hosting solutions include the following standard features:
MySQL databases

PHP support

Debian OS platform

Apache web servers

Monthly bandwidth

FTP access

Daily backups
The TOPXS.nl dedicated hosting plan is particularly designed to meet the requirements of customers with thousands of visitors. With this plan, users choose to rent a server that is installed and managed by the vendor on your behalf.
TOPXS.nl web hosting solutions run on the Debian operating system. Its shared web hosting solution comes in five packages: Email plan, Personal plan, Small Business plan, Business Pro, and Enterprise hosting plan.
By default, all of the hosting solutions support PHP scripts, MySQL databases, and Apache web servers. The hosting plans also include unlimited subdomains and virus and spam filters as well as daily backup options. All the same, TOPXS.nl web hosting solutions do not seem to have a significant number of hosting features such as cPanel control panel and SSL certificates.
It is worth noting that the TOPXS.nl website is wanting and somewhat disorganized, and some of the links about its hosting packages are invalid. For instance, when you open the link to the Business package, it returns a 404 message.
Pricing and Support
With such notable feature limitations in its hosting packages, TOPXS.nl hosting plans are not worth what it's asking for. Although advertised with monthly subscription fees, the hosting plans require customers to purchase them on annual terms. Prices are listed in euros.
TOPXS.nl only promises to offer a high server uptime, yet it seems to shy away from committing to an uptime guarantee. Moreover, its hosting plans include no refund policy.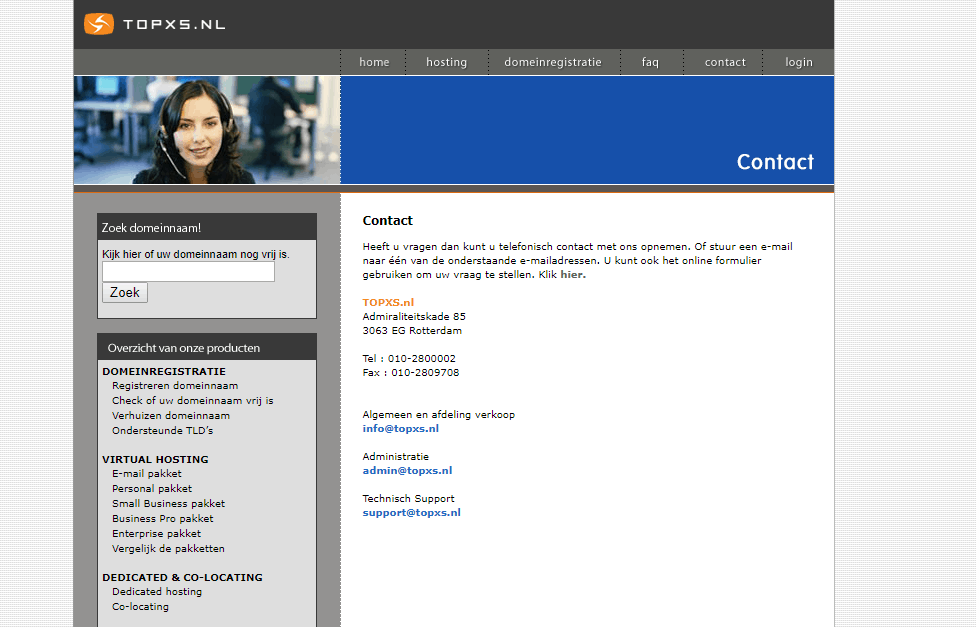 Customers can reach out to the TOPXS.nl support desk via telephone, email, or contact form. However, the vendor does not have a ticketing system or live chat. The technical support team is not available 24/7, and when I sent them an email, I did not get any response at all.
TOPXS.nl does not have a knowledge base either, but it has a small FAQ section with very few articles.