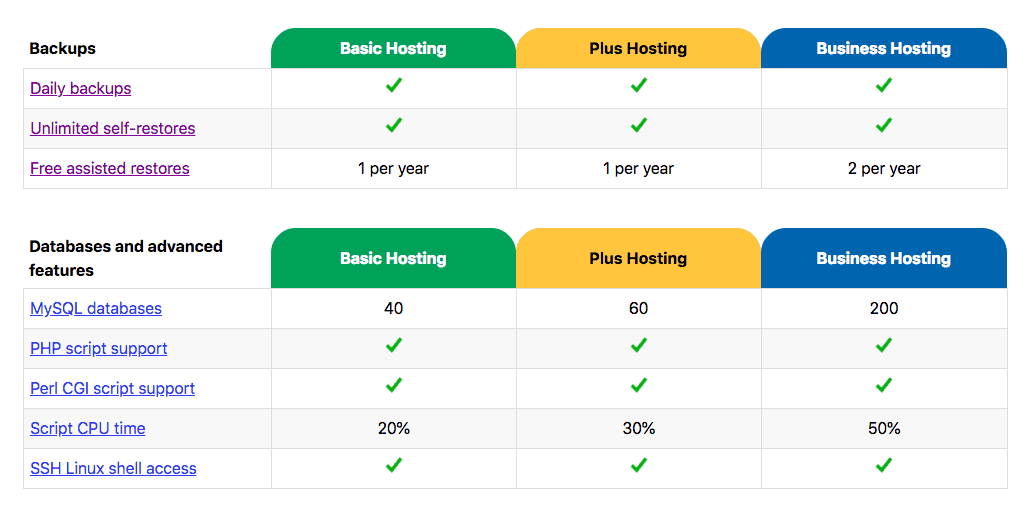 To compare the best web hosts, we hosted the same WordPress website on each one and tested performance, customer service, and value for money.
Check out the results here.
Tiger Technologies, a San Francisco based company, has been in business since 1999. The company has a focus on 100% green hosting and only sells a small selection of shared hosting plans, along with domain registration. The website is available in English.
Features and Ease of Use
Tiger Technologies offers three shared hosting plans (Basic, Plus, and Business) that come with the following core features:
9% uptime guarantee every month
Daily automatic backups and unlimited self-restores
Free domain name with all plans
Ten, fifteen, or twenty-five add-on domains
Free Let's Encrypt SSL certificate
20GB to 50GB SSD storage space
Unmetered bandwidth
Tiger Technologies is proud of the fact it's provided uptime in excess of 99.9% every month for the last fifteen years, even including scheduled maintenance. The company is so confident of this that you get a full month refunded if it's not met. Tiger Technologies attributes this solid uptime to locating it's servers in a Silicon Valley data center, which provides a reliable network, power, and cooling services.
The Super Micro servers use robust Intel Xeon processors and RAID 1 SSD arrays to protect against disk loss. Although it does not own the data center (which is always preferable), it does own the servers, meaning a quick response time to issues.
All of the plans come with unmetered bandwidth, which is clearly explained in the help documents, so there is no confusion of excessive or abnormal usage, and with 20GB (Basic), 30GB (Plus), or 50GB (Business) SSD storage space — comprehensive resources all round.
There is no website building tool or one-click installer (except for WordPress installations), so this likely is not the best choice for beginners. However, experts will appreciate support for PHP versions 5.6 – 7.3, Perl, and CGI. Cron jobs and SSH access are also included to ensure your website runs smoothly.
Pricing and Support
The monthly price is high. However, if you dig deeper, you'll notice that there are lots of features bundled in which are oftentimes an added cost. For example, all plans come with one free domain, a free Let's Encrypt certificate, daily backups, and unlimited self-restores.
You can purchase the hosting in one month or one year terms and the price does reduce nicely when you purchase a longer period upfront. There is no setup fee and you can cancel at any time. They also offer a generous 90-day money-back guarantee.
If you like to solve problems yourself, you'll love Tiger Technologies. There's a huge number of articles on this website covering a wide range of subjects. In fact, apart from the product pages, most of the site is built of FAQs.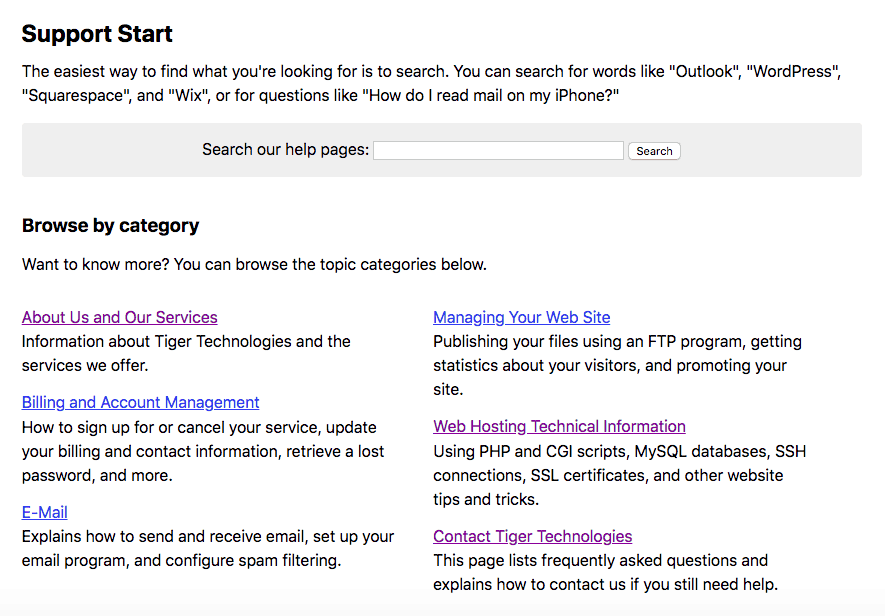 In addition to these resources, you can email our sales, billing, or support departments, create a ticket, check our Twitter feed for updates, or, as a last resort, give our team a call. Rest assured, you will receive a response on the same day, regardless of the day of the year.