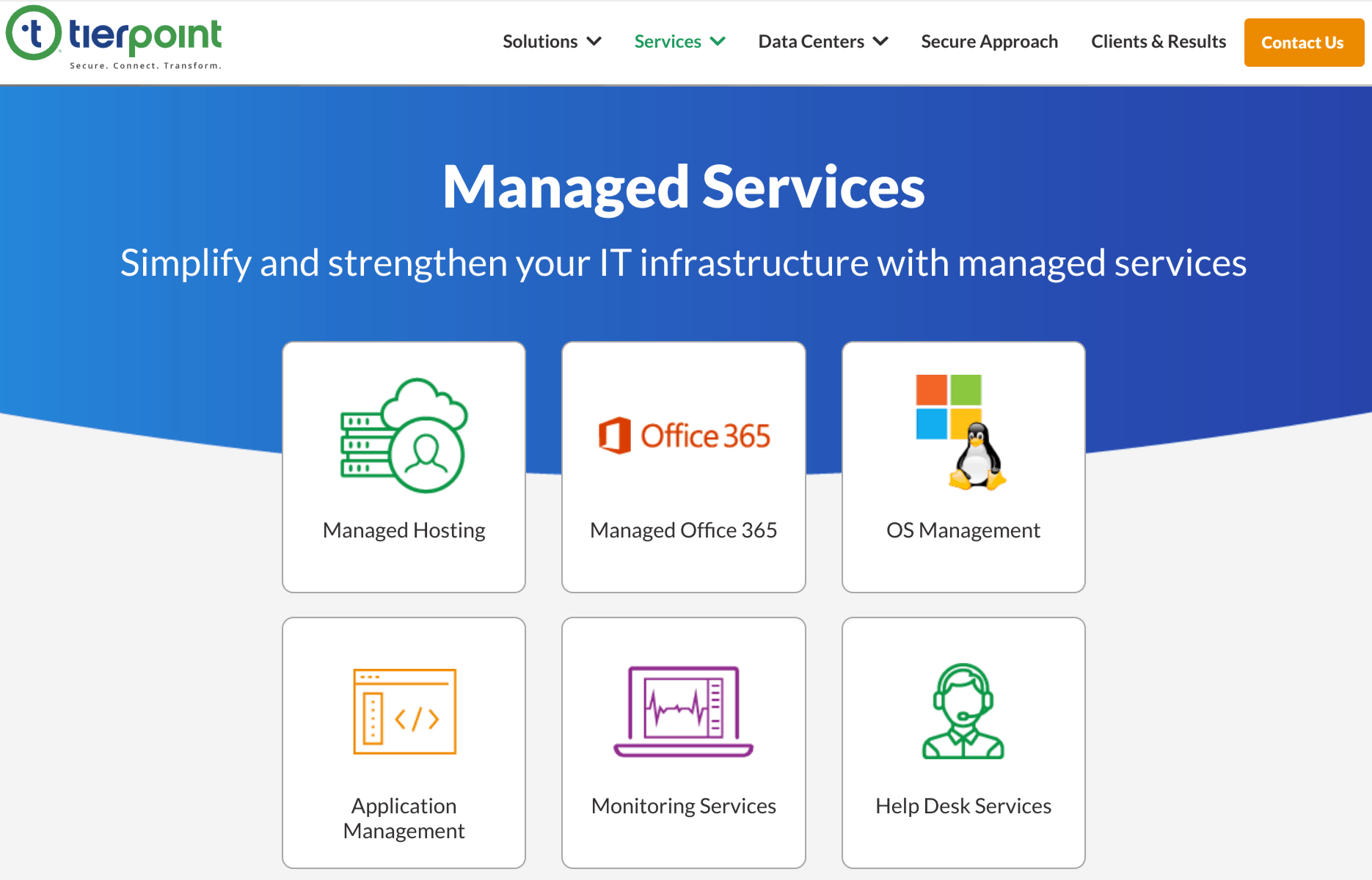 To compare the best web hosts, we hosted the same WordPress website on each one and tested performance, customer service, and value for money.
Check out the results here.
Since its establishment, limited liability company TierPoint has been providing cloud computing, managed solutions, and colocation services. It has more than 40 state-of-the-art data centers in the United States, and its website is in English.
Features and Ease of Use
TierPoint provides managed services, colocation, cloud platform, network services, security and compliance, disaster recovery, and consulting services. The managed services include managed hosting, managed Office 365, OS management, application management, monitoring services, and helpdesk services. These are all designed to ensure maximum performance, availability, and business continuity.
Managed hosting provides you with convenience and complete peace of mind, while their application management services address the management of your most complex and vital applications and databases including Oracle, SQL, and MariaDB. TierPoint also offers end-to-end data recovery and backup as a service, and it actively tackles next-generation cyber-threats.
The colocation services allow you to deploy your own hardware in the company's high tech facilities that provide enterprise-level performance, reliability, and security. TierPoint operates over 40 data centers, strategically located all over the U.S. to maximize connectivity and coast-to-coast connectivity.
Most importantly, TierPoint offers an industry-leading 100% uptime backed by an SLA.
Pricing and Support
TierPoint isn't one of those web hosting companies that present a plethora of low-price plans on its website with the ability to sign up entirely online and be activated immediately.
Since we're talking here about entirely managed Windows and Linux services, the only way to get a quote is to contact the company. But, be warned that this company can only help you if you're looking for a stateside server: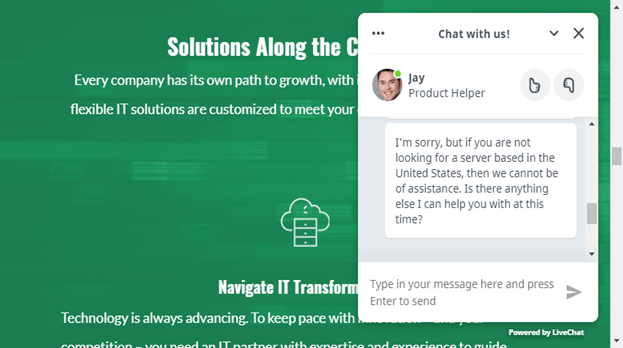 You can call TierPoint or start a live chat (just like I did). You also have the option to fill out an online contact form and easily schedule a consultation with a simple click.
If you sign up with TierPoint, and you'd like to try supporting yourself, you will find a surprisingly comprehensive knowledge base and a regularly updated blog. These resources should put many self-service shared web hosting providers to shame.